I've designed a NEW teddy bear sewing pattern for sewing memory bears! Buttons the BEST DRESSED teddy bear pattern has built-in shirt & pants (trousers) details and a felt waist coat. He's conveniently sized to fit an adult collared shirt – a perfect "grandpa" or "dad" bear.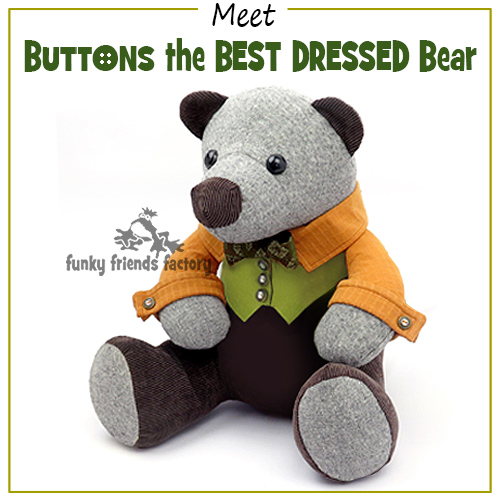 This easy, non-jointed teddy bear pattern gives you 2 options:
use pre-loved clothing items to create a dressed memory toy

or

use all new fabric with the included collar, cuffs & bow tie pattern pieces.
You can mix & match to create different looks!
Buttons is a bear with lots of personality and customization options. This wonderful Buttons Bear was sewn by Jane Tate of Tate and Co Keepsakes. Jane kindly supplied photos as she added the clothing so you can see Buttons in increasing smarter attire!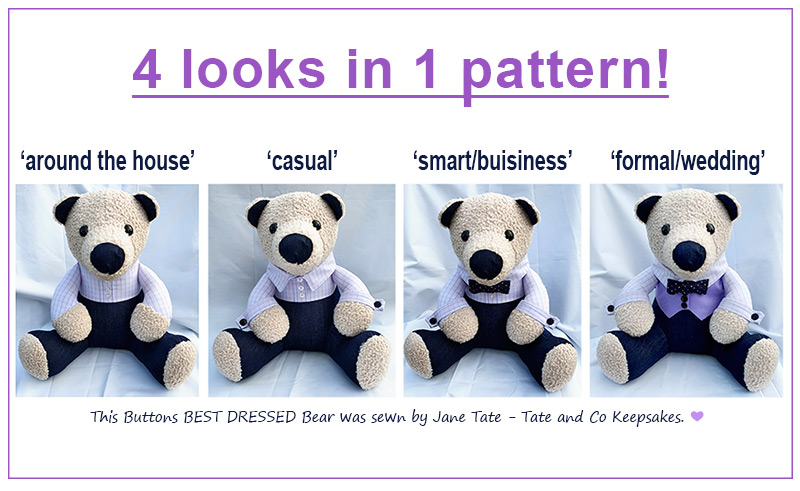 Use the large footpads to add a message:
Buttons also has large footpad pieces, which include guide marks for a 4inch embroidery machine hoop so you can add names & dates using hand or machine embroidery or heat transfer vinyl (cut with a Cricut machine or similar).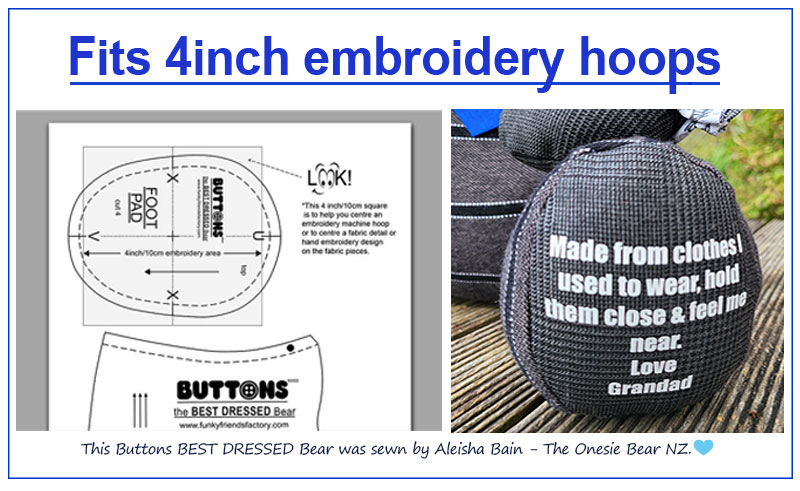 What size is Buttons?
Buttons the BEST DRESSED Bear is my biggest bear yet. He's 33cm/13 inches tall (sitting). He has "fixed" legs, so she stays in a seated position. Here's a pic of me and Buttons so you can see his size!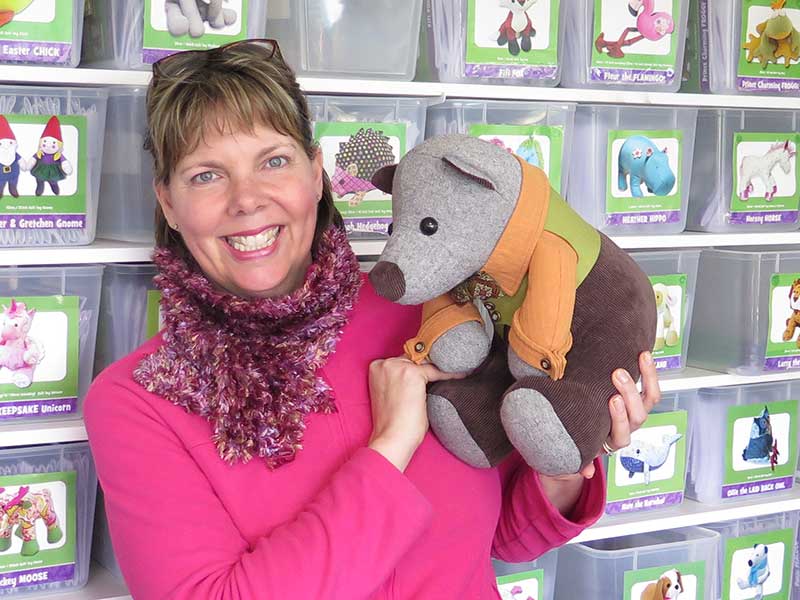 And here is Buttons the BEST DRESSED Bear hanging out with Melody Memory bear (left) and Ben the Beginner Bear (middle) so you can see the size comparison!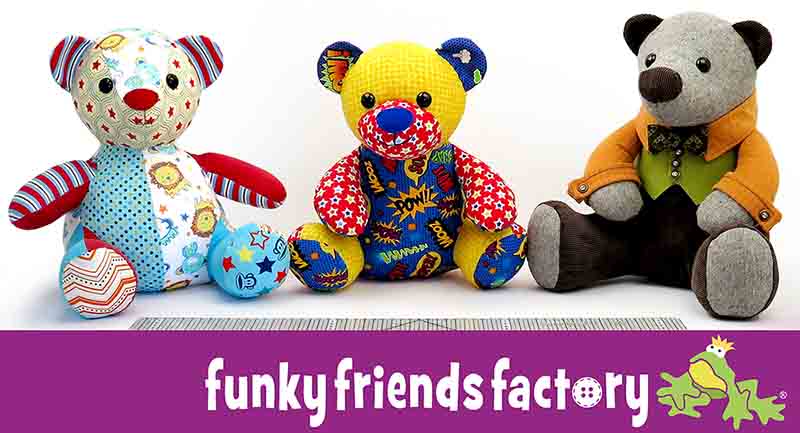 Difficulty Level:
Buttons has "easy-style" floppy arms (sewn into the side seams) so no jointing needed. This dressed memory bear pattern is suitable for beginners. He's NOT hard to sew but he does have lots of optional clothing pieces.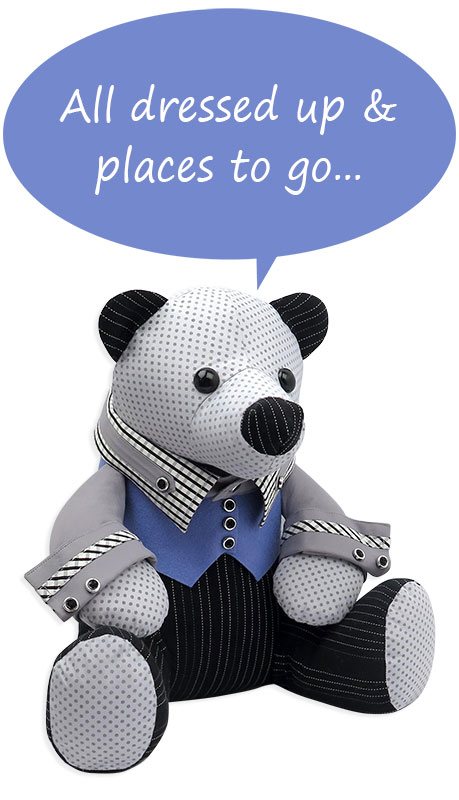 Is there a Photo tutorial for this Teddy Bear Pattern?
YES! I have created a step-by-step photo tutorial so you can see EXACTLY how to sew Buttons the BEST DRESSED Bear Pattern – with lots of clever bear making tips and tricks!  As usual, you can access the tutorial using the link in the See-Me-Sew section of the pattern.
(*Please check you typed this link in correctly,
~> or you'll get an error page! 😱 )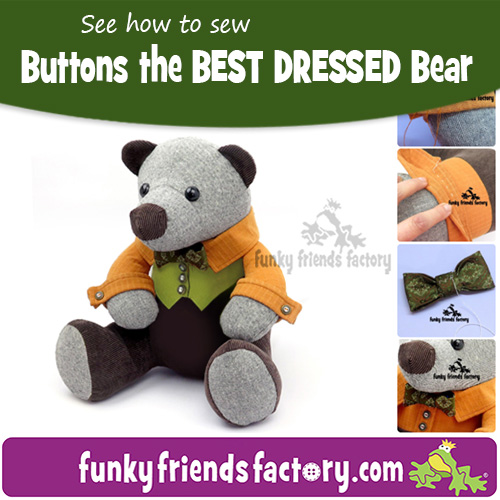 What fabric can I use?
Buttons looks GREAT in ANY fabric!
Hayley Sayers of Soft Federation hand-sewed this fun, fluffy Buttons the BEST DRESSED Bear in Luxe Cuddle® fabric (from Shannon Fabrics). I love all the special details she added ~> just look at the cute little scissor shaped buttons on his waistcoat!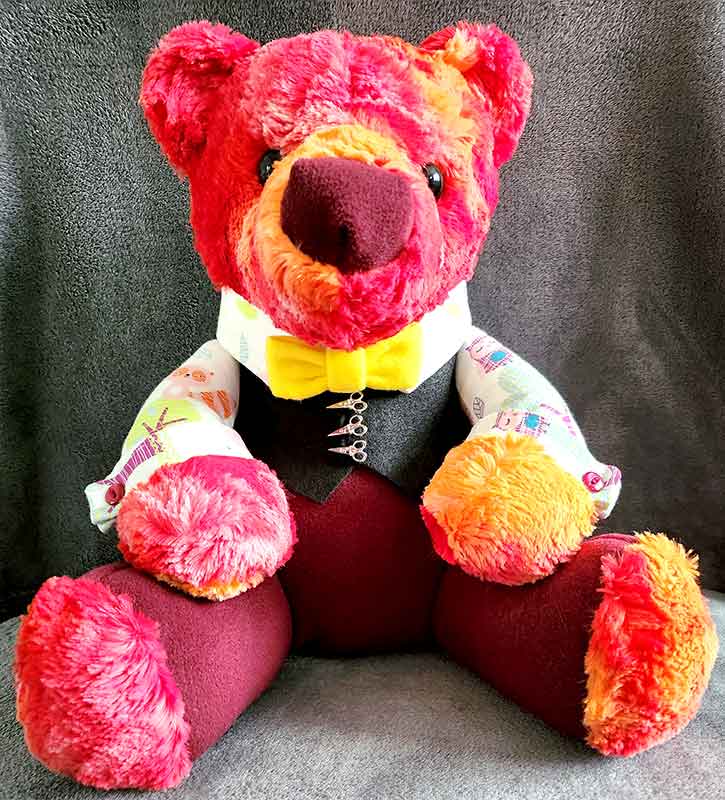 AND here is Buttons the BEST DRESSED Bear sewn by Svetla Aleksandrova of Customs By Svetla, who upcycled an old pair of denim jeans for her bear's face!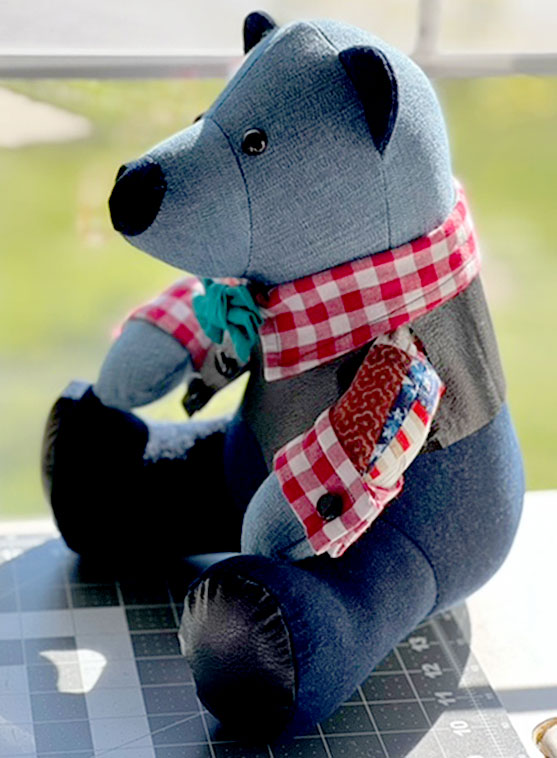 This sweet Buttons BEST DRESSED Bear was sewn by Freddie.C. using an upcycled denim shirt.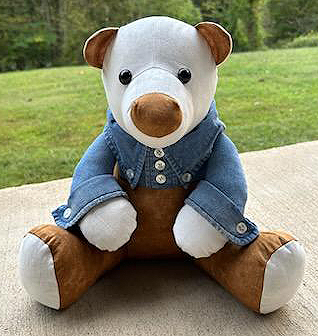 AND here is Buttons the BEST DRESSED Bear sewn by Sarah McKee of Sarah's Signature Bears. I love the way she added the pocket from the denim jeans for this keepsake bear!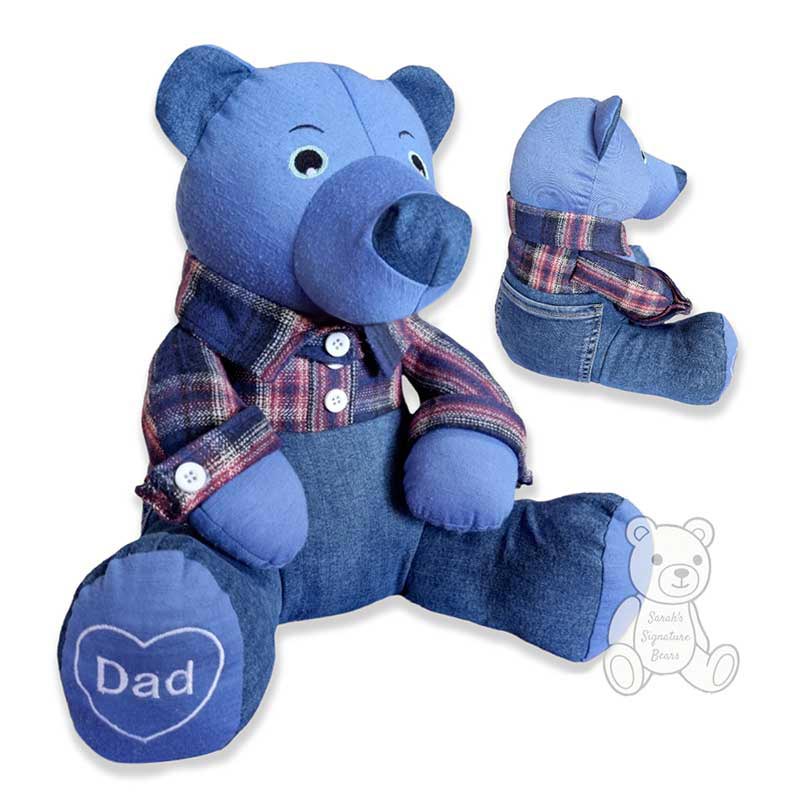 Shirley Smith sewed this rather studious looking Buttons the BEST DRESSED Bear in fleece. It looks like her hubby's glasses have found a new owner! LOL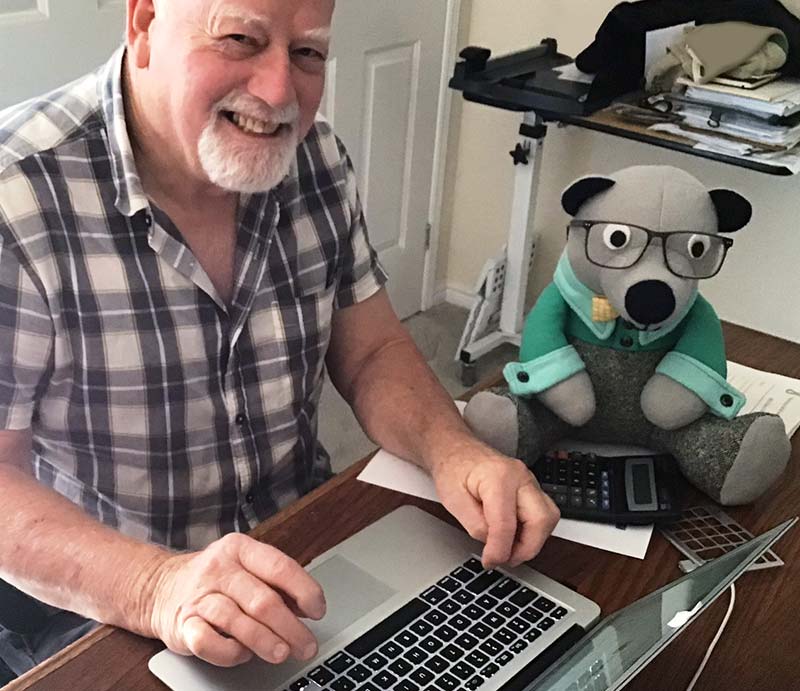 Make a keepsake bear from baby clothes:
Here is Buttons the BEST DRESSED Bear sewn by Meredith Strauss of Scrap Stash Studio. She was made completely from baby girl clothes and a quilt for the footpads!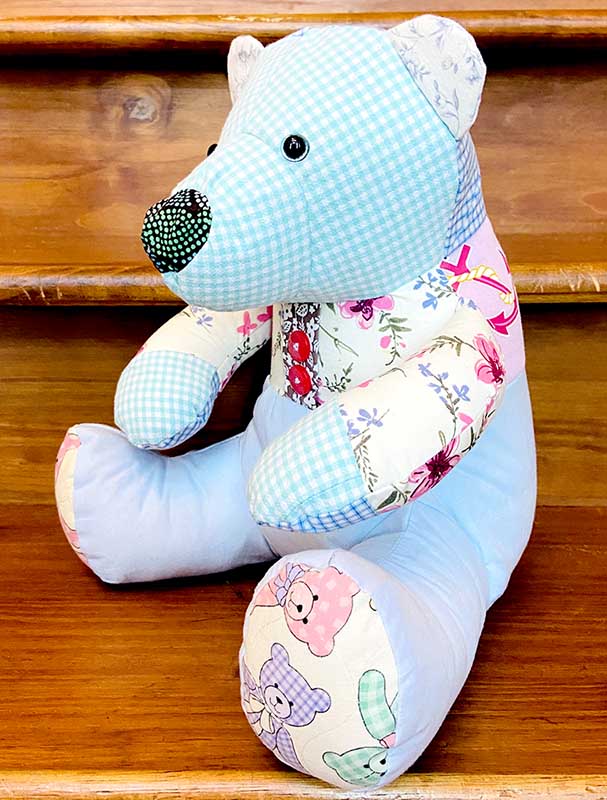 Make a memory bear from adult clothes:
Buttons the BEST DRESSED Bear was designed to have a "grandpa look" so I love this dapper gentleman version of him sewn by Jo Williams of Houghton's Homemade. She upcycled a shirt dress to create a "Saturday Night Feverish" GROOVY granddad bear! 😆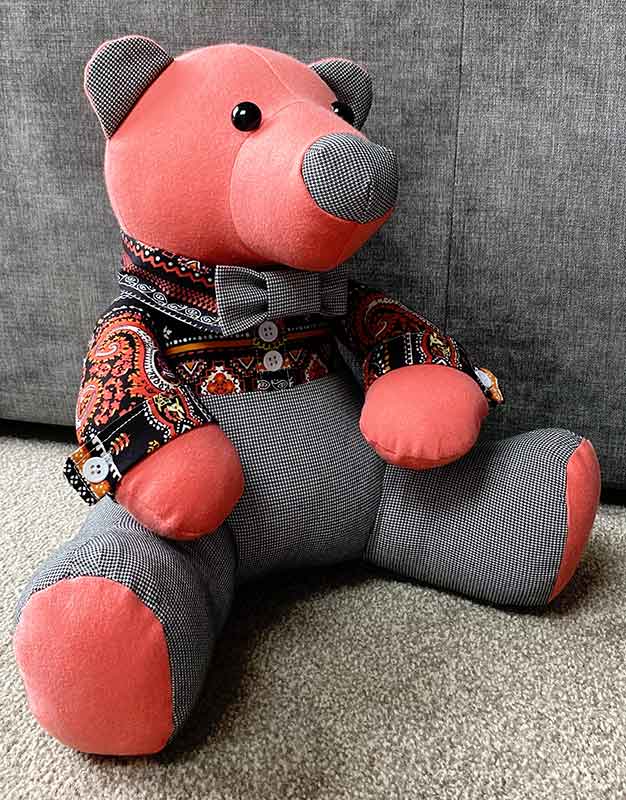 This adorable memory bear version of Buttons Bear was sewn by Kellie Hollis of Memories are Made. I think Kellie's beautiful stitching puts mine to shame!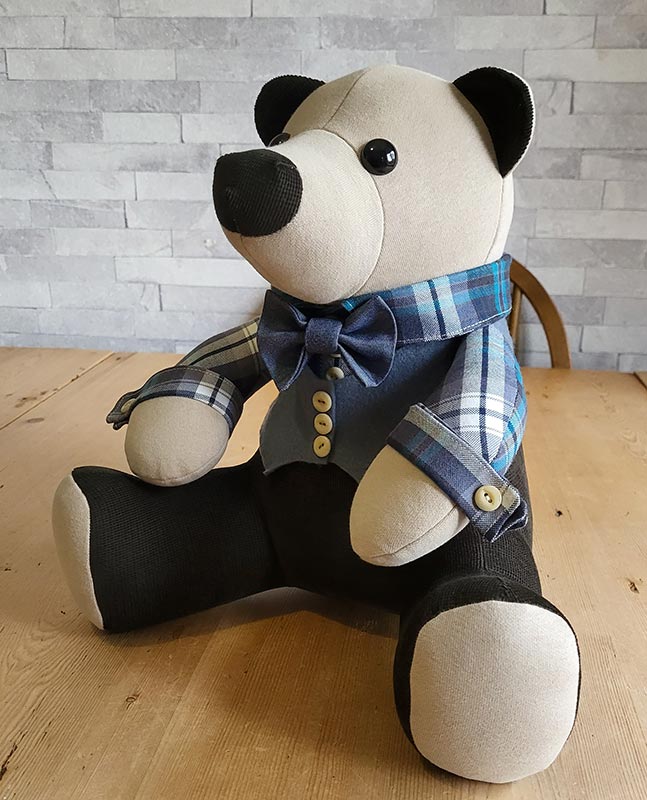 Orsolya Czili sewed this very special Buttons Bear from her dad's clothes. He is a magician and her family run a magic shop. He's going to take pride of place in there! ☺

Melissa Coffey of Honey Stitches sews gorgeous keepsake bears so I was very excited to have her testing Buttons Bear. Just look at this snappy dresser she's sewn!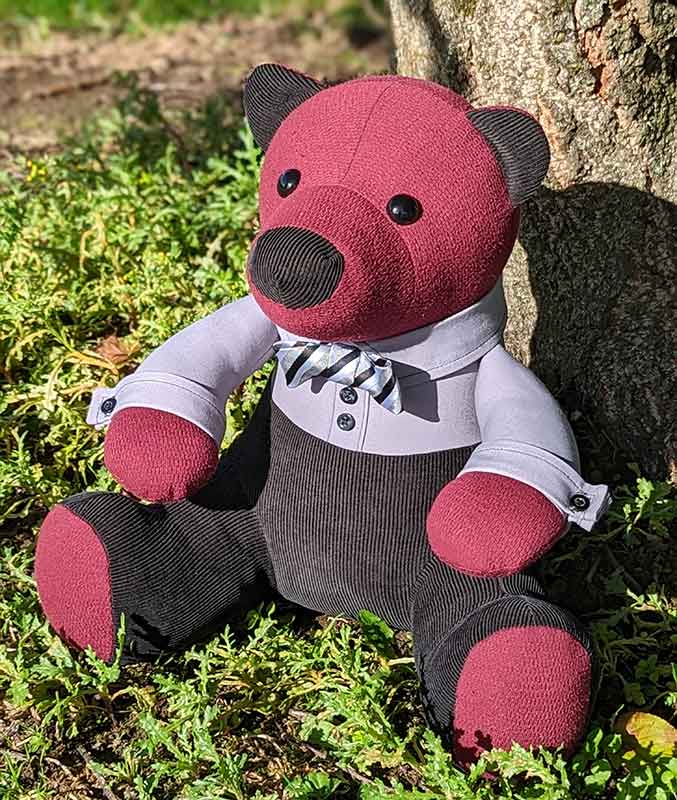 Here's another dapper dude – Buttons the BEST DRESSED Bear hanging out on a park bench sewn by Médea Gádor.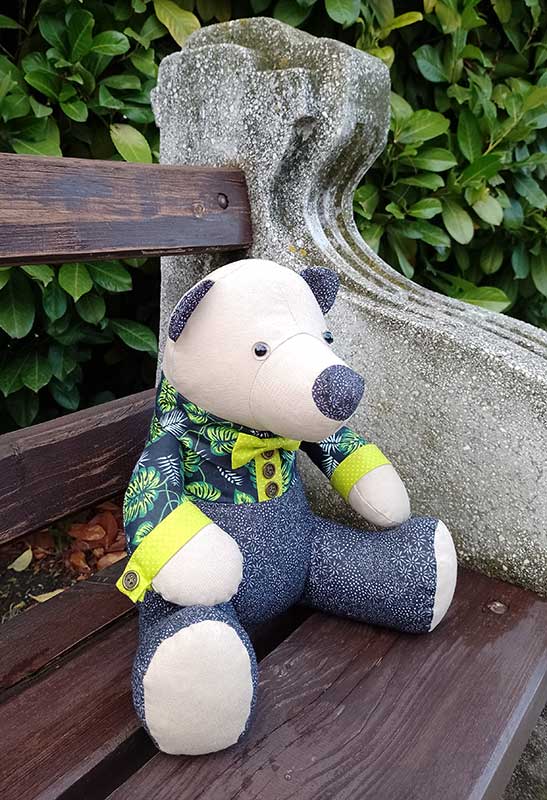 I thought he looked so cute already – then I saw him in his waistcoat ~>
he looks
ADORABLE!!!!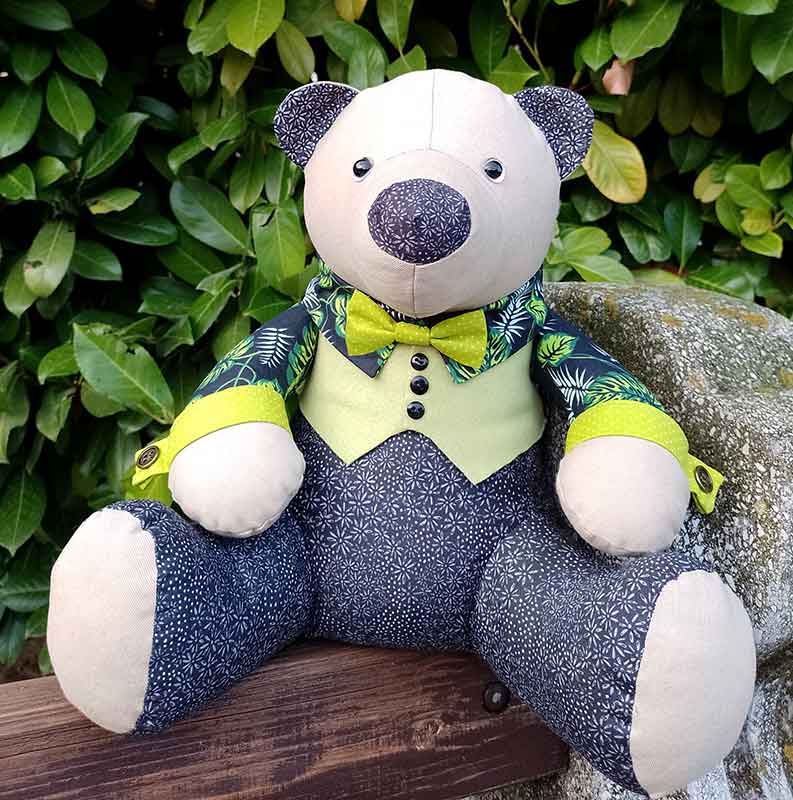 Checked shirts look fabulous! 
I love this cute Buttons Bear sewn by Caroline Moyers… the face is made from a repurposed fleece type blanket.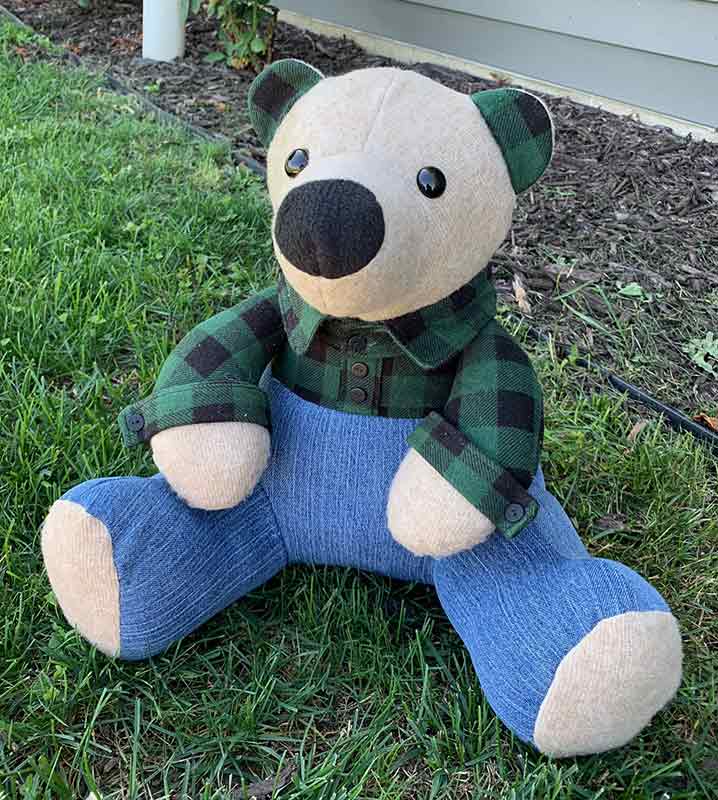 …and I just had to include this 2nd pic – Buttons looks he looks like a farmer out in his fields!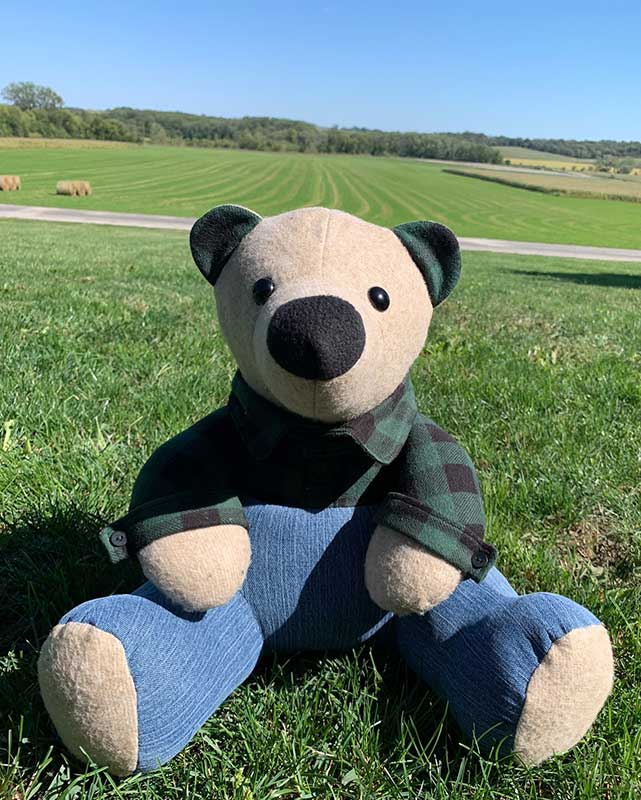 This darling Buttons Bear was sewn by Emma Deacon of the Sewing Bumble Bee, who says, "I think his snout/muzzle is my favourite piece and make him what he is!".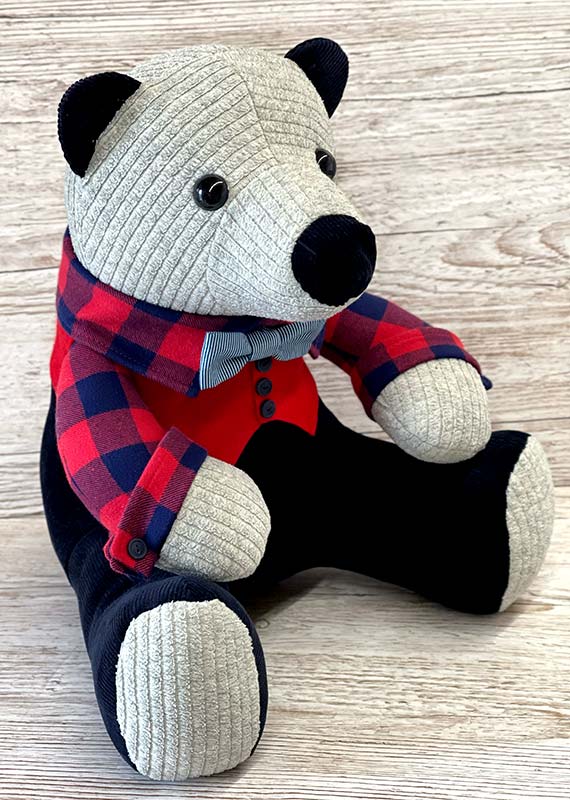 And this beautiful Buttons Bear was sewn by Kerry Cruikshank of Pomie Pals.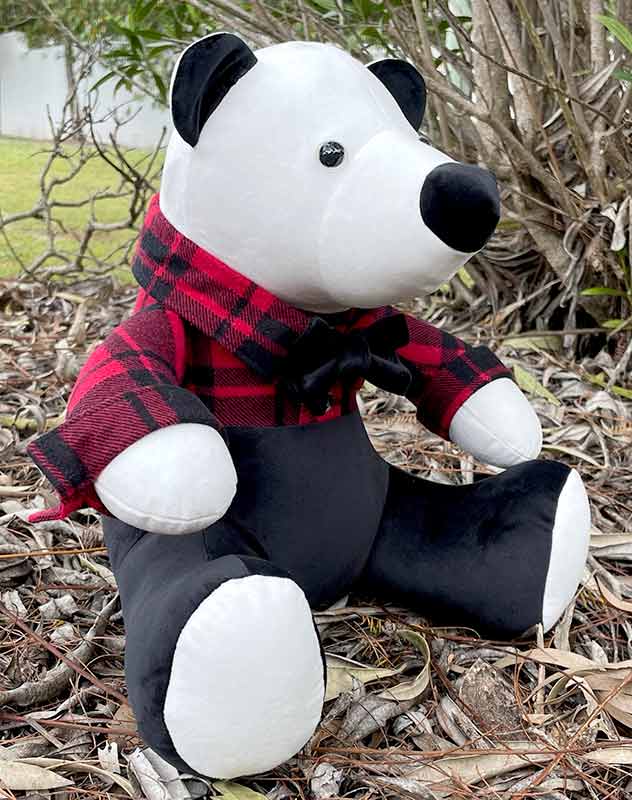 Jaclyn England of Cedar Top Crafts took her delightful Buttons Bear on an outing to the pumpkin patch. She said all the ladies at the patch fell in love with him. "They all loved him and talked about how cute he is! Of course he took every complement like the true gentleman he is!"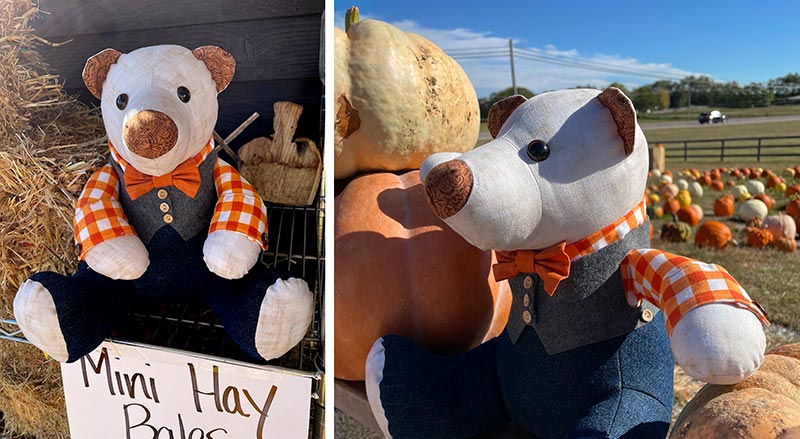 Buttons Bear also makes a special bereavement bear for anyone who has lost a dad or grandad. Elizabeth Percival of Dolli-Mixtures Keepsakes has added a special message to the footpads that reads:
"Once my clothes and now a bear.
Hug me close and know I'm there.
Love Always Dad". 💙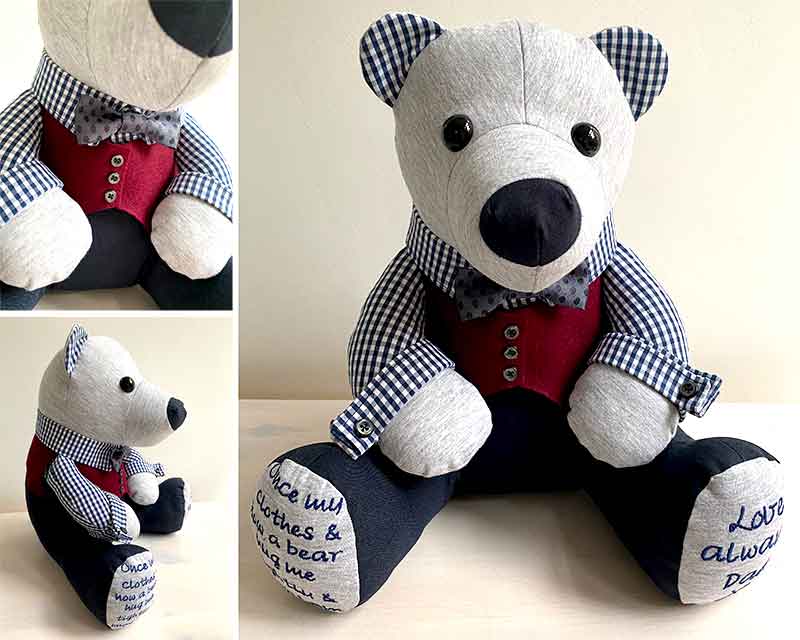 Buttons in button fabric!
Sandy Thurlow sewed this cute Buttons Bear – in bright fun button fabric – too cute!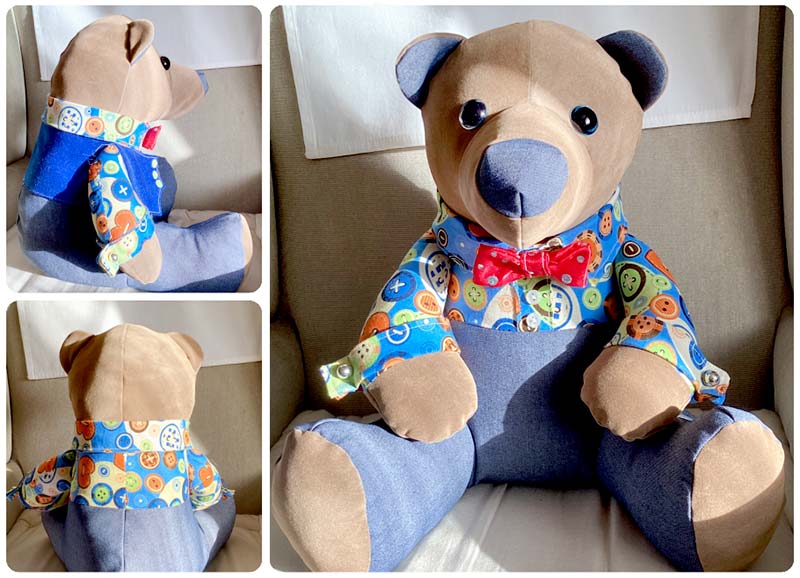 And last but NOT least!
Lisa Kelly of Sew Pretty Handmade With Love sewed this adorable sweatheart! She added a little smile to Buttons Bear and I think it gives him a more baby-ish face.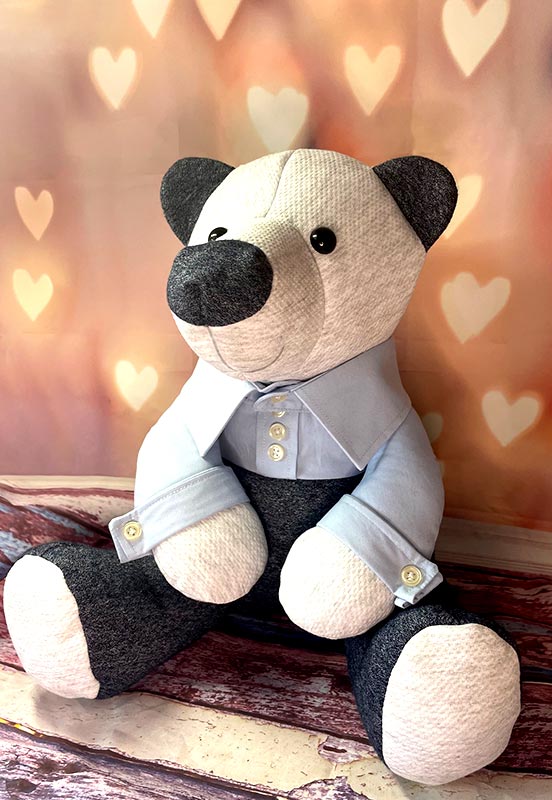 THANK YOU
to ALL the Testers ~>
I love ALL of your lovely feedback photos!!!!
In case you missed the link above – Buttons the BEST DRESSED Bear pattern is available to download from the website NOW!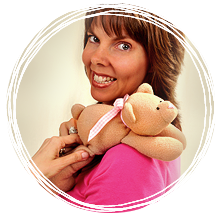 Till next time – Happy Sewing!
xxx
Pauline