I have noticed a fantastic trend, more and more Funky Friends Factory feedback photos are of toys made from recycled fabrics, clothing and household furnishings, like curtaining and towels and left over scraps of fabrics. I have to share some of the gorgeous pics with everyone!



Alison, from South Australia, just sent in a photo of my Gertie Gecko Toy Pattern made up in a quirky conglomeration of polar fleece scrap fabrics. She said it was her very first soft toy and she will be making many more for her grandchildren. I think her grand kids must think she's a pretty funky granny!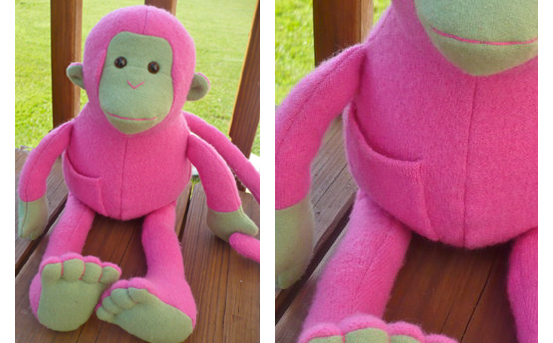 Colleen made up my Mitch the Monkey Toy pattern in normal monkey-browns but she made this one for a friend out of an up-cycled pink wool sweater and some green wool fabric. She posted her picture on the
Funky Friends Factory Facebook fan page.
* If you look at the close up shot you can see the pocket from the original wool sweater – how cool is that!!!
Jayelen emailed me to tell me that she loves shopping for retro and vintage materials and also finds a lot of scrap that she uses for her toys like tablecloths and old clothes that she cuts up.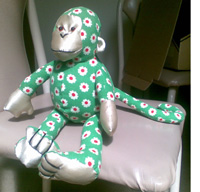 This is a photo of my Mitch the Monkey Toy pattern made up as 'Michelle'. The fabric was picked up at a second hand store for $1 and the contrast fabric was left over satin from a flower girl dress that she made.
This is the Calico Signature Bear made as a lovely keepsake bear by Cwtch & Cherish Keepsakes.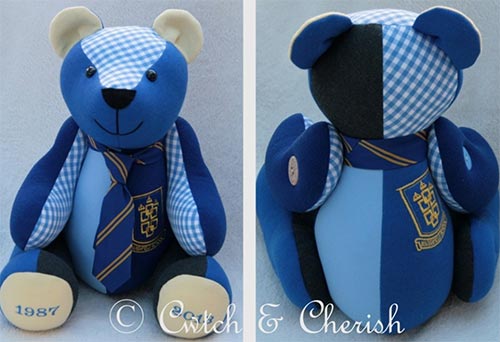 Wow, with photos like this, I feel kinda guilty buying NEW fabric to make up my toy patterns! It also inspires me to 'use what I have' already! I hope it inspires you to recycle too!
Have you made some recycled Funky Friends toys?
.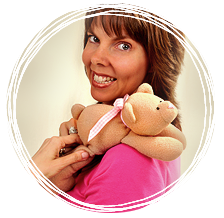 .
Happy recycling
Pauline