It's time to meet the winner in the fabulously popular Funky Friends Factory Denim Toy Contest, but first here's another batch of entries to inspire your ongoing denim sewing adventures! And if you haven't ever sewn with denim – scroll to the end of the post for tips and tricks for sewing toys from recycled denim.

Check out these
GORGEOUS denim toys ~>
and the winner is announced
below too… 
Digger Dachshund was the most popular pattern for entries in the denim contest, but that doesn't mean that any two were similar! Check out this pair… Ange Angela made her "Toy Story" themed Digger Dachshund with a leash fashioned from the side seam of a pair of jeans. This toy's name, fittingly, is "Levi" 😂.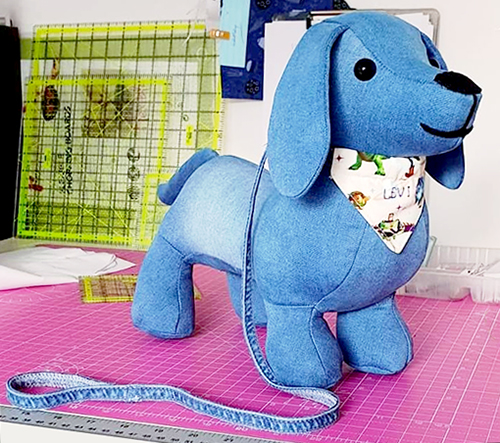 And this next Digger Dachshund Pattern by Susan Weimer is totally unique. His name is "Wrangler" and he's TINY! He can fit in the palm of your hand. I'll let Susan share the rest of his details: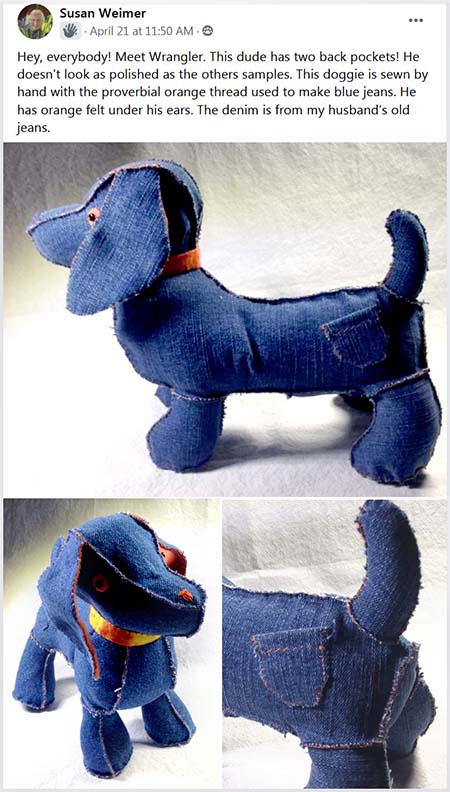 Click HERE to purchase the Dachshund pattern.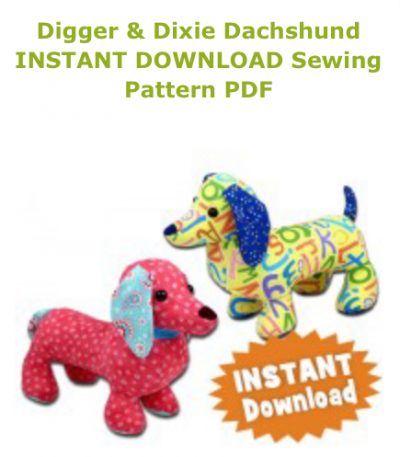 The Melody Memory Bear pattern was another really popular pattern for the denim contest. I like Angie Robertson's idea of using denim for the accent fabric and a shirt for the body. Plus, there's a cute label from the jeans on the back of the bear.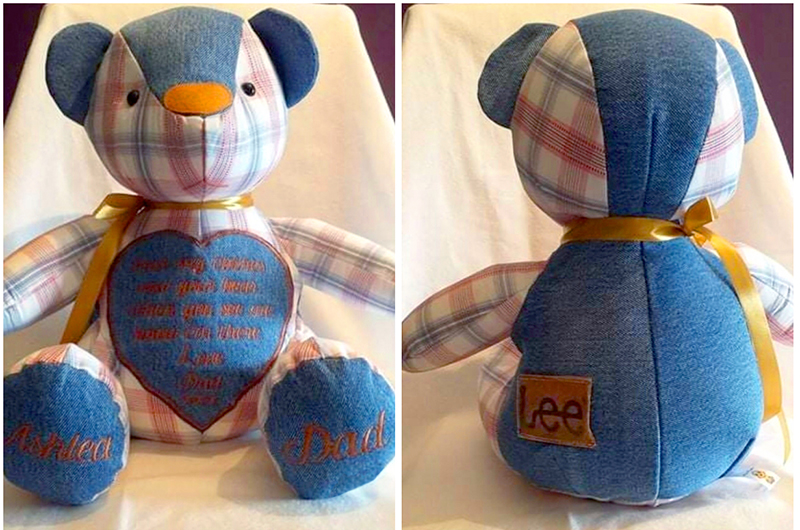 Click HERE to buy the Melody Memory Bear pattern.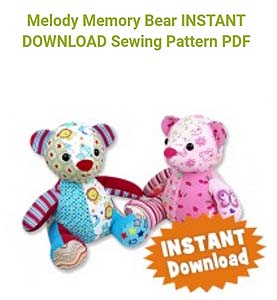 Olaf En Mireille Leurs made a family Keepsake using the Gregory Gorilla Pattern and two pairs of jeans. Read her fun description!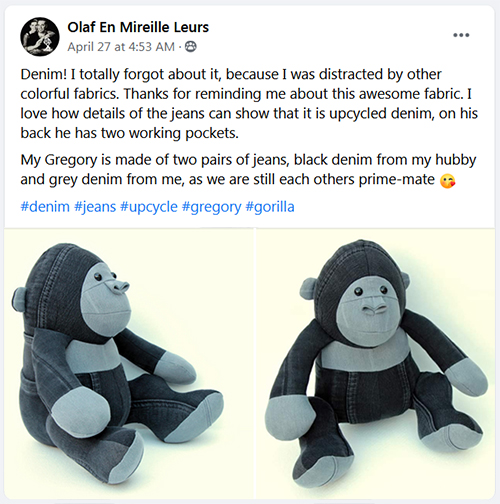 Click HERE to purchase the Gorilla pattern.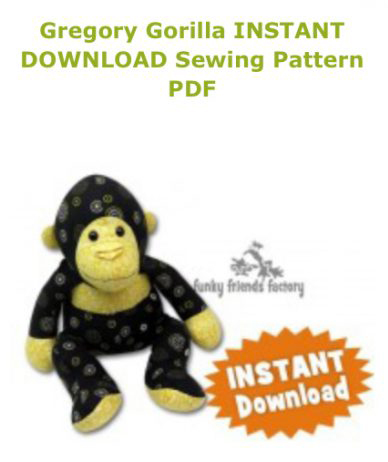 Denim makes great dog toys, as you can tell from the enlarged Plattie Platypus present Anel Carlson made for her daughter's new puppy. So cute! I hope that platypus provides years of service. 😊
Click HERE to purchase the Platypus pattern.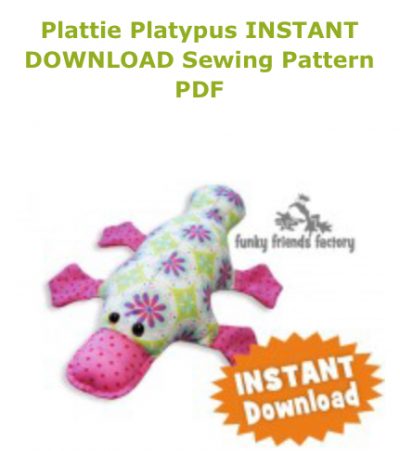 Here's a pup of a different sort. Emma Boulton's version of Puppy Pete was made from jeans and a shirt. Emma notes that Pete has a working back pocket to hold his puppy snacks.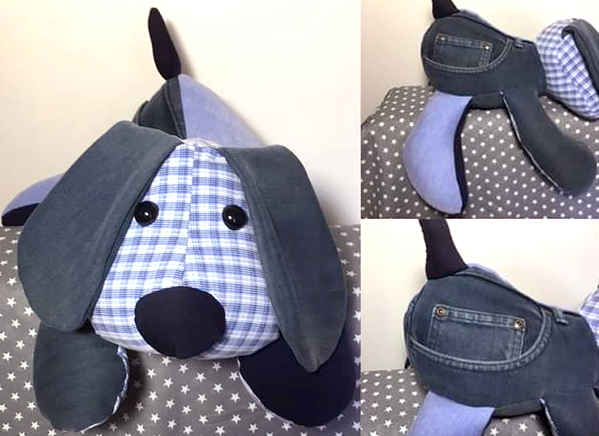 Click HERE to purchase the Puppy Dog pattern.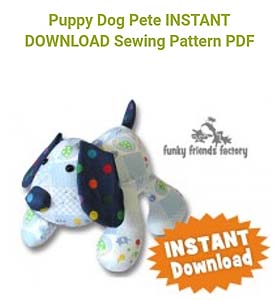 Sarah Kilshaw is a long-time denim toy fan, as you can see from this big stack of fun toys. And she sews them BY HAND! Those are some strong fingers she has! How many Funky Friends Patterns do you spot here?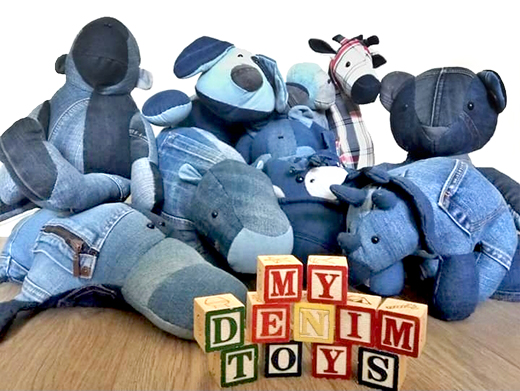 And the WINNER is…?
Yeeeehar!!!!! The random number generator has spoken, and the winner of a Funky Friends Factory gift certificate is…
Karen Cronje
Karen used the Calico Signature Bear pattern for her entry. She used a pair of jeans for the main fabric and some felt and cotton accents for highlights.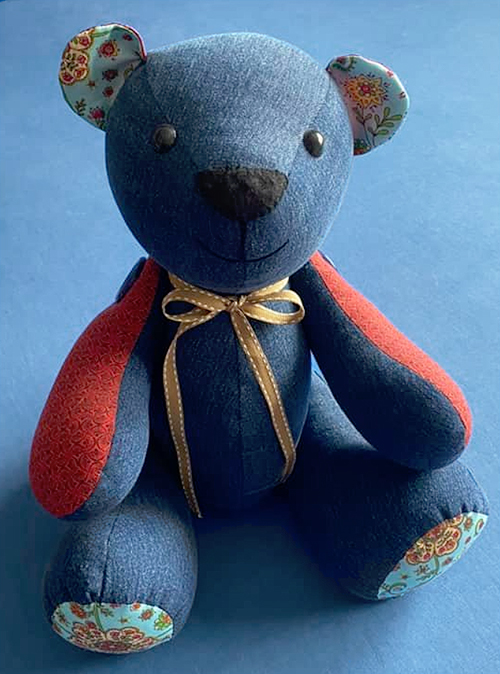 CONGRATS Karen!
You win a Funky Friends Factory Pattern GIFT VOUCHER valued at $50!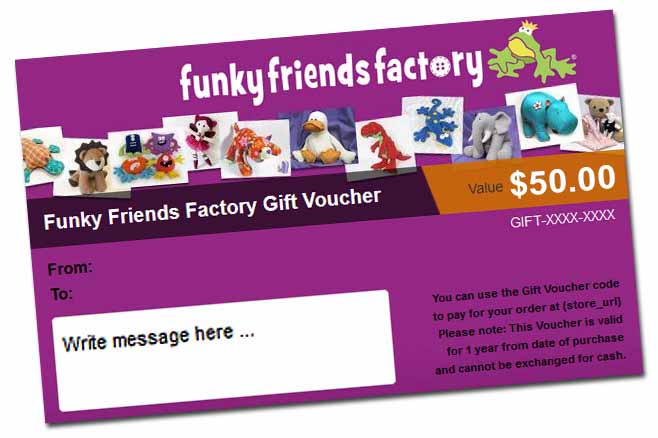 The competition may be over, but you may be keen to up-cycle some denim to make a homemade, re-cycled toy yourself? 
Here are some TIPS for sewing with DENIM fabric: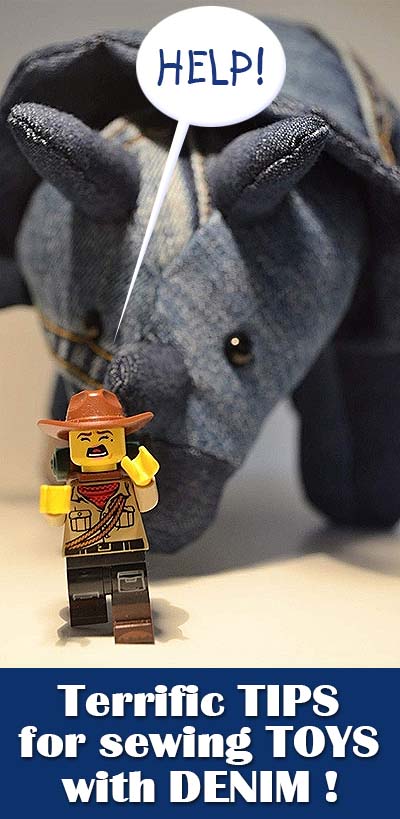 The adorable version of Trixie Triceratops above
was sewn by Sarah Kilshaw!!!
If you have never sewn with denim, there are a few things to keep in mind in order to prevent damage to your sewing machine…
⚠️ First up, make sure to use a sewing machine needle that's specifically labeled for Jeans or Denim.  Here are a few examples.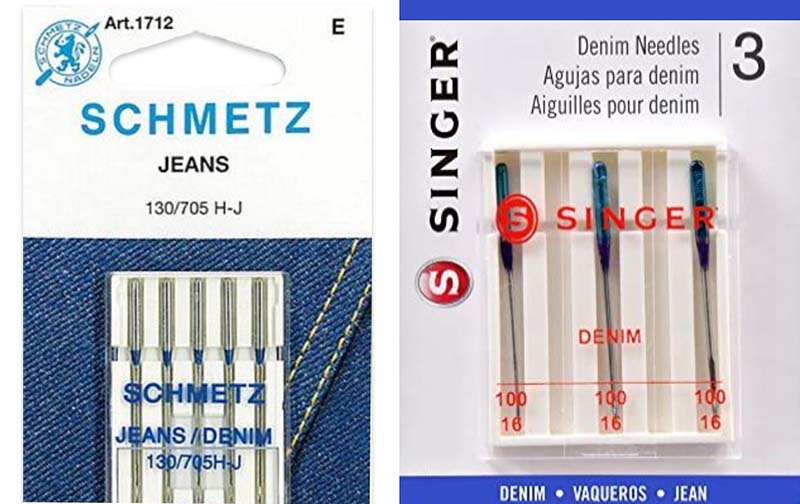 ⚠️ Next, if this is your first time sewing with denim, you need to watch out for BULKY SEAMS. The best approach would be to avoid tracing your pattern pieces over any bulky seam lines at all. To do this – lay the denim flat and only use the parts that don't have seams.
⚠️ For the more ADVENTUROUS – if you like the look of the denim seams (and other features like studs, pockets etc) and want to try INCLUDING them into the toy, there are some easy ways to avoid problems. Sewing over a bulky seam too quickly or with the wrong needle can jam up or even break your machine, so I recommend hand cranking your machine over any seams….
GO SLOW!
Alternatively, you can buy an inexpensive "seam jumper" tool like the one pictured below. It will help your machine sew through the bulk.
Don't forget to check out the 3 previous blog posts on this topic for more fun pics of denim toys! 
Have fun sewing some homemade denim toys!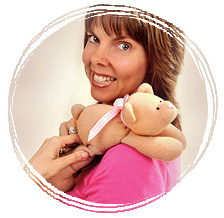 Till next time,
Pauline
xxx