I am soooooo excited, 2012 is the YEAR of the DRAGON so I've been playing around with a new toy sewing pattern design…..
a dragon!!!!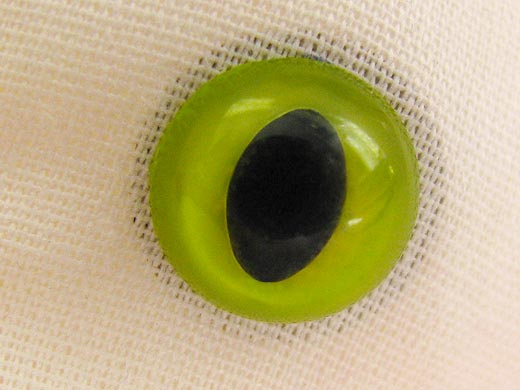 A little while back when I asked if I should consider doing a course on How to design Soft Toys, there were a few people who were interested in knowing how I go about designing softies… so I thought I'd give you a bit of insight! 🙂
First I think a LOT about what I want MY dragon to look like.
I ask myself, "what actually makes a dragon a dragon?" I need to figure out what features my dragon pattern must have to make it look like a dragon. Then I collect ideas over time, which can be from anything from gift cards to small ornaments.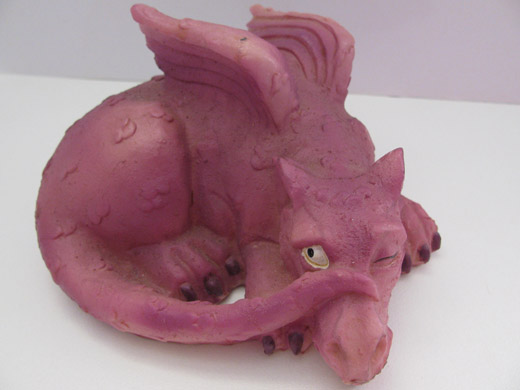 I found this cheap, UGLY PINK ceramic dragon in a 'dollar shop" a few years ago. The colours are soooooooooooooooooo ugly BUT I loved the idea of a sleepy dragon and the tail over her nose is too sweet!
Having a 3-D object like an ornament helps me to get an idea of the 3-D shapes I want to make. I kept knocking bits off this poor dragon and had to keep gluing him back together!!!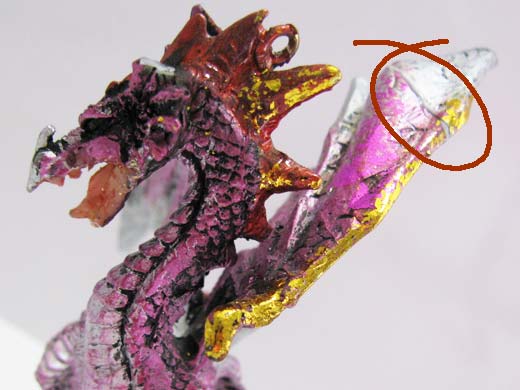 And I trawl the internet for hours….
sometimes months or years even, until I settle on what I want my dragon to look like.  The internet is an amazing place for ideas – the obvious one -a dragon tattoo!
I always add the word 'CUTE' in a tattoo Google search so hopefully I can avoid anything too vulgar. I found this one on the tattoosrtists.org website. STILL, I have to stop my imagination… I always wonder EXACTLY WHERE the tattoo is on the person…. ha!ha! : )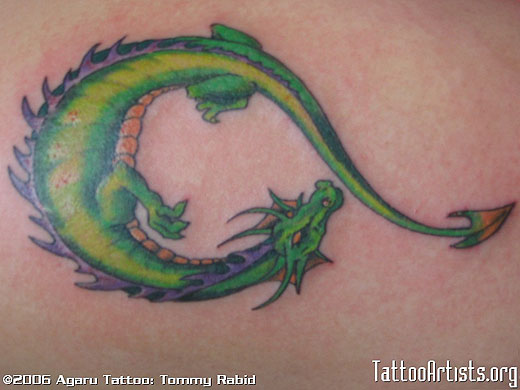 I even found a cute sleeping dragon cake for inspiration! This cake is AMAZING – I think it's looks too good to eat!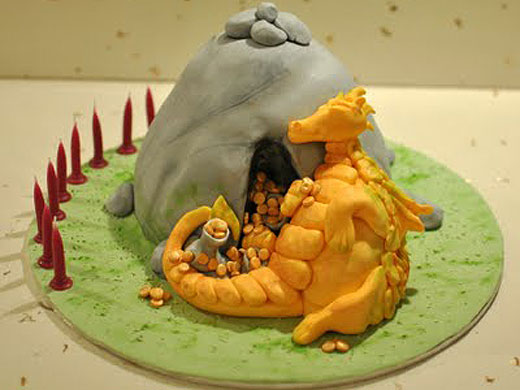 I decide what I DON'T want MY dragon pattern to look like!
This is probably THE most important part of the whole toy pattern design process, well it is for ME! It's vital for my reputation that the toy sewing patterns I design are UNIQUE!
I don't want to copy anyone intentionally – or UNintentionally! So a big part of my dragon pattern research was looking at other people's dragon pattern designs! I wanted to make sure that my dragon looks NOTHING like ANYTHING I have seen and ALSO, because a lot of my friends are toy designers, I don't want my designs to be similar to their creations!
I love this cute fleece dragon pattern designed by one of my favourite toy designers, Mariska Vos-Bolman from DIY Fluffies in the Netherlands. Yoki is so distinctive, you probably even recognise him! That's why I decided to make my dragon completely different and so mine will be a lying down dragon! :0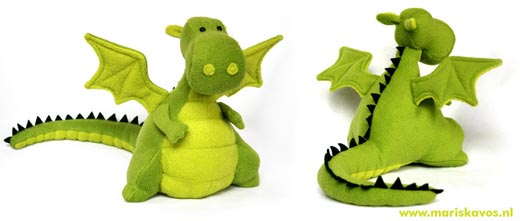 Another favourite soft toy designer and  friend of mine is Jeniffer Carson who has to be THE actual queen of dragon pattern design! She even goes by the name of "The Dragon Charmer"!!!!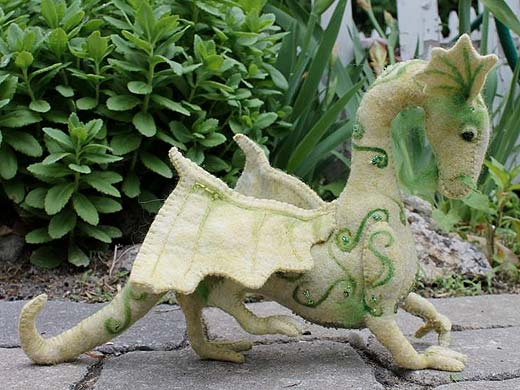 For many years I have thought I wouldn't dare attempt to make a dragon as she does such an awesome job – BUT as it's the year of the dragon – I thought it's time I gave it a go! ha!ha!
Just look at the fabulous shapes of her dragon designs and the intricate details! Jennifer is is also a children's author of fantasy books (of which I have signed copies!) and she makes all the fantasy creatures as patterns too – so much talent in one person… she is truly an inspiration!!!!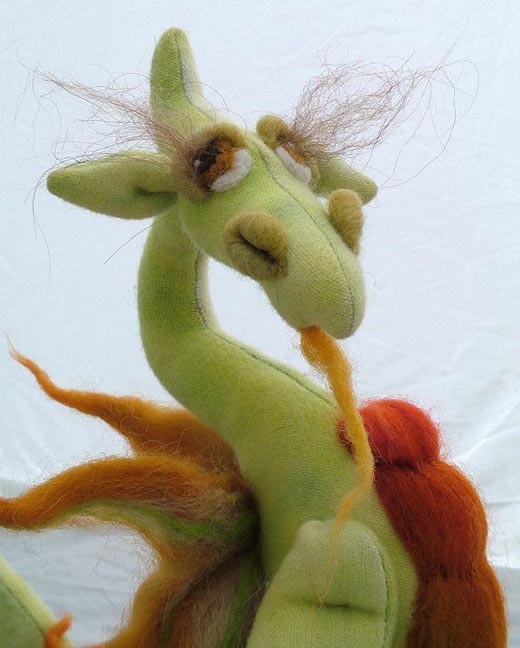 Then I put pencil to paper and draw some shapes…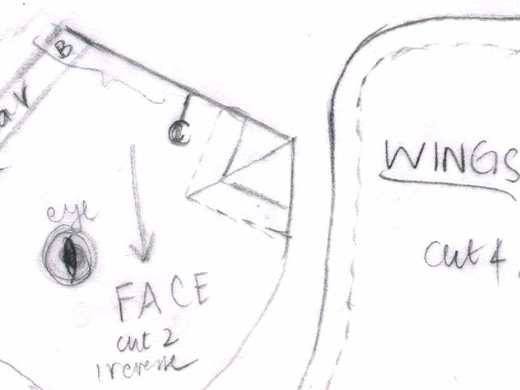 ONLY then the sewing begins!!!!
I can't show you too much as this is just a teaser blog post for my new dragon pattern…(ALL will be revealed later!)  … but here are some of the first attempts at making him, to show you how I design my sewing patterns.
I like to use calico fabric when I am designing my patterns:
Why? Well, because it's cheap, and this is important as I can sometimes make many many versions of a design until I am 100% happy that it is cute enough to put out for people to pay for!
NOT only that. Can you see the puckers in the seam  below the dragon's eye? WELL – that's NOT good!!! I am a bit of a perfectionist and I want ALL the seams to fit exactly…. which can take a lot of tweaking!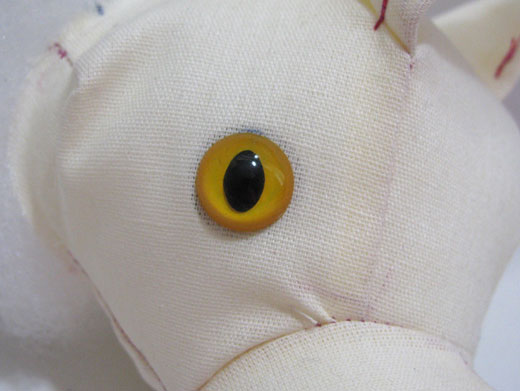 I use a dark / contrasting thread for sewing up the toy pattern prototypes:
Why? Well, because it helps me to visualize the 3-D shapes when I compare the shape of the toy to the flat 2-D paper pattern pieces I drew.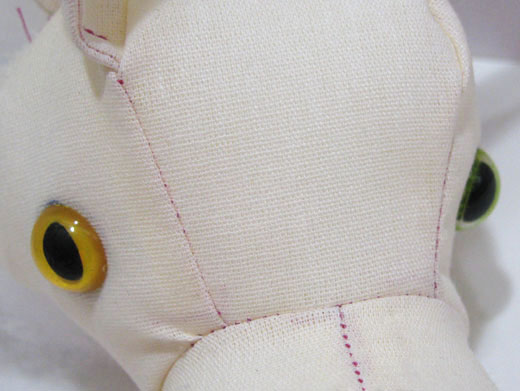 I use the actual craft eyes that I will use for the finished toy in the design stage:
Why? I like to play around with different eyes at this stage of the pattern design. It helps me to decide on eye colour and and more importantly their position. It is amazing how a tiny change in eye position or size can change the expression of the toy's face!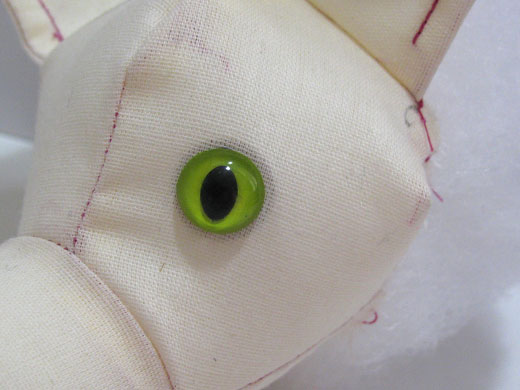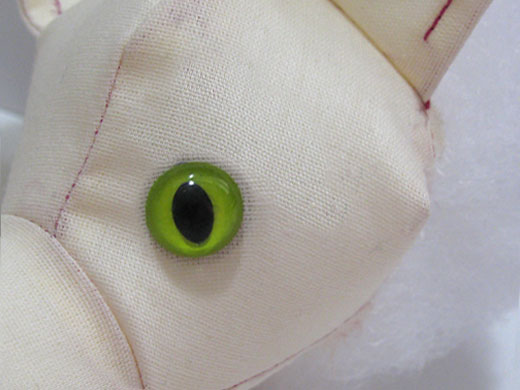 Ooooh, before I forget….
The whole point of this blog post was because I need help with the MOST IMPORTANT PART of a the toy pattern design process – CHOOSING a name! Soooooo, I'm asking for suggestions. ONLY one rule – it MUST start with the letter 'D' oh and one other rule…. it cannot be 'Darius' (because I think that's already taken!)
Oh and it's a competition too!
IF you choose the winning name – you will win a copy of the Dragon Pattern when it is released!!!! YAY!!! Can't wait!
NOW, I'm looking forward to your name suggestions!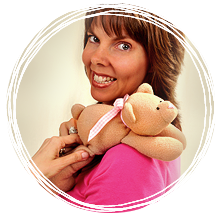 .
.
Till next time,
Happy Sewing,
Pauline