We've got a heap of silly snakes, a bunch of beautiful bears, and some earnest eagles in July's Maker of the Month finalists…plus two of the most popular toys ever posted on our Facebook page! Read on to check them out and see the winner!!
Take a look…
Stephanie Hardy sized down the Hannah Hedgehog Pattern to fit this whimsical purple print. I think she's absolutely magical!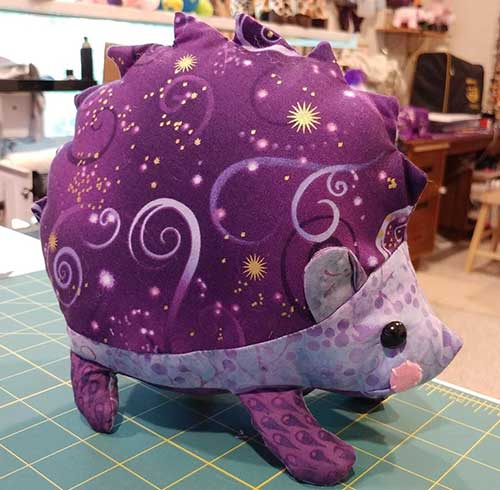 Click HERE to purchase the Hannah Hedgehog Pattern.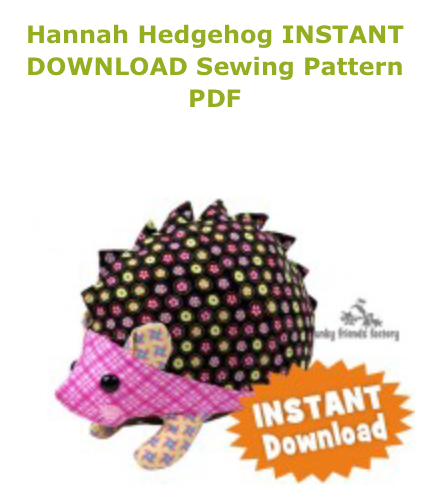 Trish Wright made super cute version of the Alice Alpaca from the Lloyd Llama & Alice Alpaca Pattern for this lucky little girl. Looks like the real alpaca approves of her Funky cotton cousin.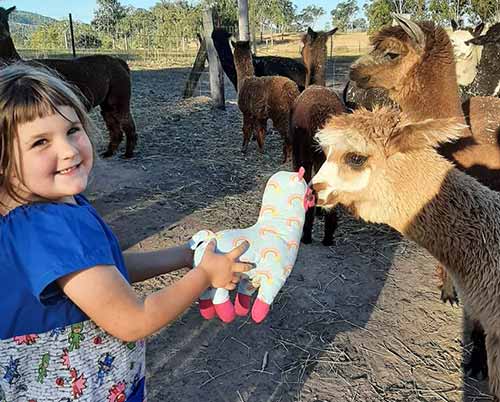 Click HERE to purchase the Llama & Alpacca Pattern.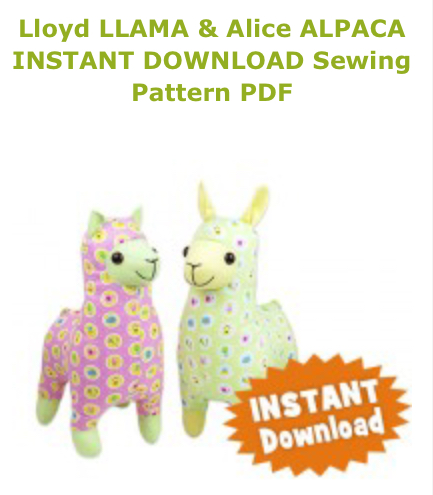 There must be something about summertime that brings out the snake-makers because we had so many versions of the Silly Scrap Snake Pattern posted in our Facebook group!
I think Natalie Tiralongo's snake stole a scrap of Charlie Brown's famous yellow shirt!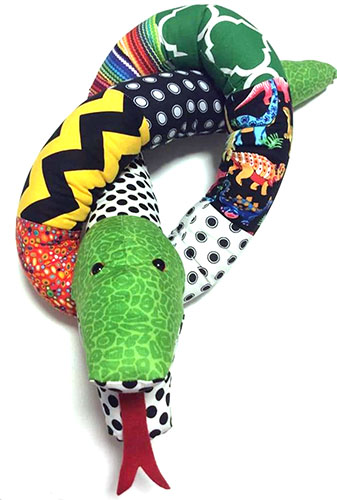 This scrap-tastic fellow by Lisa Stewart was a baby shower gift to match a colorful quilt.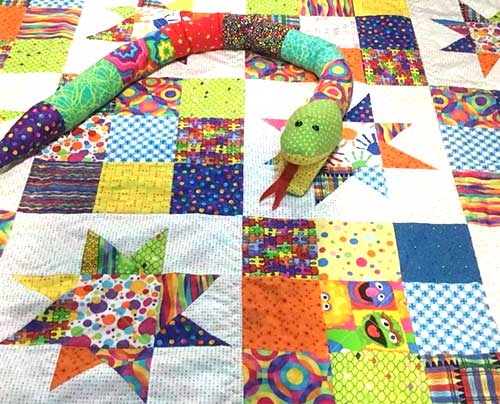 Marieke Moerman used her daughter's old clothes to make this snake, whom her daughter named "Slangie"… That's Dutch for little snake.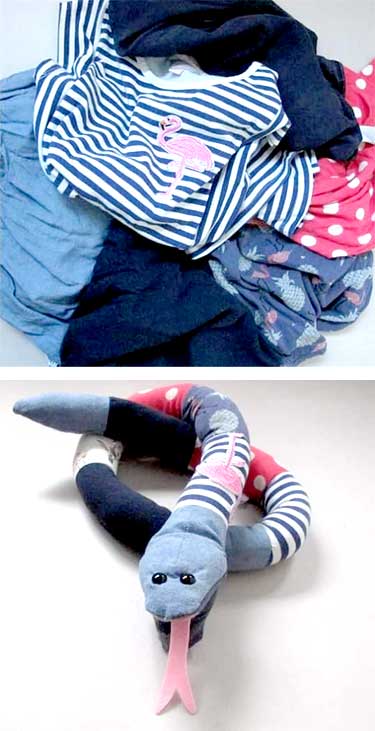 Teri Wolff didn't include this snake's name, but he certainly looks snazzy (and real!) in that fabric.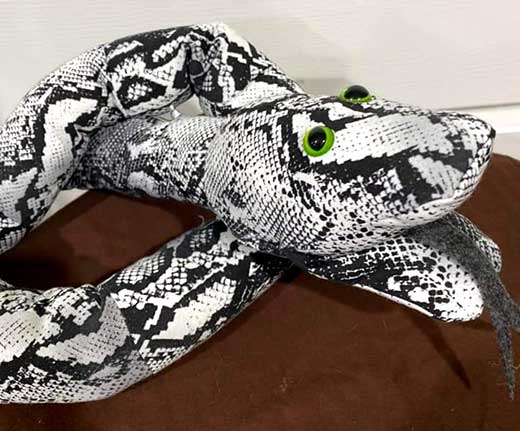 Renee Phelps Crumley sews lots of Funky Friends in minky fabrics, so she had a plethora of plush scraps for this textured sake.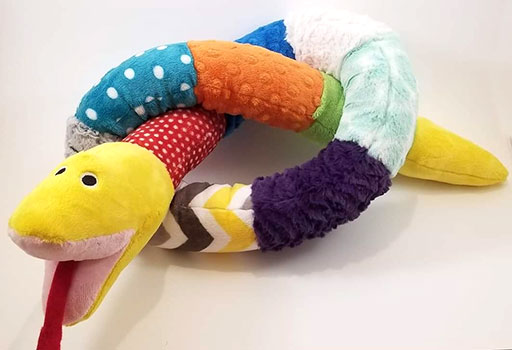 For a more sedate snake, Julia Herder used a tone-on-tone approach.
Click HERE to purchase the Scrap Snake Sewing Pattern.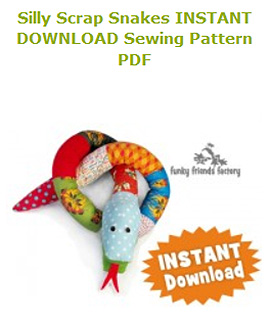 Now for something fluffy! Lindsey Clarke made her daughter's birthday extra special by sewing her a keepsake version of the Patch Pussycat Pattern made out of her old clothes. What a great smile!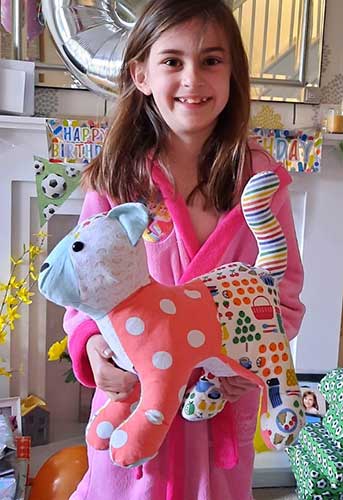 Click HERE to purchase the Patch Cat Sewing Pattern.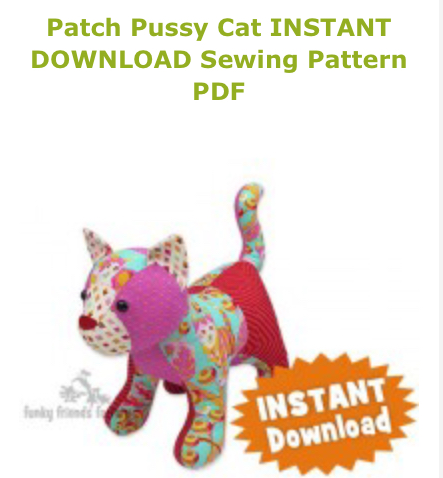 I don't want to forget the flock of feathered friends who roosted on the Facebook page last month, either.
Aaron Michael made his first Bill the Bald Eagle all business (brown) on the body with a party (stars) on the wings.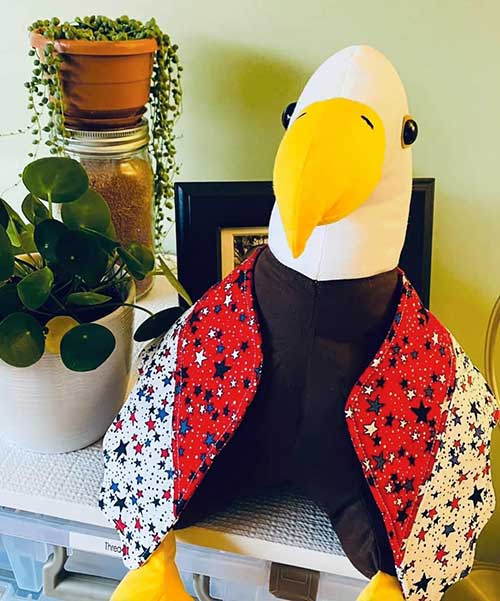 Ann Fitzjohn had her eagle ready for American Independence Day in full flag regalia.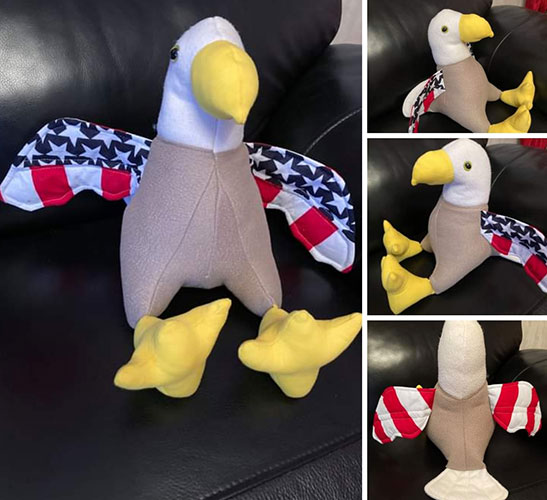 And I LOVE that Lynn Tilot made an eagle to match her July 4th outfit!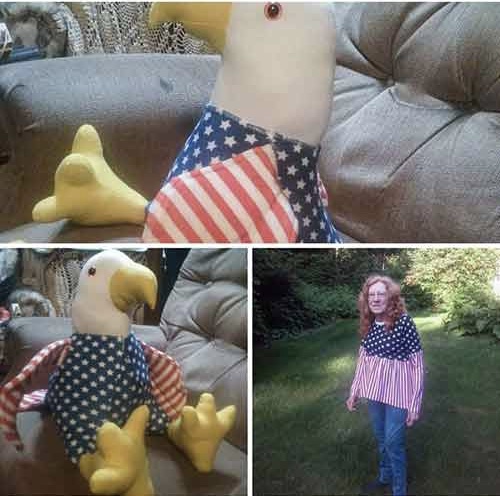 This cuddly version of the Bill the Bald Eagle Pattern sewn by Theresa Lex features a military fabric on the wings.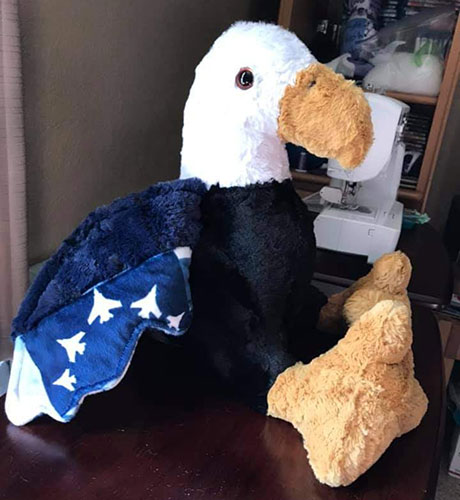 Click HERE to purchase the Bald Eagle pattern.

This denim version of the Calico Bear Pattern with eyelashes by Fay Jones was one of our most popular posts of all time. She's so delightful, so I can see why everyone loved her!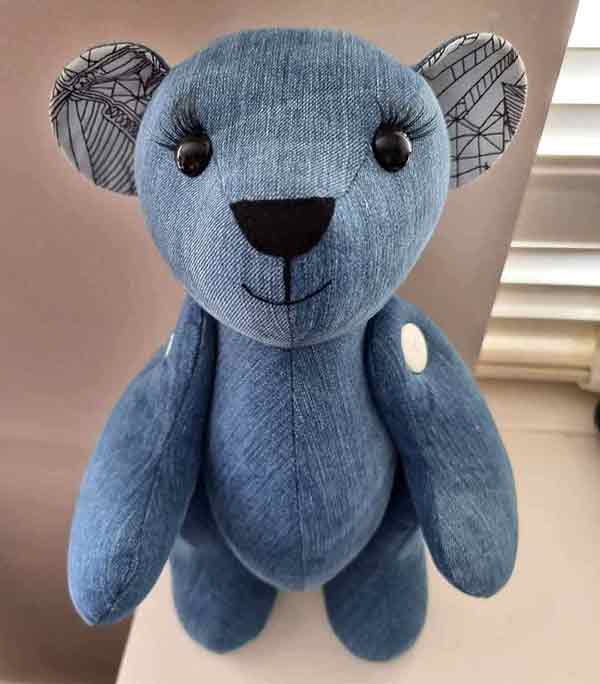 Another eye-catching Calico was this school uniform keepsake by Hayley Sayers.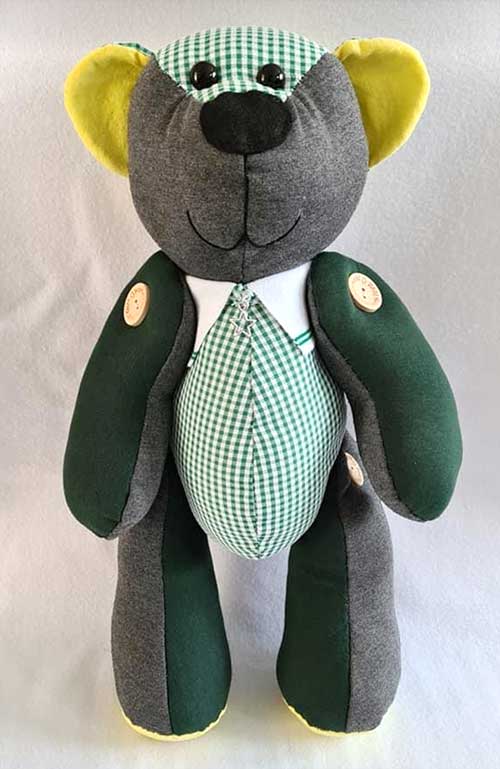 Hayley hand sews all her toys. I love the mixture of solid colors with the gingham. The paw pads add a perfect bit of customization.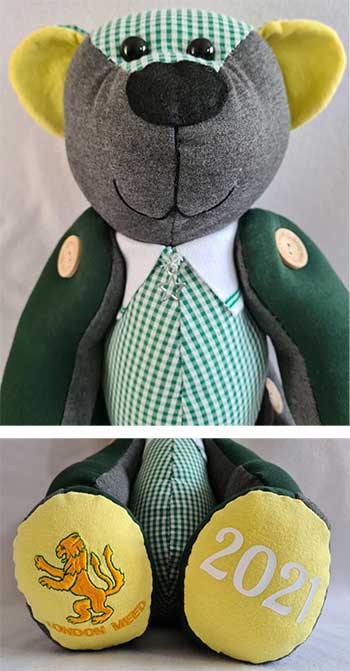 Click HERE to purchase the Calico Bear pattern.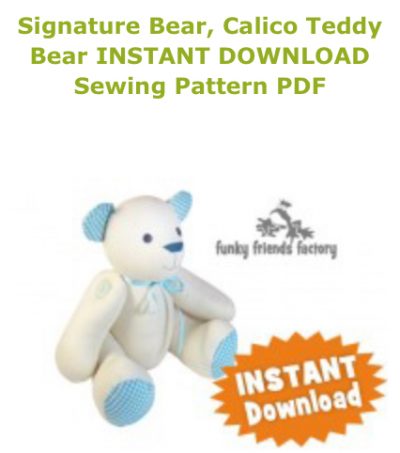 AND this month's winner is…
Congrats to this month's winner, Ginny Murphy!
This month's winner is our all-time TOP post in the Facebook group. Not only is this a wonderful version of the Melody Memory Bear Pattern, it has a great story. Plus this was Ginny's FIRST EVER BEAR, she used the challenging fabrics of denim tartan, and look how well she matched the stripes on the plaid! I'm going to let Ginny tell you this story herself! Here's her post: "A while ago I told you about a bear I made for a former neighbor. He had told me that he had never had a teddy bear, so for his 94th birthday I made my first ever Melody Bear and gave it to him today. He's Scottish so I made it out of Anderson tartan as that's his surname. As you can see, he was delighted with it."
Happy 94th Birthday Mr. Anderson and congrats to Ginny!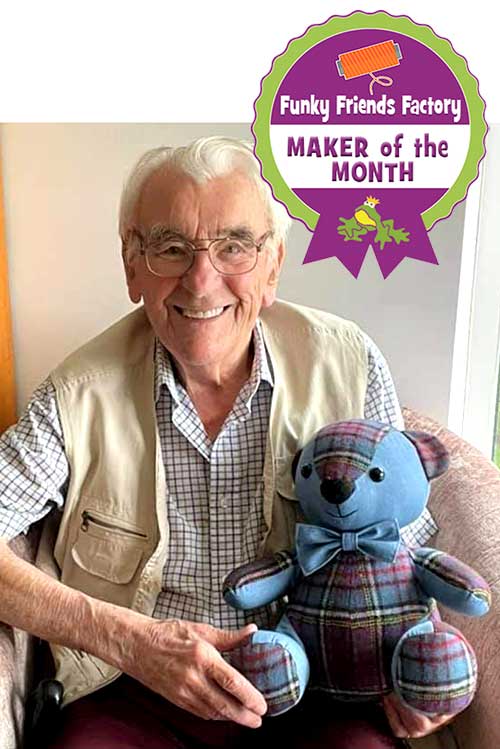 CONGRATS Ginny! You win




a FREE Funky Friends Factory Pattern ~>




of your choice!
Click HERE to purchase the Melody Memory Bear Pattern.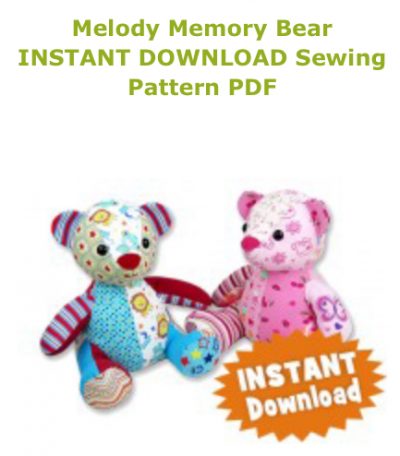 Want to win a
FREE toy pattern?
It's so EASY to enter the Pattern GIVEAWAY!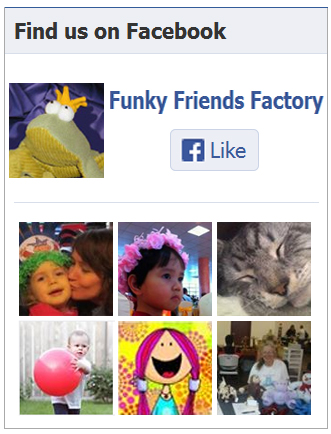 ALL you need to do is post a photo of a FUNKY FRIENDS FACTORY toy that you have made on the Funky Friends Factory Facebook Page .
At the end of each month I draw a winner and post the winner's name on the Blog the following MONTH. I have an Album on Facebook for all the MAKEROFTHEMONTH winners. You can check it out HERE!
NOT on Facebook? ENTER by email! 
*** You can send me your photos by email too!
So come on! Share your photos  ~> The next winner could be YOU!!!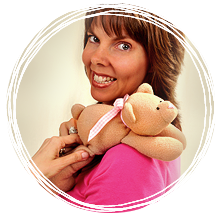 .
Till next time,
Happy Sewing,
Pauline
xxx