This month's blog post is a safari of fantastical animals. These Maker of the Month finalists feature glitter eyes and rainbow fur, as well as designer prints and laid-back plaids. You won't want to miss the rare grey tiger and a bear with gold strands in it's fur.  That's just the start, so read down to the end of the post to tag along on the tour and find out who won.

Let's take a look…
This sprightly Belinda Butterfly was Lisa Marie's first try at the pattern! If you look carefully you'll see the tiny woodland creatures from Tula Pink's Tiny Beasts fabric range are hiding in the floral designs. Too cute!
.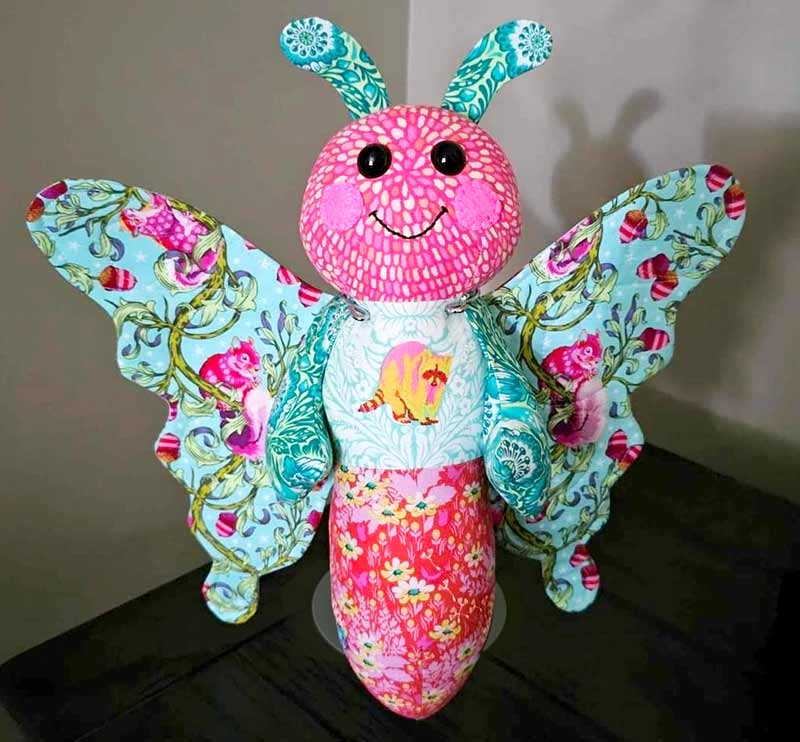 Click HERE to buy the Butterfly Sewing Pattern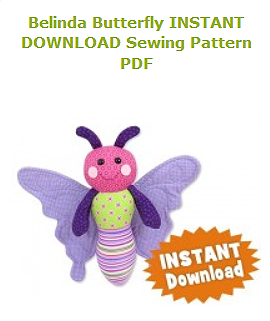 Everybody loves a Funky Friends Factory gift! Susan Tomachio Therrin sewed a gift for her daughter, shown here, from my Butch & Bella Bulldog pattern.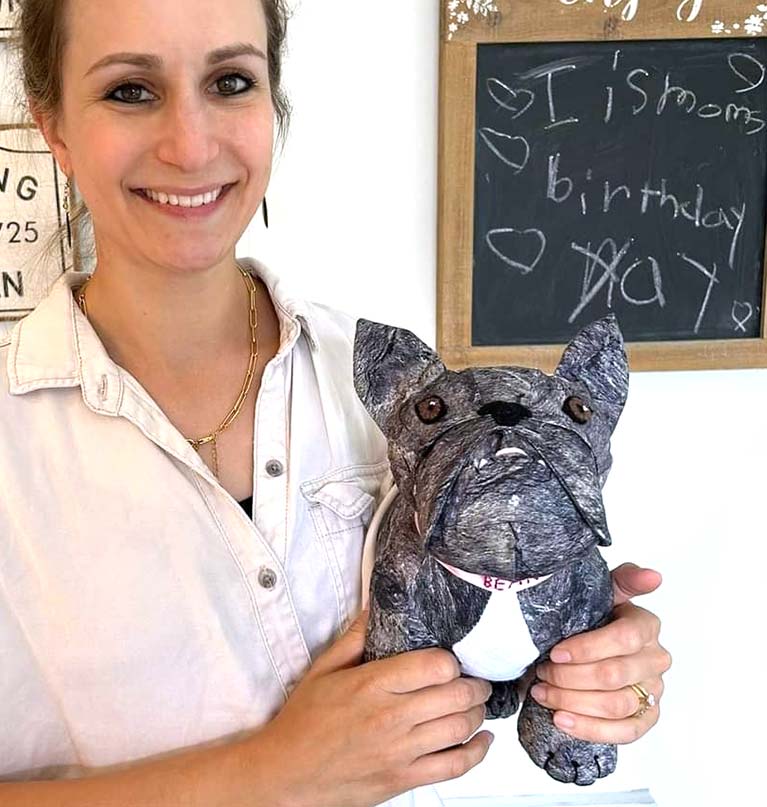 Click HERE to buy the Bulldog pattern.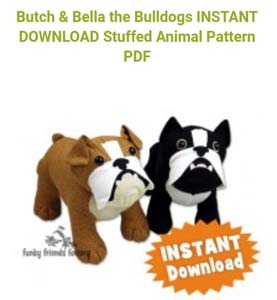 This Fleur Flamingo sewn by Nicole Chivas is sittin' pretty on the porch with her embroidered wings.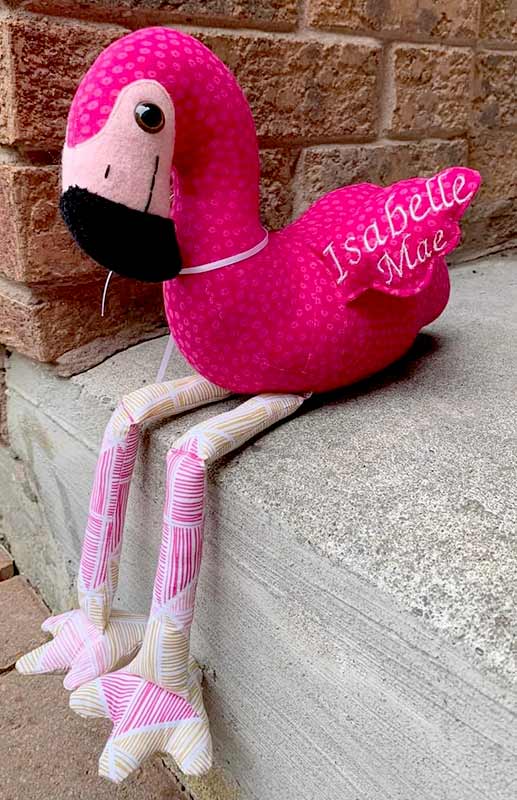 Sparkle fabric, fluffy fur wings, and floral legs decorate this snazzy Fleur Flamingo sewn by Lindsey Mortimer. It has glitter eyes, too!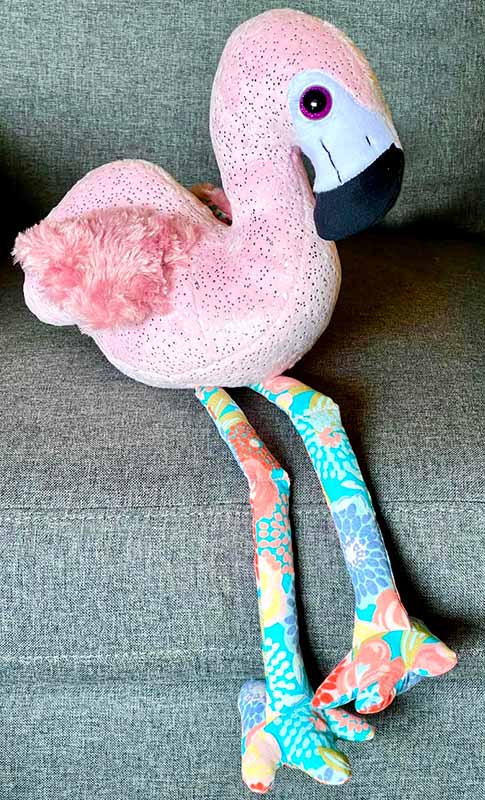 Click HERE to buy the Flamingo Pattern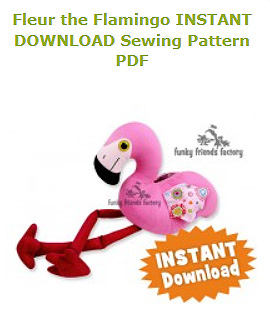 Wow, it's a 'tall order' to sew a toy this big. Natalie Booysen enlarged the  Raff Giraffe sewing pattern to about 250% to make this gorgeous and GINORMOUS Funky Friend!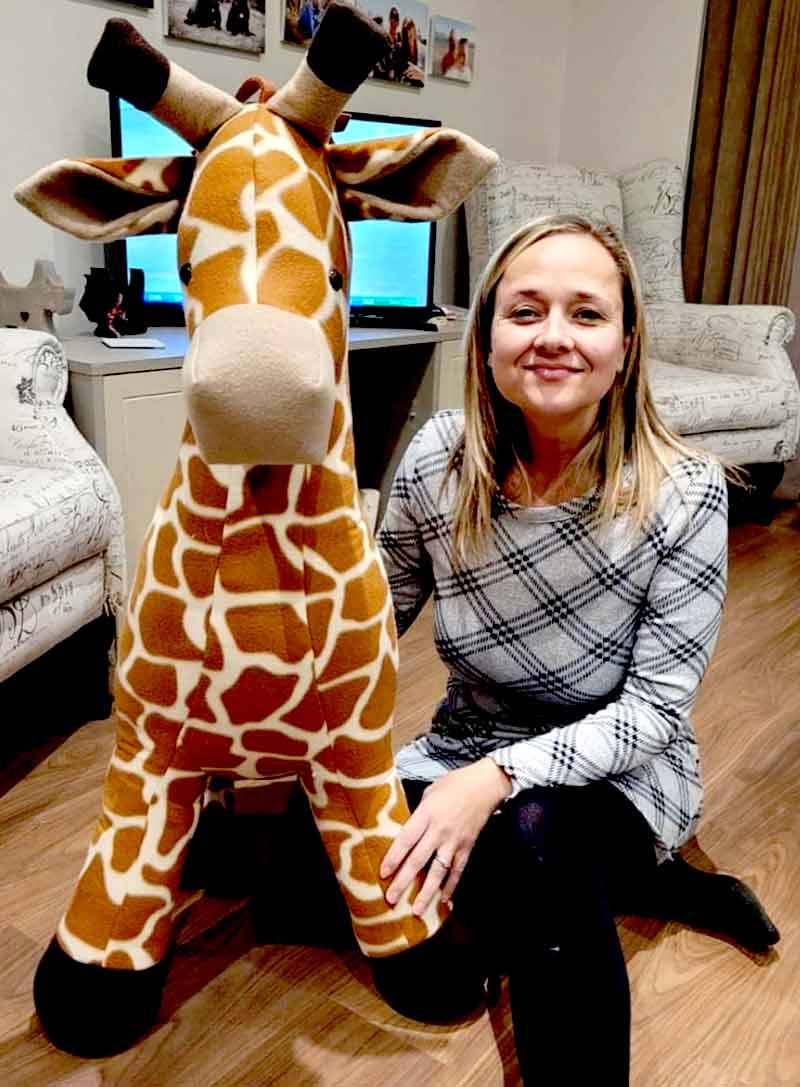 Have you heard of fussy-cutting? It means to center you pattern pieces on the fabric to catch certain design elements. On this Raff Giraffe sewn by Sue Okeefe, the colorful giraffe in the Tula Pink Everglow fabric is fussy-cut to fit along the neck.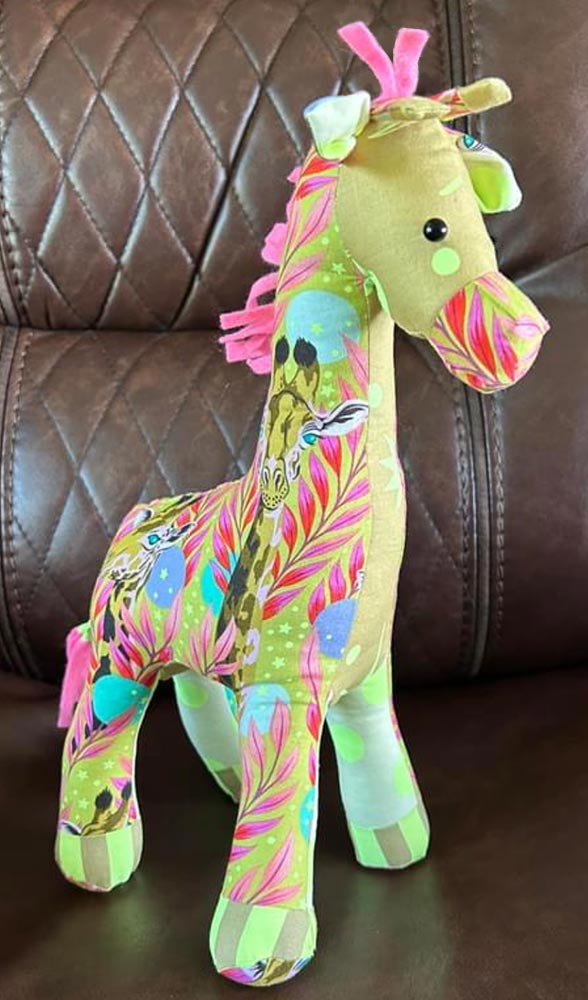 Click HERE to buy the Giraffe pattern.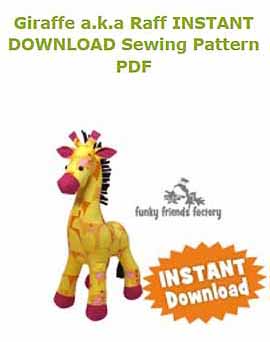 This Horsey Horse & Unicorn Pattern was sewn up as a pretty pair by Angela Croft. Glitter heat transfer vinyl was ironed onto the cotton to make the names, and strands of rhinestones line the hooves and horns.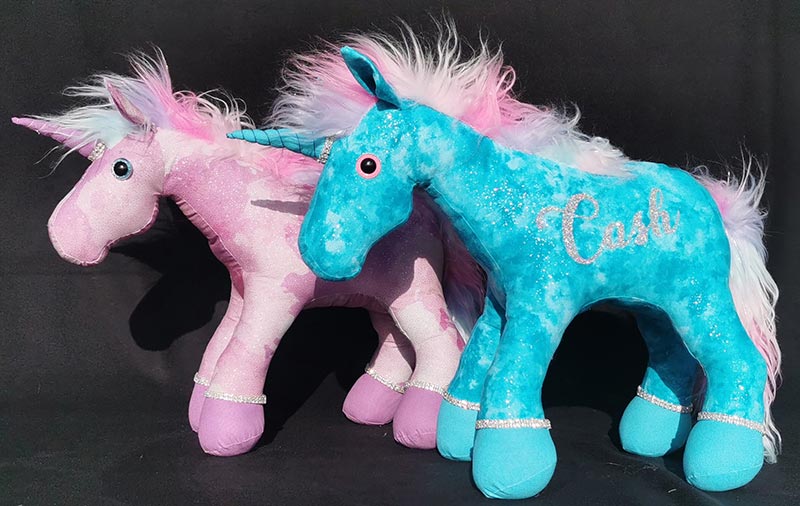 This Unix Unicorn sewn by Jeanne McFee has a sweet color palette of blues and creams. The fabric and yarn mane both have speckles!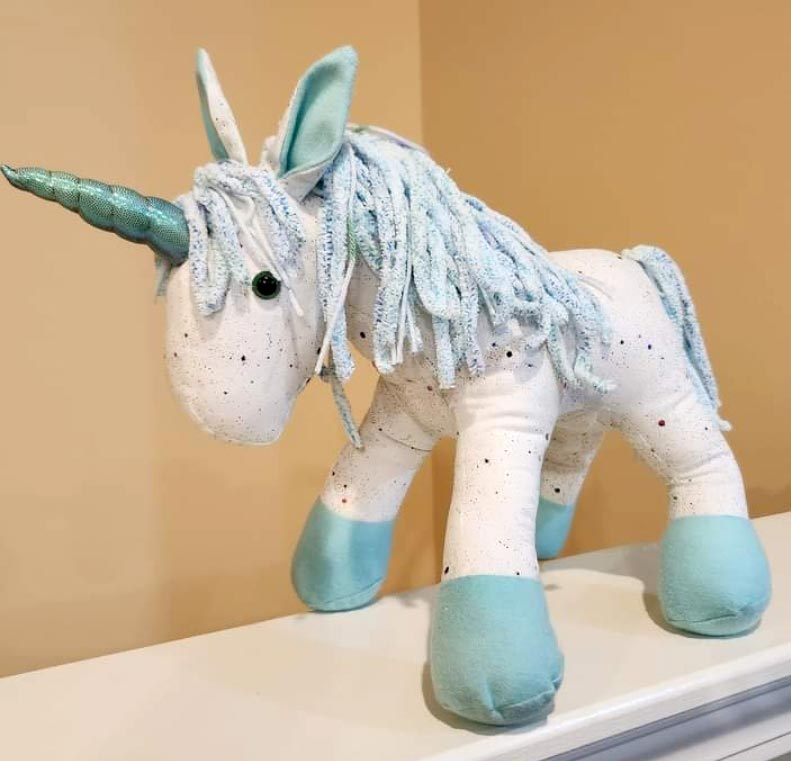 Click HERE to buy the Horse & Unicorn Pattern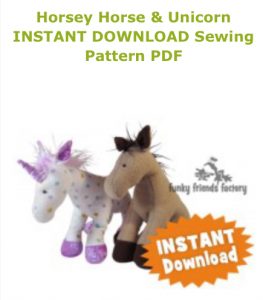 Lindsey Mortimer said her son has been patiently waiting for a Taylor Tiger in this color since the pattern came out. Look how happy he is with his new stripey Funky Friend!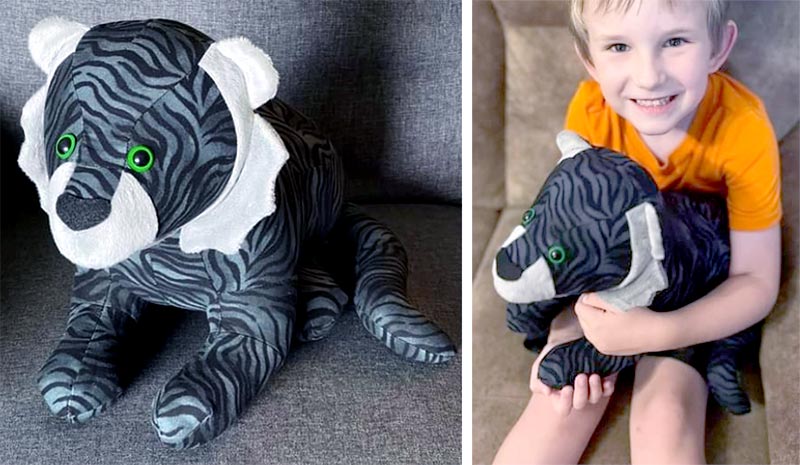 Click HERE to purchase the Tiger pattern.

We had some super cute memory bears this month!
These wedding dress keepsake versions of the  Melody Memory Bear Pattern were sewn by Angie Robertson. She made the memory bear at normal size (100%) for the Mother of the Bride, and made a slightly smaller one (reduced to 90%) for the bride's daughter! So sweet! 💗💗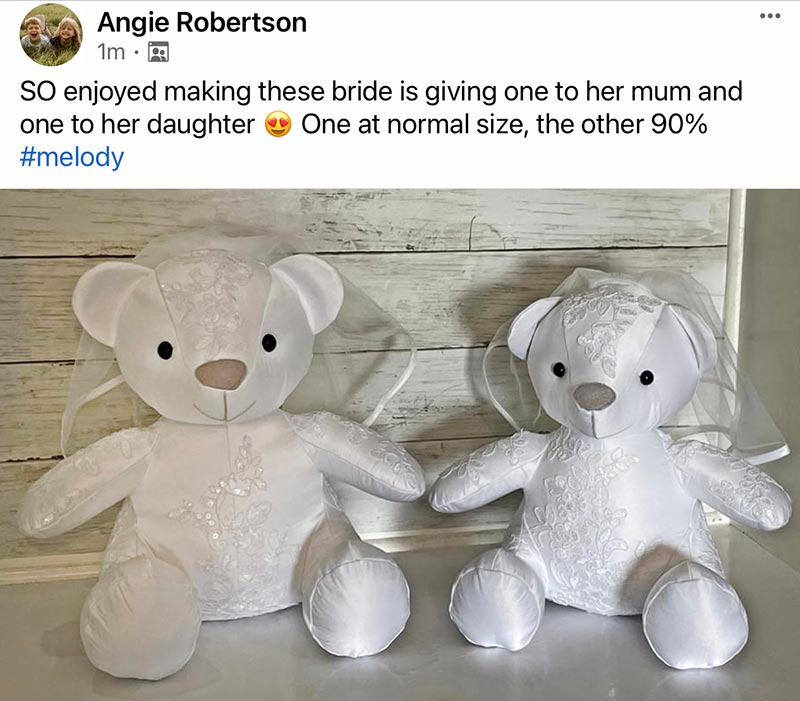 Click HERE to purchase the Melody Memory Bear Pattern.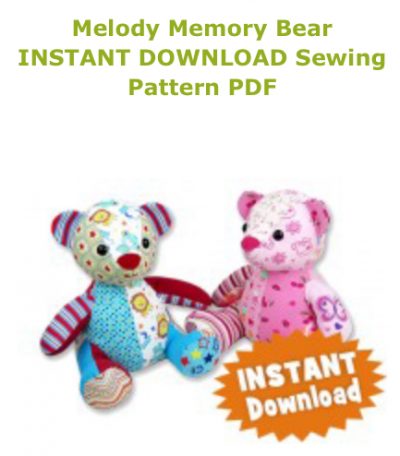 TIP

:

Want to know HOW

to re-size a toy pattern?

If you want to know how to make enlarge a pattern to make a BIGGER toy (or how to 'shrink'(reduce) to make a smaller toy – check out the "How to resize a toy pattern" blog post HERE.

In this post you will find:

How to ENLARGE or REDUCE a pattern.

How to make an EXACT SIZE toy ( a simple math formula).

How to PRINT an enlarged pattern at home (poster print option).
Looking snappy! Or should I say "buttoned up?" This Buttons BEST DRESSED teddy bear pattern was sewn by Natlie Heinbigner Donst. If you want a teddy bear pattern with clothes – all of the pattern pieces for the collar, bow tie, cuffs and felt vest (not shown here) are included in the pattern!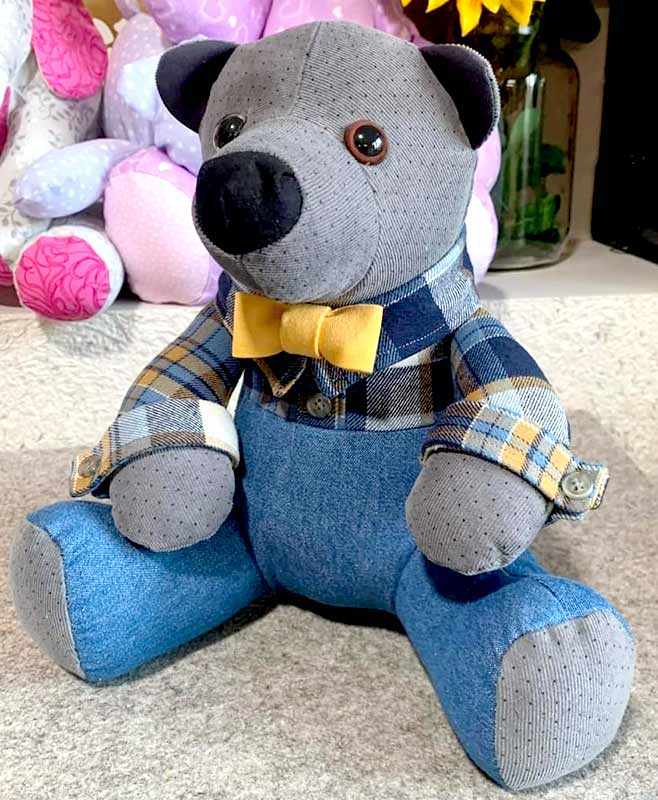 Click HERE to purchase the BEST DRESSED Bear pattern.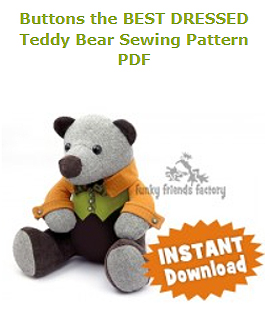 This Ben BEGINNER teddy bear was sewn by Kim Spiteri in rainbows and gold-flecked fake furs!!!  It caused quite a stir in our Facebook group, with good reason.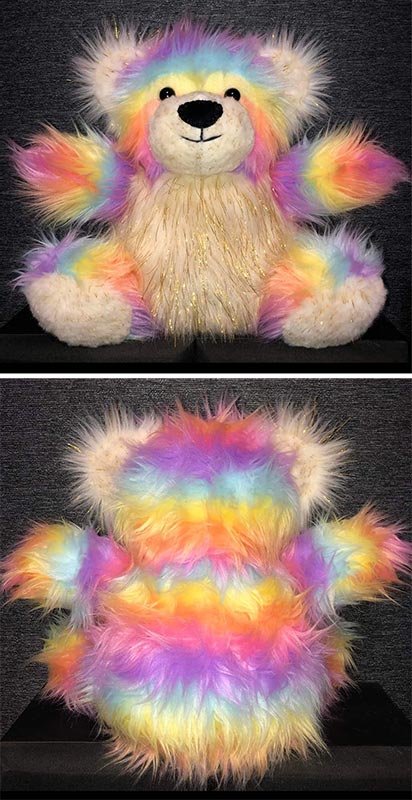 Click HERE to purchase the BEGINNER teddy bear pattern.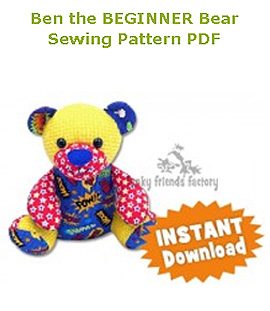 AND this month's winner is…
Congrats to this month's winner, Denise Erskine, who created an incredibly unique keepsake: this Prince Charming Frog began life as a military combat jacket. That's a perfect combination of a fabric that fits the animal's coloring, as well as a sentimental fabric fitting the fairy tale story of the character.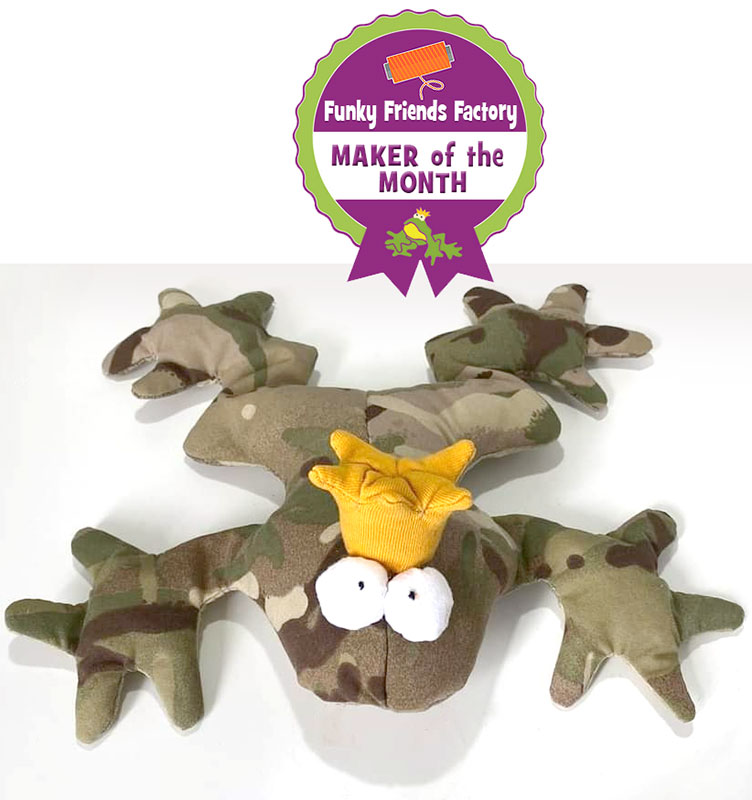 CONGRATS! You win
a FREE Funky Friends Factory Pattern ~>
of your choice!
Click HERE to buy the Prince Charming Frog Pattern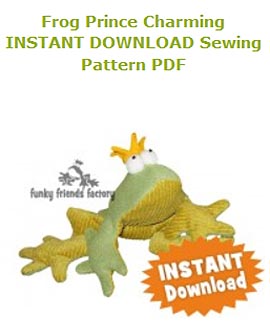 Want to win a
FREE toy pattern?
It's so EASY to enter the Pattern GIVEAWAY!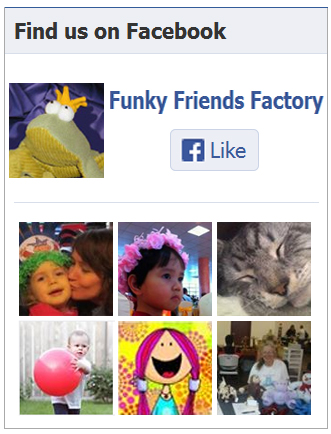 ALL you need to do is post a photo of a FUNKY FRIENDS FACTORY toy that you have made on the Funky Friends Factory Facebook Page .
At the end of each month I draw a winner and post the winner's name on the Blog the following MONTH. I have an Album on Facebook for all the MAKEROFTHEMONTH winners. You can check it out HERE!
NOT on Facebook? ENTER by email! 😀
*** You can send me your photos by email too!
So come on! Share your photos  ~> The next winner could be YOU!!!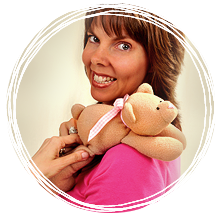 .
Till next time,
Happy Sewing,
Pauline
xxx