It's time for another exciting round of Maker of the Month finalists. Check out these highlights from the visitor's posts on the Funky Friends Factory Facebook Fan Club Page! These entries were posted online in December, so a double bravo goes to these sewers for participating during the busiest toy-sewing month of the year!
Look at the perfectly placed clothing appliqués on these memory toy versions of the Larry Lion Sewing Pattern. These lions with their cute stripey chins were sewn by Amanda Vile Sickler.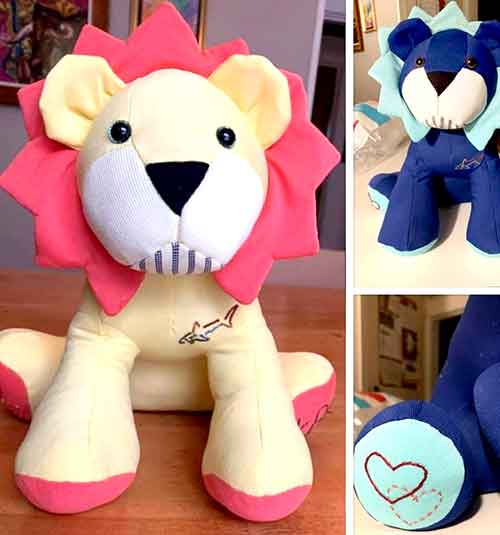 Joanne Outtrim made up the Timmy T-rex stuffed animal pattern in a darling dino print. She added, "I made these for a friend's boys. I think they'll like them, don't you?" I love them, Joanne, do I think those boys will be super happy!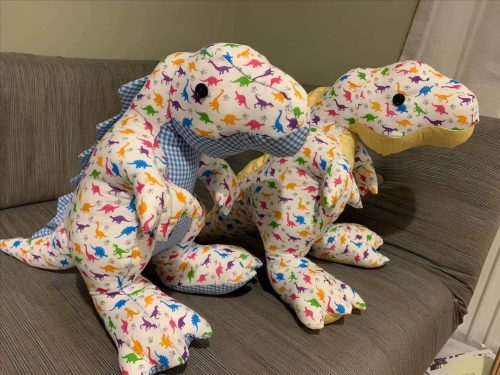 Have you met the newest Funky Friends Factory pattern? Released right before Christmas, the "All I Want for Christmas" Santa Soft Toy Pattern allows you to make up the "Custom Claus" of your dreams. Karen Long's version of the Santa pattern shows off a fun tan print on the body, along with traditional green mitten, a red hat, and a superb fluffy mustache. He's so cute in his chair under the tree.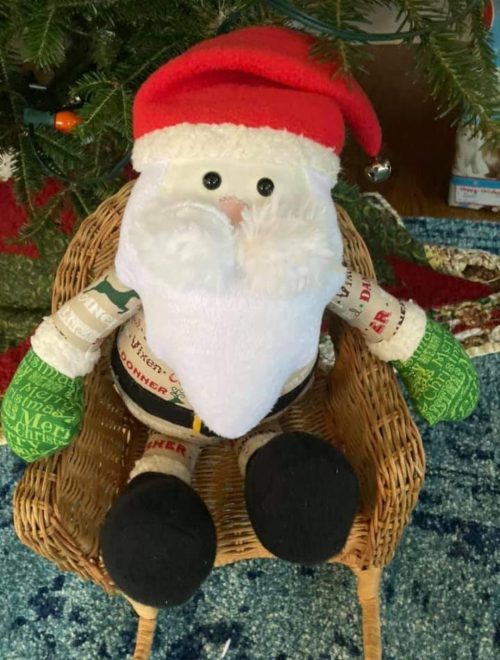 Liz Murray's version of the new "All I Want for Christmas" Santa Toy Sewing Pattern is positively regal. She used "low volume" (tiny print) fabrics with gold accents on the beard, clothing, and green mittens.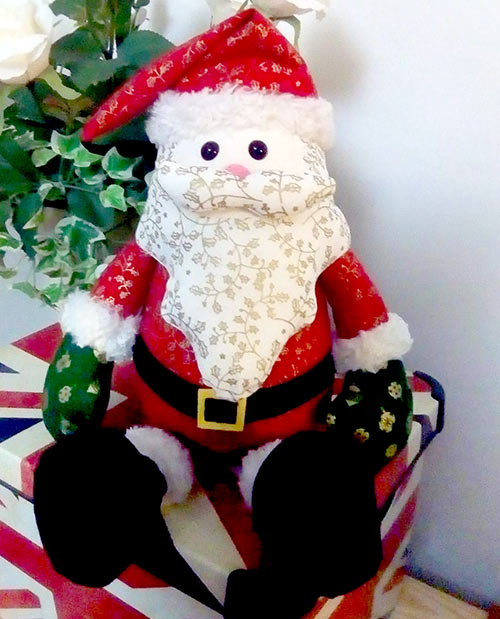 When Dawn Rimby decided to make some family keepsakes this Christmas, she chose three animals that don't often get the honor of becoming memory toys. The Georgie Good Luck Elephant Sewing Pattern looks great here in blue plaid with custom embroidery. A brown polo shirt with a carefully placed logo looks great on the Sammy Shark Sewing Pattern. And a blue and red buffalo plaid shirt became a toddler-sized dinosaur when Dawn enlarged the T-rex Pattern to 200%!
Julie Groot's two entries this month ranged from the familiar (this is her perfectly colored version of the Labrador toy sewing pattern)….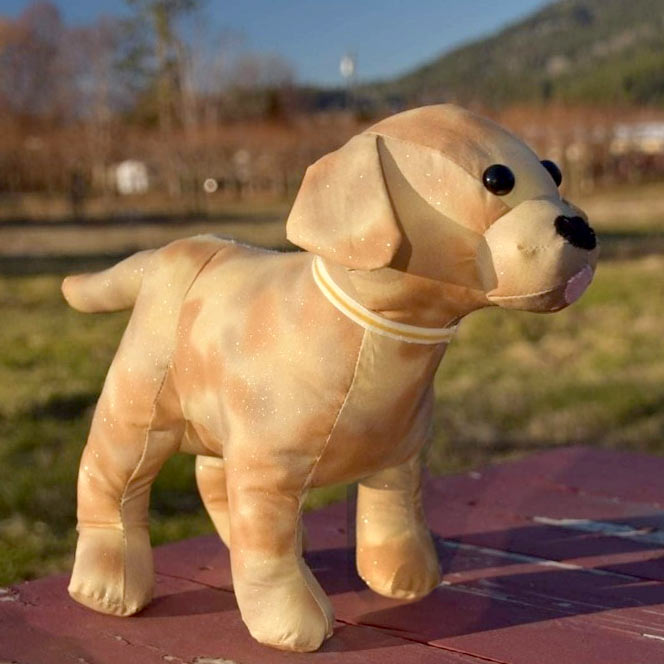 … to the fantastical! This colorful interpretation of the Unix Unicorn sewing pattern features a furry pastel body, a curly chenille yarn mane, and iridescent hooves!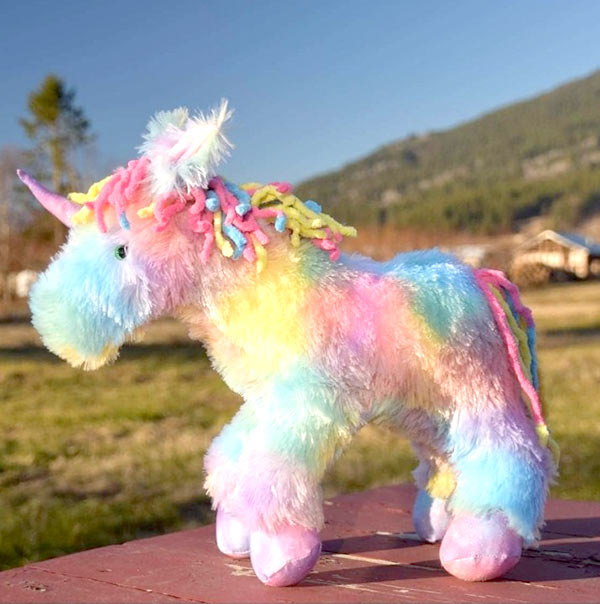 Wendy Bruce always makes beautiful custom birth details memory toys. In this purple version of the Keep Me Keepsake Bear sewing pattern she used both fabric accents and her embroidery machine to highlight the parents' nickname for the baby, "Little Star."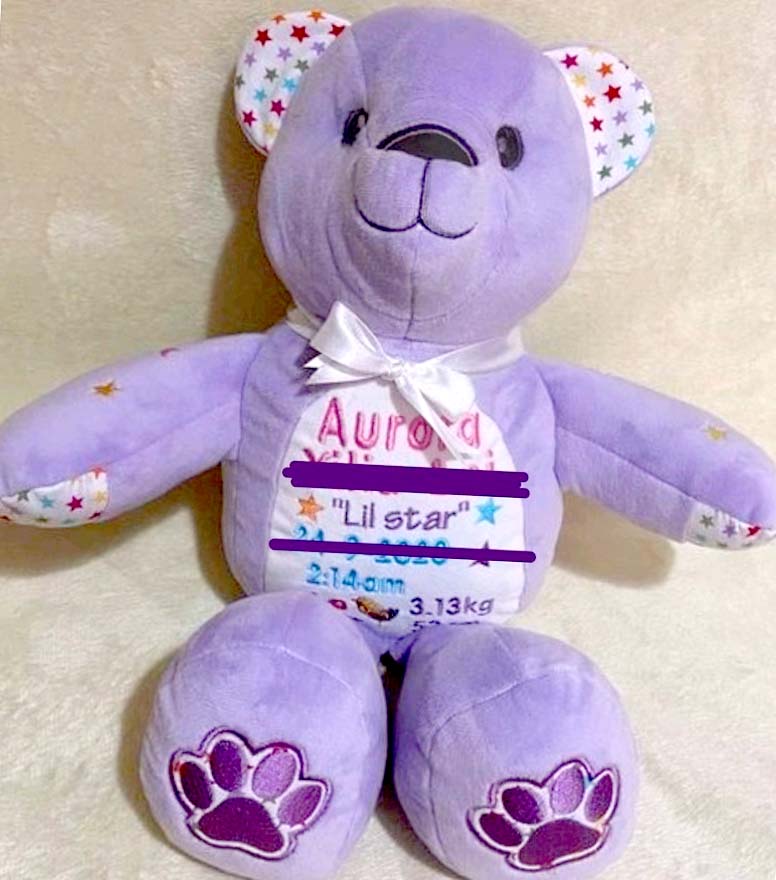 AND this month's winner is…
This glorious version of the Giddy Goat sewing pattern made by Charlotte Sullivan Wood. Charlotte used colorful batik fabrics for this little guy. She achieved a "patchwork" without the work look by simply using different fabrics for the pattern pieces.
CONGRATS Charlotte! You win
a FREE Funky Friends Factory Pattern ~>
of your choice!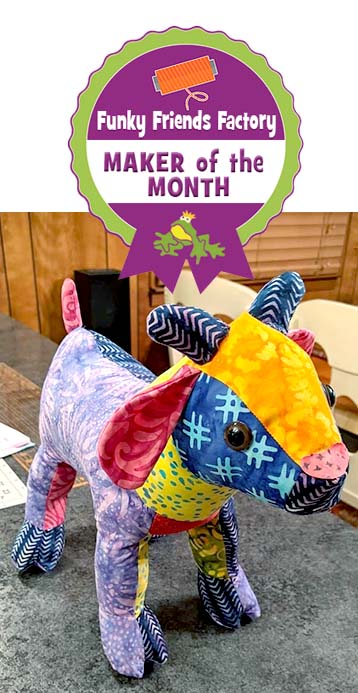 I love to see photos of the toys that people have sewn from my soft toy patterns.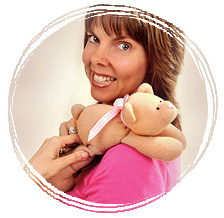 bye for now,
Pauline
xxx