Maybe your sewing room is already a flurry of fabric with the Christmas rush? Or maybe you're needing some super-cute toy-making inspiration? Either way, you can kick back with some cocoa and check out these inspiring holiday-themed Funky Friends… including this 'Funky-Friends-i-fied' Christmas tree created by Pat Ayres!
HOW many Funky Friends
can you spot on her
Christmas tree?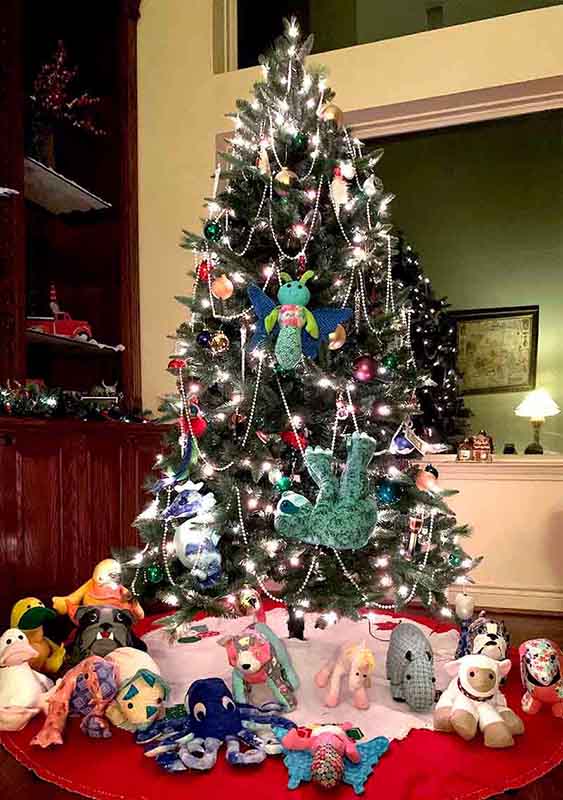 Next up is the big man himself ~ Santa!
The All I Want for Christmas Santa Pattern was my new Christmas pattern LAST year. I've loved seeing all the variations on him! This version sewn by Diane Montague has the sweetest little face! I LOVE the fuzzy beard!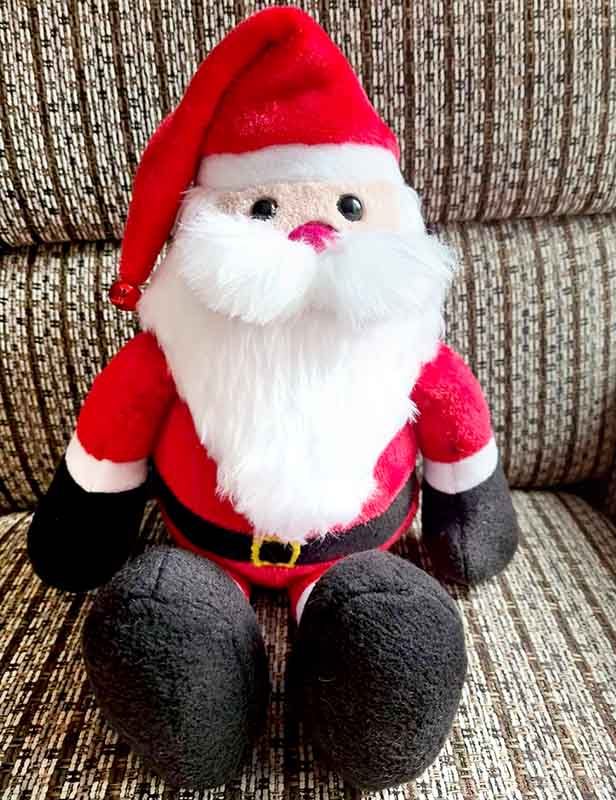 Check out this jolly trio by Debbie Hendricks Weideman! Is it bad luck to see this many Santas in one place? Surely not, especially if they're this cute!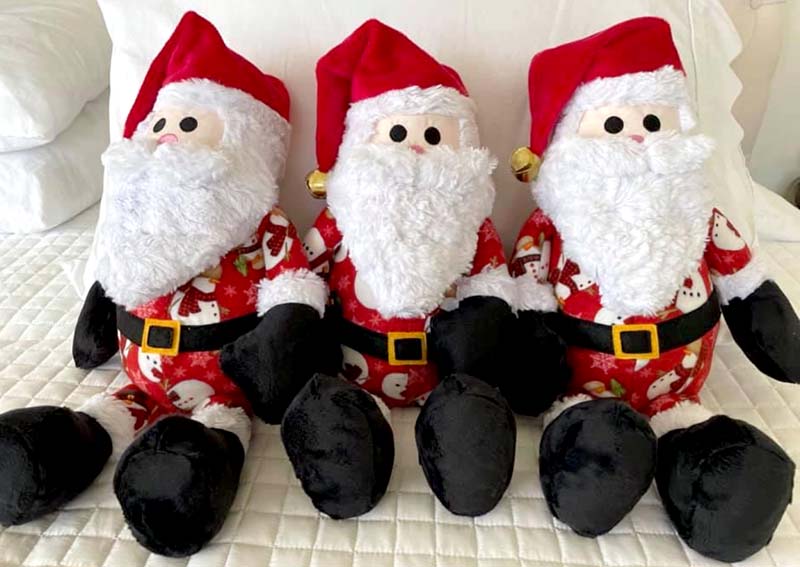 Jenny Cruikshank used fabric with a gold Christmas trees for her Santa's beard, and I love the way it brings out the shine in the huge golden bell on his hat. (With a bell like that, Santa won't keep his presence secret very long while he delivers gifts!)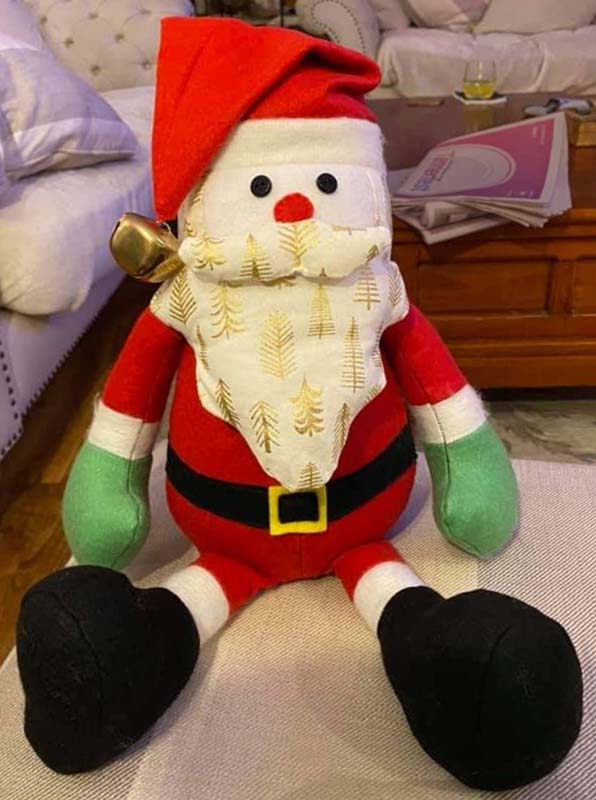 The Santa pattern allows you to use regular cotton fabrics, fleece, faux furs, or whatever your imagination (and sewing machine) can handle to make Santa's beard, mustache, and hair. I think fake fur beard gives this Santa by Jan Janners Robertson an Old World charm….
and just look how
WILD & WOOLLY
he looks from the side!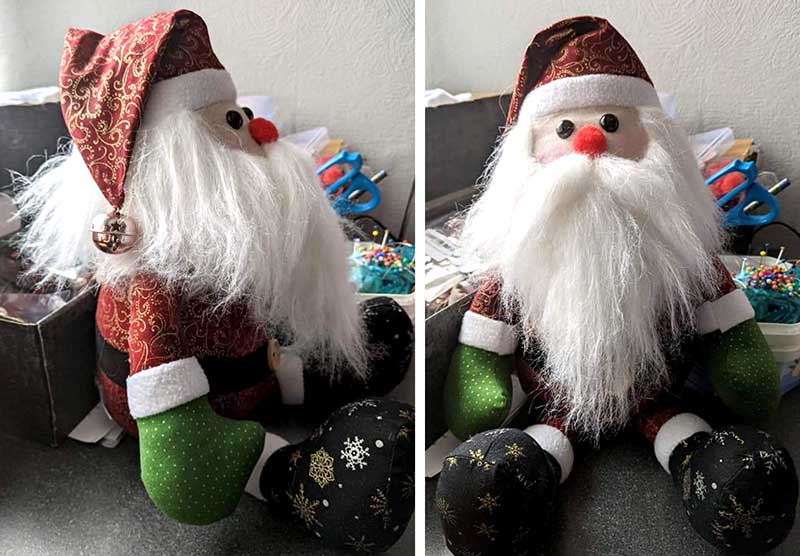 Andrea Christensen put her Santa in flannel pajamas! Doesn't he look comfy?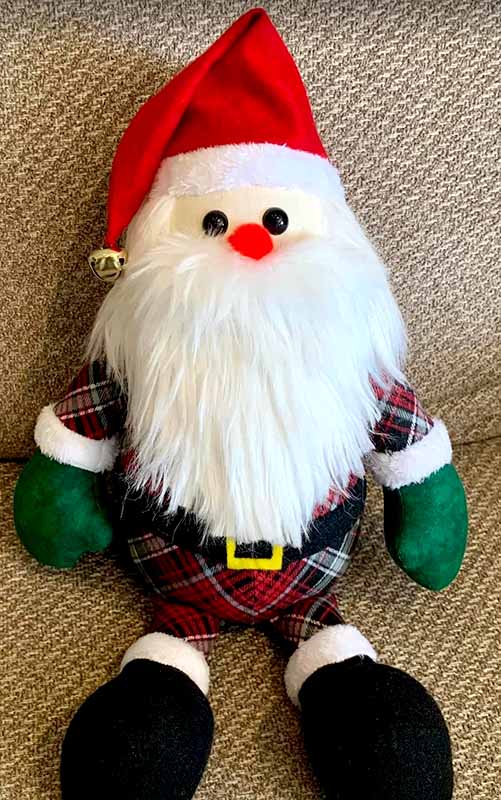 You can make a Santa wearing pajamas, but you can also make a Santa out of pajamas! This inventive keepsake Santa sewn by Crescent Creations is made up of a baby's set of first Christmas clothes.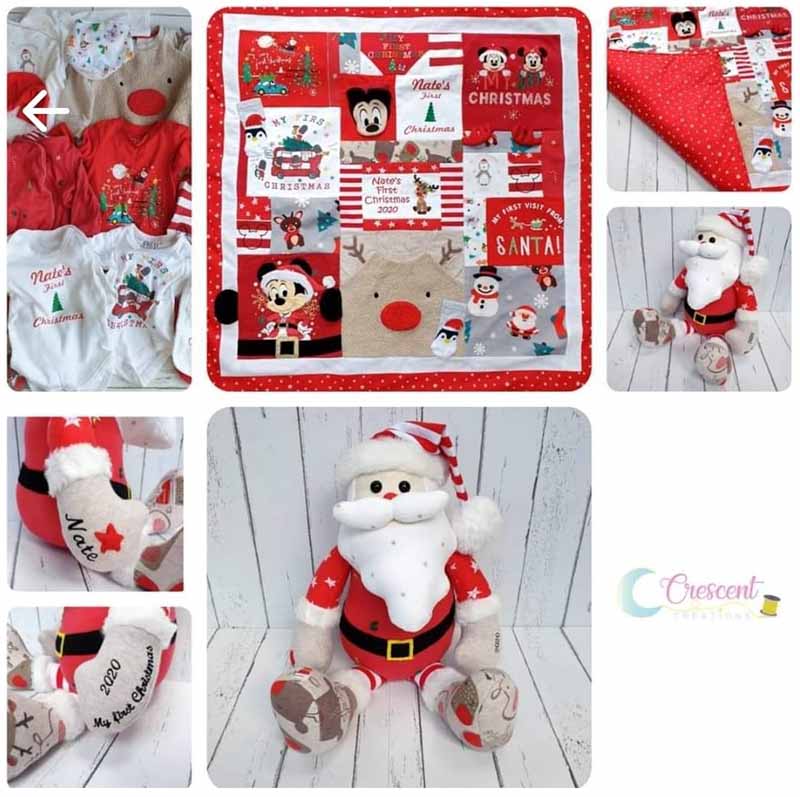 Click HERE to purchase the Santa Sewing pattern.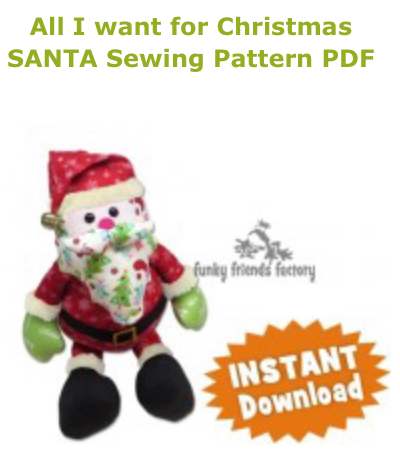 Next we have some cute Christmas Elves!
Christmas wouldn't be so magical without Santa's trusty elves. Luckily, you can make a whole workforce of elves with the Elf Twins pattern. These happy helpers were sewn by Donna Canavan!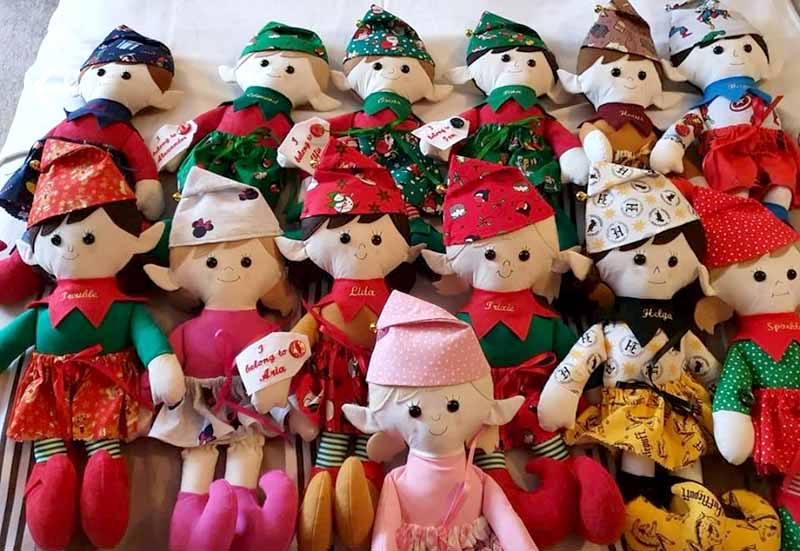 This sweet, matching Edward and Edwina were sewn by Stephanie Hardy.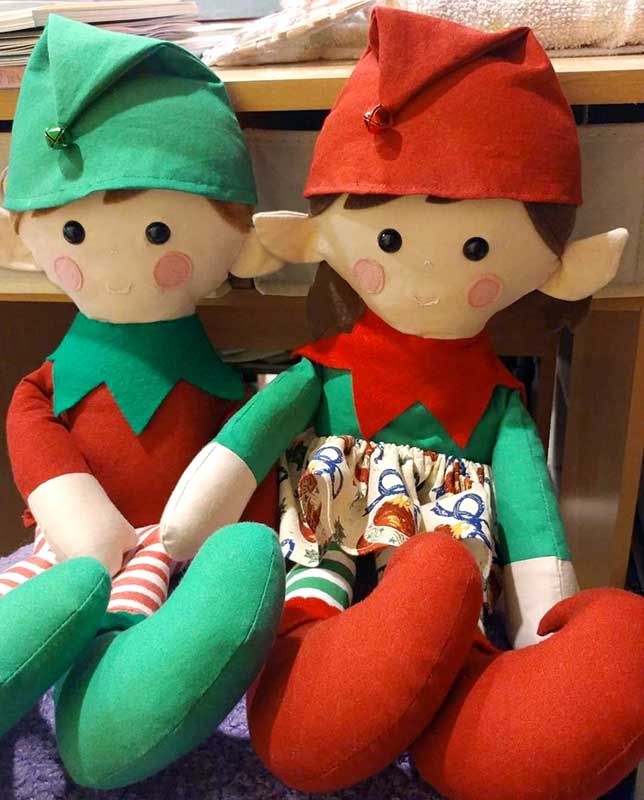 This set of Elf Twins by Lindsay Dickason is soooo cuddly looking!  Lindsay used Cuddle fabric by Shannon Fabrics to make them extra huggable.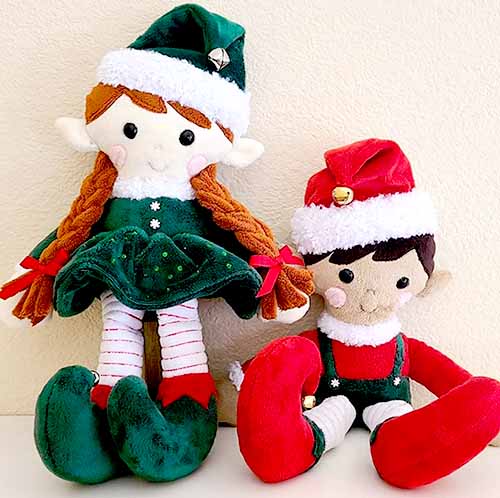 Honey Teddy put on a Santa hat for a Funky Friends family photo shoot with these cute Elf Twins sewn by Jan Hardisty.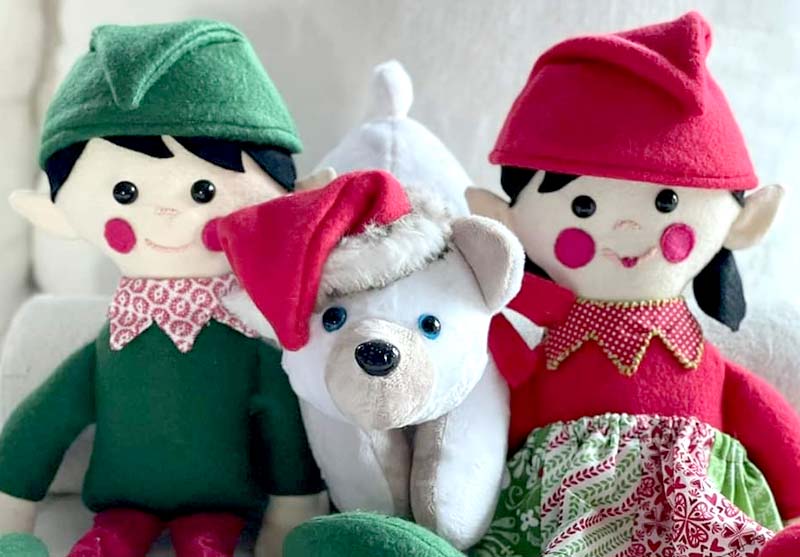 You can get my
FREE Santa Hat pattern HERE ~>
to sew Santa hats for all the
toys, kids, pets and adults in your life!
AND a couple more Elves…
Nele Theunis used a fun and funky fabric selection for these Elf Twins. She even gave them custom hair colors to match their new owners. Make your own look-alike elves for everyone on your list!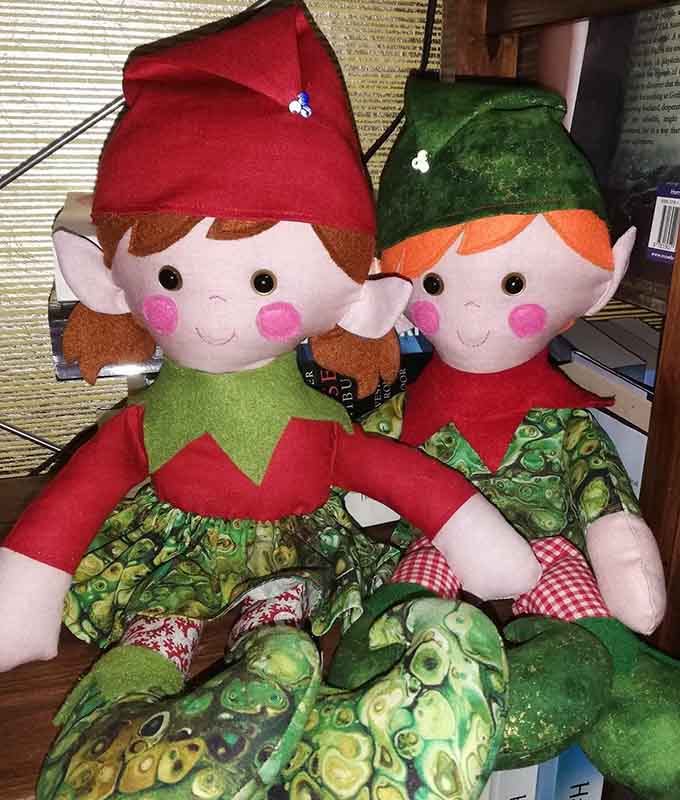 Alice Ready did a fantastic job sewing Edwina Elf – you wouldn't think it was the first toy she's EVER made!!!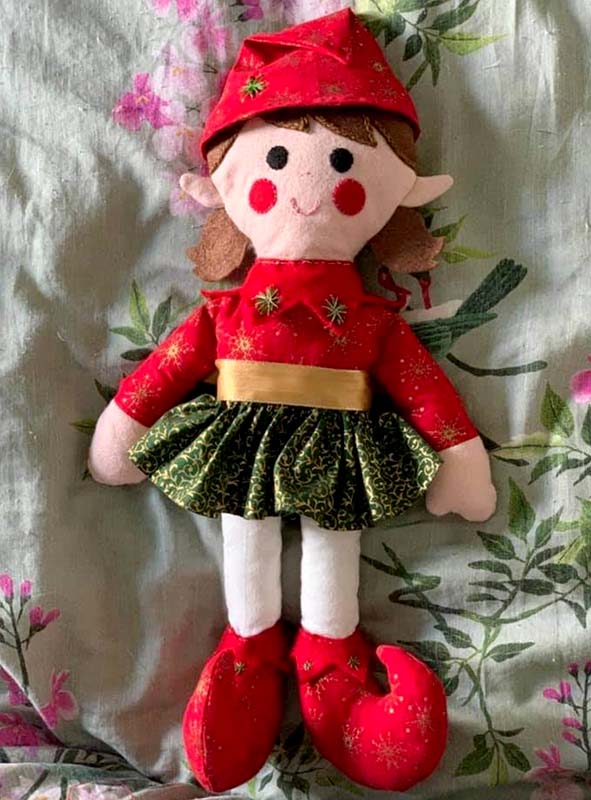 Click HERE to purchase the Elf pattern.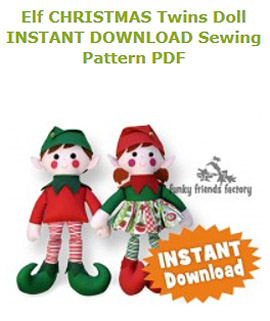 AND one Christmas kitty!!!
Finally this week, remember that you don't  need a Christmas pattern to make a holiday Funky Friend! Here's a unique Christmas gift – a Patch Pussycat made from a loved one's holiday sweater, sewn by Allyson Sippel.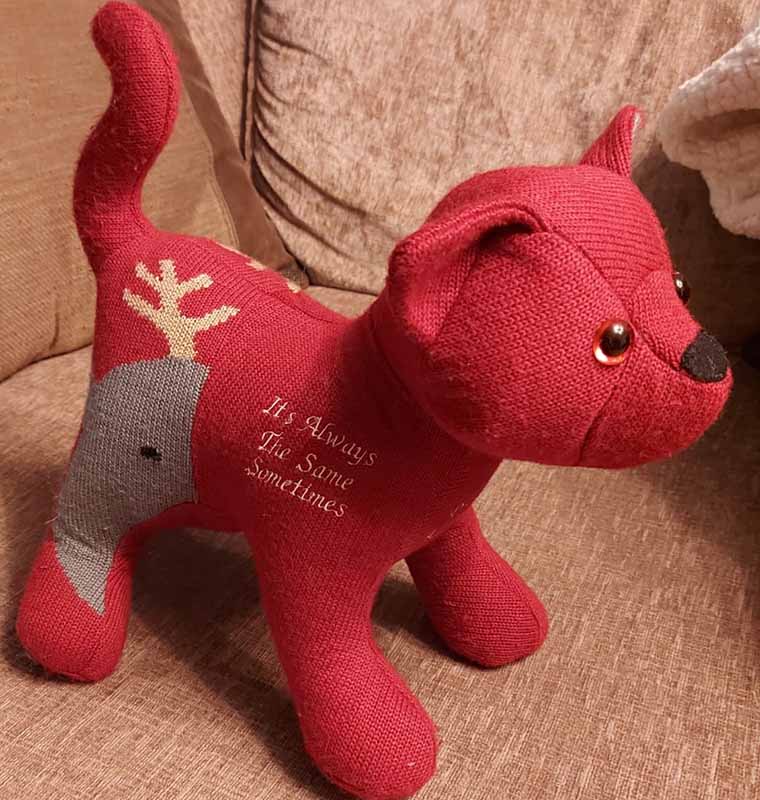 Click HERE to purchase the Cat Sewing pattern.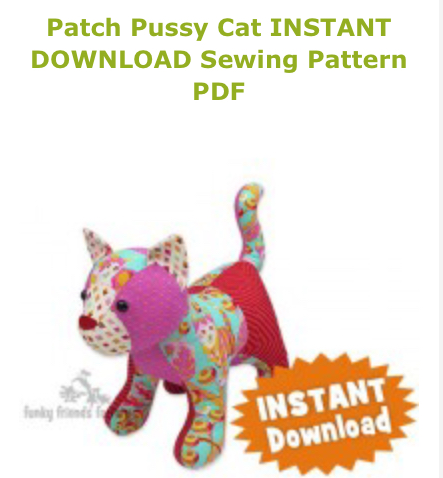 I love seeing your holiday toys! Share your photos on Facebook and tag #funkyfriendsfactory so I can find them! ~>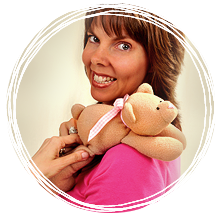 .
Till next time,
Happy Sewing,
Pauline
xxx