Often a piece of irresistible fabric catches my eye and I buy it JUST because I love it, not because I have something specific in mind!
Does this happen to you too? 🙂
Sometimes it turns out to be the PERFECT piece of fabric for a toy but sometimes I create a disaster – even with the most AMAZING PIECE OF FABRIC!!!
Take a look at this terrible teddy bear that I nearly made! When I cut out the HEAD PIECE it had 2 big circle motifs just where the teddy bear's eyes would be, and a bright green flower motif at the top which made it look like a fuzzy bit of hair in the centre of the teddy bear's forehead!!!! Luckily I had extra fabric so I could cut another HEAD PIECE for poor Honey! I didn't use this piece because my teddy would have ended up looking like
a laser-eyed zombie!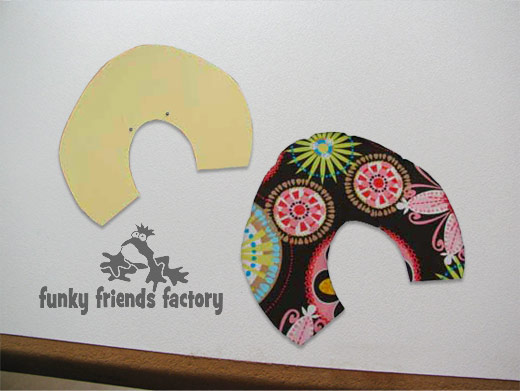 Fabric prints with BIG, BOLD motifs can make your softies look a bit weird sometimes – BUT don't PANIC – this doesn't mean that big, bold prints aren't good for softies!
There's a FUN solution for this – and it's called FUSSY CUTTING!
Fussy cutting is a quilting term that I love! It makes me think of my mom, when she made her one and only quilt, and the time she took to plan and place all the fabric pieces – the fuss certainly was worth it, because her quilt was amazing! I think if you can make a fuss over the fabric placement for a quilt, you can certainly make a bit of a FUSS when making your toys!!!! Ha!ha!
Fussy cutting just means that you are taking care with (or being a little bit fussy about!) the placement of the motifs of the fabric print when you cut out your pieces. YOU decide WHERE to place certain bits of the fabric print for certain important parts of your soft toy, like the teddy bear's face.
Look what a difference it can make depending on HOW you place the pattern pieces when you cut them out!
No more laser-eyes!!!! 🙂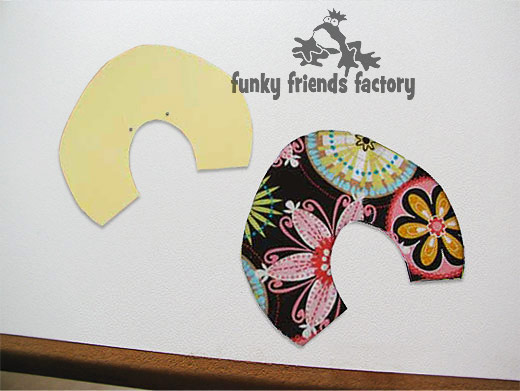 So HOW do you choose which part of the fabric print to use?
Let me tell you how I do it – it's EASY and lots of FUN!
I print out a second pattern page for the piece that I want to FUSSY CUT.
I cut out the pattern piece and try and leave the rest of the page in one piece. (Use sticky tape to tape it together if you have cut the page)
Turn the page over (Very important as you will be tracing on the FRONT of the fabric instead of the back!)
Now you can position the page anywhere on the fabric and move it around until you're happy with the positioning of the motifs on the pattern piece.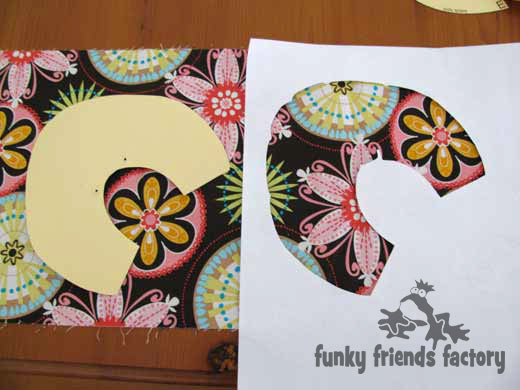 Trace the piece on the RIGHT SIDE OF THE FABRIC and cut the piece out. If I need to transfer any pattern markings , turn the piece over and use the original pattern piece, as you need to mark these on the wrong side of the fabric!
So you are actually using the page as your template (the white page in the picture above) , rather than the pattern piece (the yellow cardboard piece above) which makes it so easy to see exactly where the print motifs will be on the pattern piece once you cut it out. This is so much easier than trying to peek under the pattern pieces when you have laid them onto the fabric! : )



Fussy cutting makes your toys unique!
It's fun working out where to place a fabric print in a special spot on the toy! The possibilities are endless – I think once you start fussy cutting…
you won't want to stop!
I made my Kitty Kate Toy Sewing Pattern up in this Two Monkeys Girly Parade fabric and fussy cut the pieces to show off the little birdie motifs. I love the little birdie placed right on her face! 🙂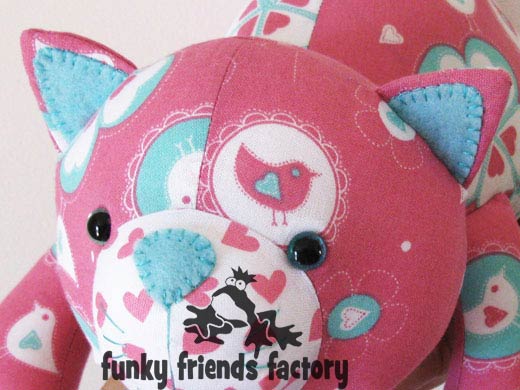 In this cute version of my Plattie Platypus Toy Sewing Pattern you can see how his bill piece was fussy cut so the word 'Brisbane' was right in the middle! 🙂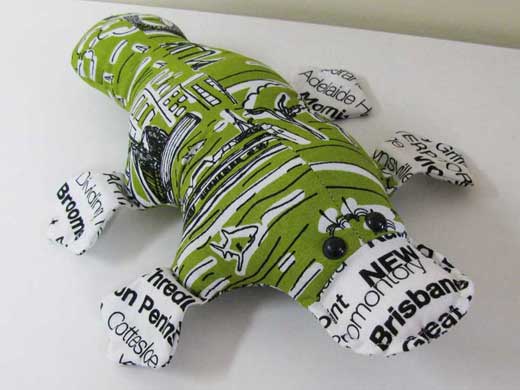 Fussy Cutting isn't JUST for quilting fabric prints… here is a piece of fleece that was fussy cut for this making up this Mishka Mouse Cat Toy Sewing Pattern….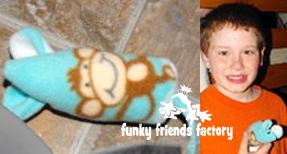 Fussy cutting is awesome for making lovely keepsake toys because you can use use this technique to highlight all those cute embroidered details you find on baby clothes. Take the time to place them carefully to show off . This super cute version of my Dilby Duckling Toy Sewing Pattern was made by Emma of Cuddle Buddy Keepsakes who fussy cuts outgrown baby clothes to turn them into the cutest ever keepsakes!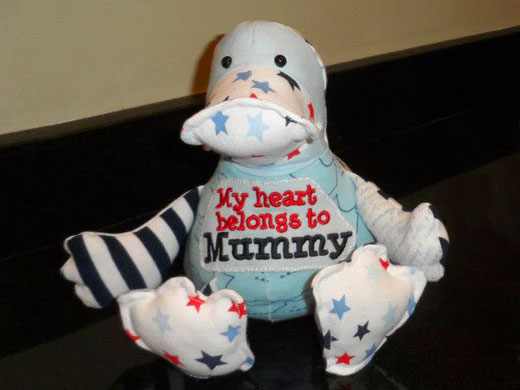 Here is another awesome example of fussy cutting on the lovely keepsake bear sewn by Oh Sew Precious Memories using the Calico Bear Pattern. She has cut out the embroidered mouse and frog so they are on the outside of the bear's arm. Calico bear is perfect for a keepsake bear because it has nice large flat ares to show off these baby clothes.

Have you tried fussy cutting yourself?
IF NOT, I hope I've inspired you to give it a go? I look forward to seeing some of your fussy cut Funky Friends on the Funky Friends Factory Facebook page !!!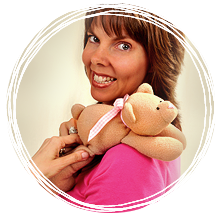 .
.
Till next time ~ happy FUSSY CUTTING to your hearts content!!!!

Pauline