This month's finalists include clever keepsake bear ideas, magical sea life, and the most popular toy ever posted in our Pattern Fan Club Facebook group.
Take a look…
Let's start off the month with some Gertrude Guinea Pig goodness! Diane Hamilton submitted this pic of two happy Gertrude Guinea Pigs perched on her porch railing getting some fresh air!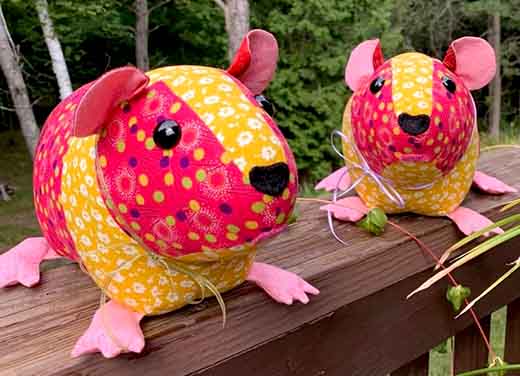 Cindy Schreiner's colorful Gertrude Guinea Pig shines with happy vibes and an inquisitive expression. I LOVE how the green felt nose ties in nicely with the fabric. 💚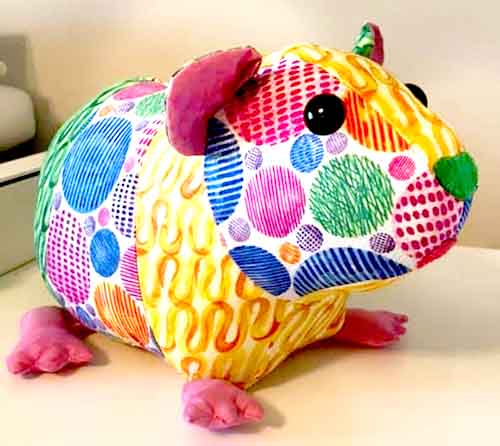 Click HERE to purchase the Guinea Pig Pattern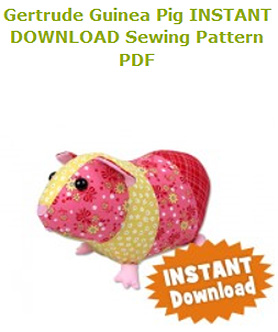 Would you like to see the most popular bear ever posted in our Facebook group?
Here he is! This fluffy version of Calico Signature Bear by Wendy Newton racked up the 'likes' like no other bear has so far! He's made from a repurposed black cardigan. Can you believe Wendy was worried his face wasn't cute enough?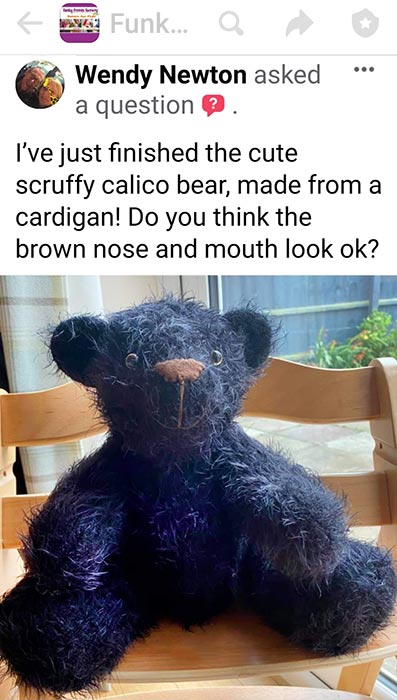 Jasmin Hutchison did a fantastic job on this truly unique keepsake: a Calico Signature Bear made from a retired Stagecoach bus driver's uniform. She's added the company logo on the back of the bear and the scarf adds the finishing touch. Jasmin is also our latest featured FFF toy-seller! Her business is called Designs by Jasmin and you can see more of her BEAUTIFUL custom made Keepsakes HERE.

Click HERE to purchase the Calico Bear pattern.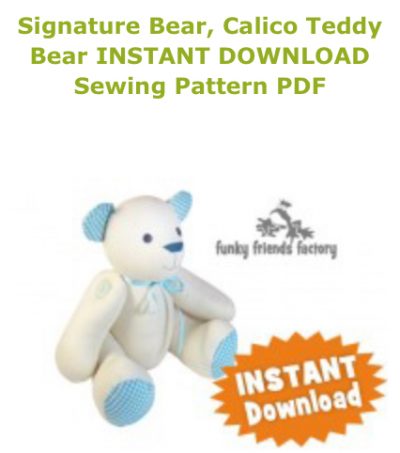 This Melody Memory Bear sewn by Helen Bailey is both made from a sweater AND cleverly made to look like she's wearing a sweater! You can see the five clothing items Helen incorporated into the bear in the lower right.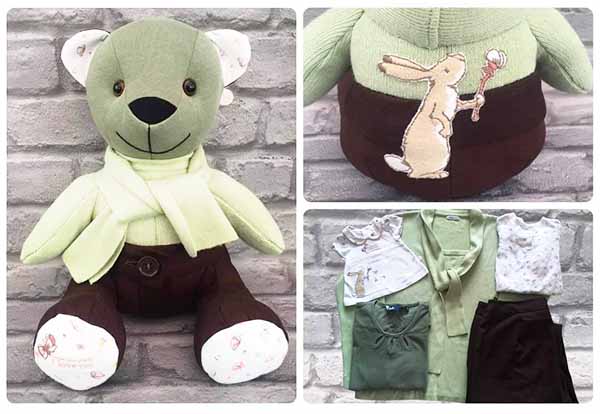 Click HERE to purchase the Melody Memory Bear Pattern.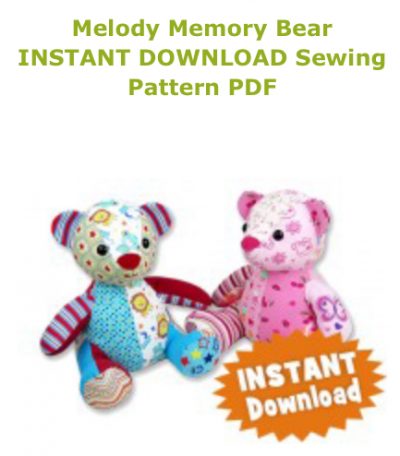 Some of the members of the Funky Friends Factory Pattern Fan Club have started their Christmas sewing! These gorgeous Elf Twins by Lindsay Dickason look sooo luxurious in Shannon Fabrics Cuddle material.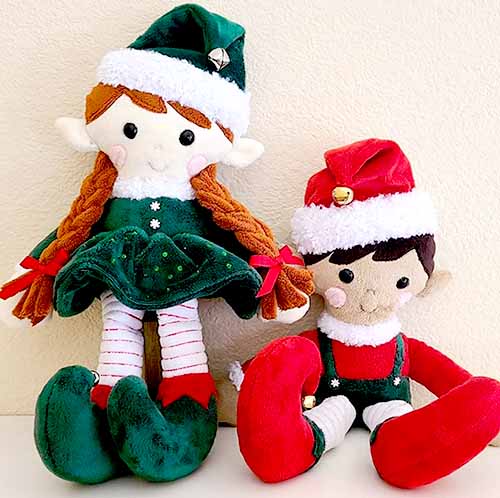 Click HERE to purchase the Elf pattern.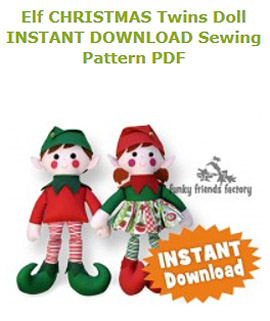 Check out this happy little guy perched on a purple tire. Orsolya Czili celebrated her daughter's first birthday by making Mitch the Monkey from her baby clothes.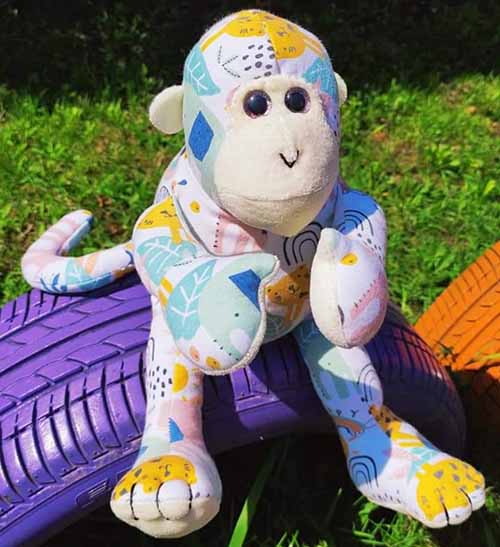 Click HERE to purchase the Monkey pattern.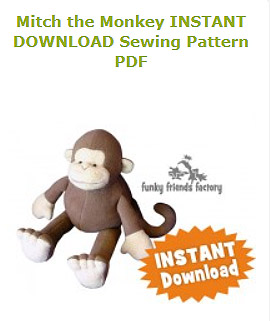 Here's a more unusual baby keepsake option: Patty the Cow! This was Andrea Smith's first time using her son's baby clothes and her first try at this pattern. I think this little cow keepsake will undoubtedly inspire more in the future.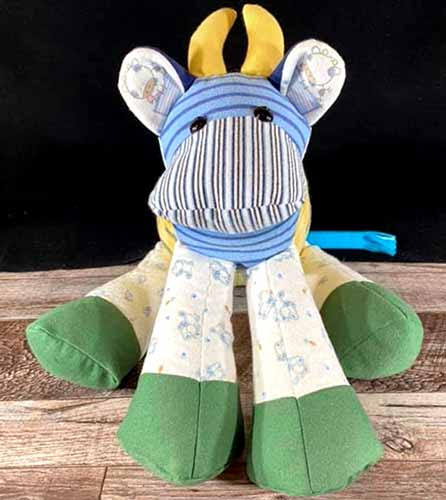 Click HERE to purchase the Patty Cow pattern.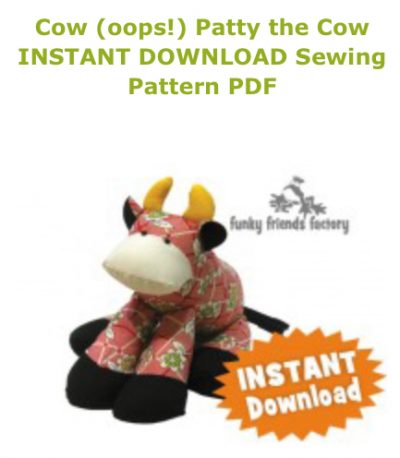 Under the sea is the place to be, especially if you've got Tula Pink fabric to sew up an Ozzie Octopus. Janelle Lee liked making this one so much that she immediately cut out 2 more to sew!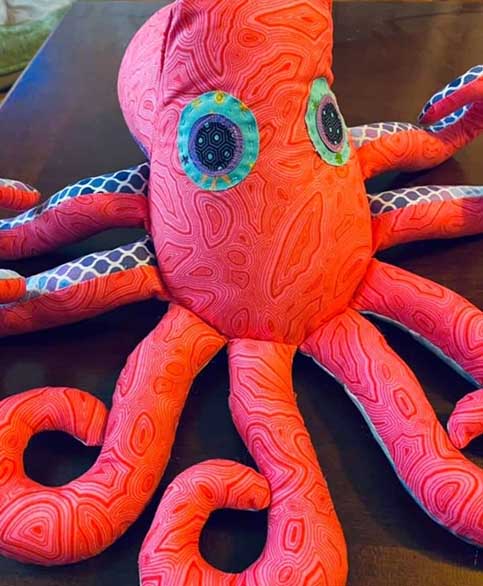 Click HERE to purchase the Octopus pattern.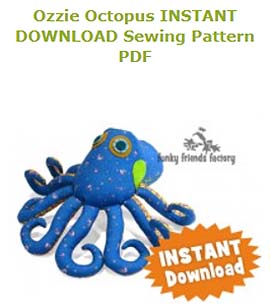 A family vacation to the American Gulf Shore was the perfect opportunity for Cheri Clevenger Stoneking to make a magical pod of Nate Narwhal toys for her granddaughters.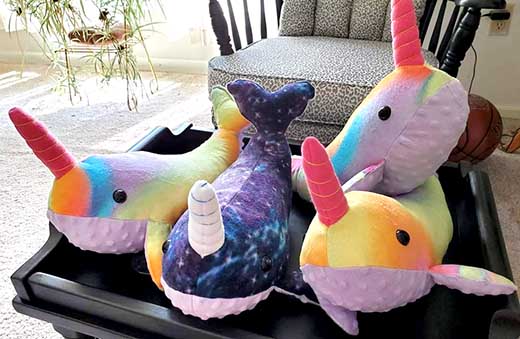 Click HERE to purchase the Narwhal pattern.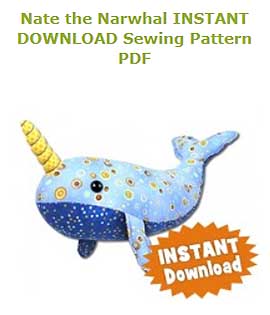 These Giddy Goats sewn by Rebecca Karstad look like they're hopping about like the real thing in this photo. I like how Rebecca used multiple ear and horn combinations (You can make a goat with or without horns, and with long or short ears) .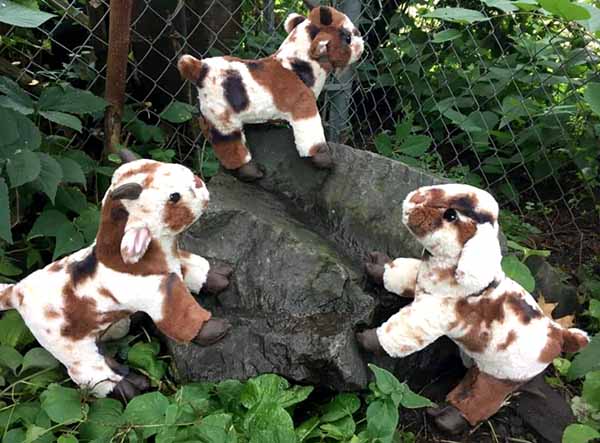 Click HERE to purchase the Goat pattern.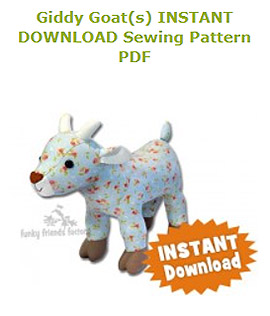 AND this month's winner is…
Congrats to this month's MAKER OF THE MONTH – Rebecca Karstad! Yes, Rebecca had two entries among the finalists, and it's this second one that takes the prize. 
Talk about a fantastic fabric upcycle! Rebecca found this pink velvet in an old costume shop and gave it an extra fabulous second life as a Sue Squirrel! The "very rare Pink Squirrel," seen here in its natural habitat, has a poofy tail, fluff-tipped ears, and an added acorn treat. 
CONGRATS Rebecca! You win




a FREE Funky Friends Factory Pattern ~>




of your choice!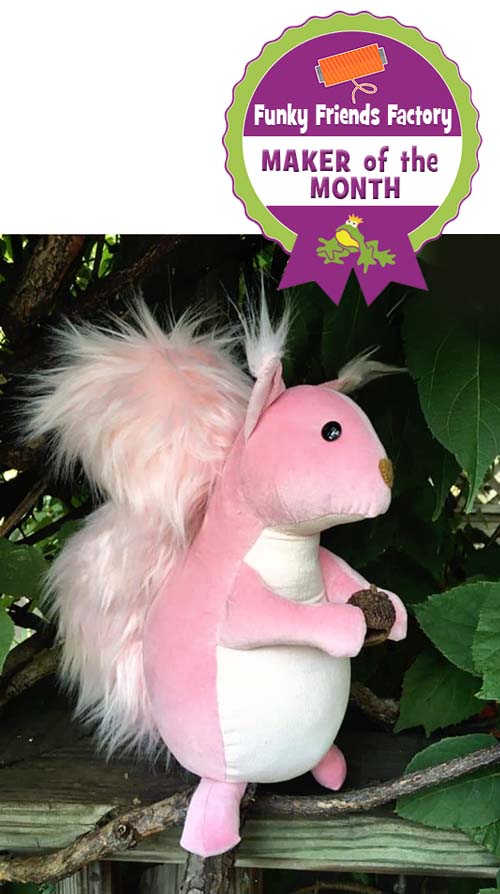 Click HERE to purchase the Squirrel pattern.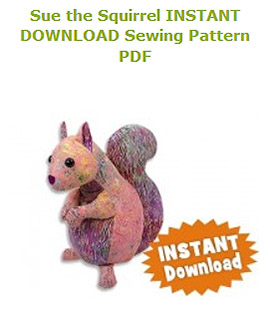 Want to win a
FREE toy pattern?
It's so EASY to enter the Pattern GIVEAWAY!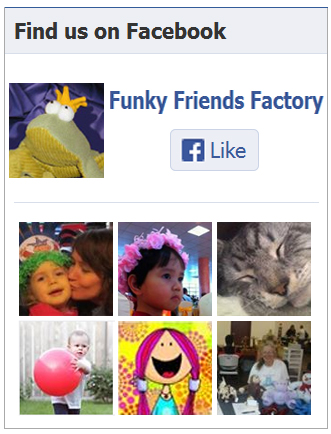 ALL you need to do is post a photo of a FUNKY FRIENDS FACTORY toy that you have made on the Funky Friends Factory Facebook Page .
At the end of each month I draw a winner and post the winner's name on the Blog the following MONTH. I have an Album on Facebook for all the MAKEROFTHEMONTH winners. You can check it out HERE!
NOT on Facebook? ENTER by email! 😀
*** You can send me your photos by email too!
So come on! Share your photos  ~> The next winner could be YOU!!!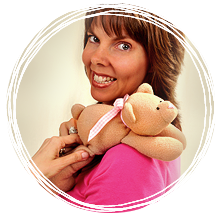 .
Till next time,
Happy Sewing,
Pauline
xxx