Posted under BlogFFF News on 2017-04-08 01:55:06
I am soooooooooooooo excited because I have been invited to join in with Toy Club 2017, the funky Toy Sewing Club being run by my fabulous friend Kylie from the Voodoo Rabbit Fabric Shop…or did I invite MYSELF? Doesn't matter – I get to cut up Tula Pink fabric for the Patch Pussy Cat KITS!!!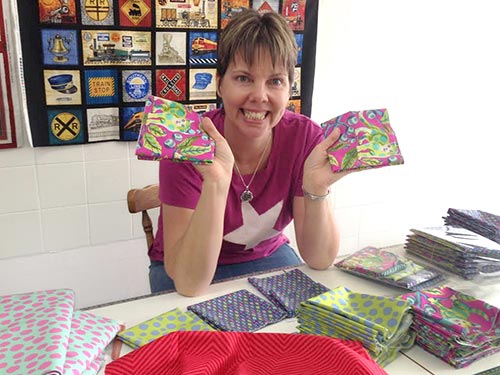 So what is Toy Club?
It's a Subscription Sewing Club for people who LOVE to sew Funky Friends Factory Soft Toys in super-cool fabrics! Over six months you will get 6 Toy Kits made up with Funky Friends Factory patterns combined with awesome fabrics and necessary notions from Voodoo Rabbit Fabric – it's a match made in toy-making heaven!
How does Toy Club work?
This year we've decided to spice things up a little bit because a lot of you have a LOT of my patterns already (Thank you!) and we want you to have the option to get some totally NEW Toy Kits!
First up, you get to choose 3 of these 6 existing Kits that we have already prepared 3 of these 6 existing Kits that we have already prepared that we have already prepared…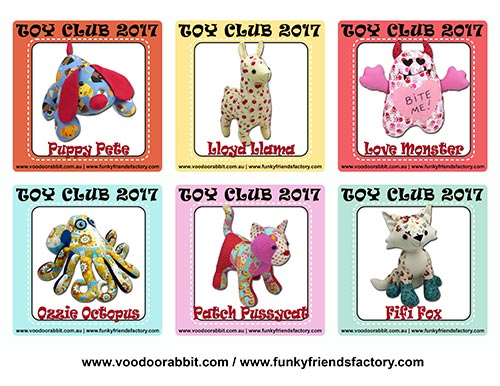 Why ONLY 3 you ask?
Well, this is the exciting bit – you will also receive 3 'surprise' KITS!!! These kits will have brand NEW (never before released) Funky Friends Factory Patterns…. that's right…. 3 totally NEW, NEVER BEFORE RELEASED toy patterns that no one has ever seen – pretty cool huh?!
You get 6 Toy Kits over 6 months
Once a month, for 6 months you will get a Toy Kit. These Kits will be the 3 you selected plus 3 brand NEW ones. ALL 6 Toy Kits will come with the Pattern and all the fabrics and notions you will need to complete the toy which will be posted out from the ultra-cool Voodoo Rabbit Fabric Shop.