Posted under BlogToy-making TIPS & TUTORIALS on 2017-08-18 08:06:14
I have been reworking my older patterns so they are in my new fresh format which includes a step-by-step photo tutorial. Now my Raff Giraffe Sewing Pattern photo tutorial is ready to go!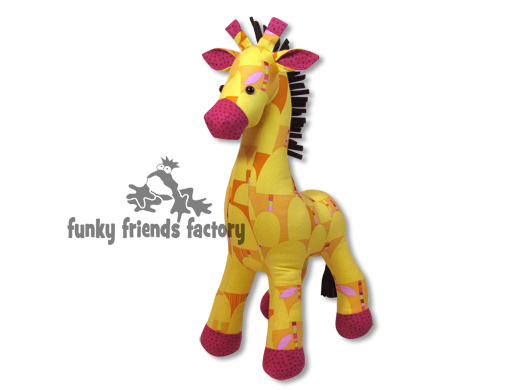 .
*** PLEASE NOTE – this in ONLY a PHOTO TUTORIAL ***
The FULL PATTERN IS NOT included here.

It is NOT A FREE PATTERN!

I have made this photo tutorial so people who have purchased my Giraffe Sewing Pattern can SEE how to sew a dachshund toy! (I wanted to explain this so you are not disappointed if you have found this page via a search engine and not from the link in my Giraffe Sewing Pattern.
We start with the MANE:
STEP 1

Cut the tassels of the MANE PIECES as shown on the pattern markings (about 5mm/¼inch in thickness.)

TIP: I drew a chalk line on the felt so I could keep all the tassels the same length.
STEP 2


Pin the MANE PIECES to one of the BODY PIECES at the neck, as indicated on the pattern pieces.
BODY:
STEP 3


Pin the other BODY PIECE to the first BODY PIECE with the MANE in between. With the MANE PIECES in place, sew the BODY PIECES together from F – L, remembering to leave a gap open for stuffing later.