Posted under A day in my lifeBlog on 2017-09-08 05:11:43
It's been so hot in Brisbane this winter that we planned a holiday somewhere cool for my birthday this year – Tasmania! As a toy-designer, I was excited to see some of the unusual animals that exist ONLY on this Australian island. BUT first, about that mountain… it was Cradle Mountain and I climbed up far enough to wander around in the snow! Look how proud I was of my rather UNFIT self! 😀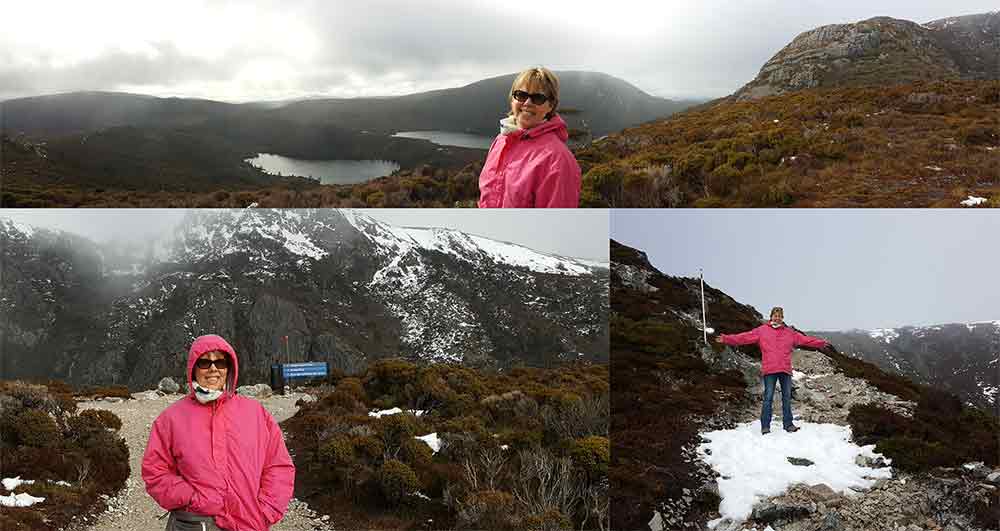 On the way back from our hike we saw a bunch of tourist stopping to photographing something on the side of the road. It was a rather chilled-out WOMBAT munching away on the grass verge, totally unaware of the gawking,happy-snapping tourists! It's one thing to design a toy pattern looking at photos of animals on Google BUT it's way better to be able to actually SEE the animal in real life. So imagine how excited I was to see a real live wombat!
Wow, a wombat in the WILD!!!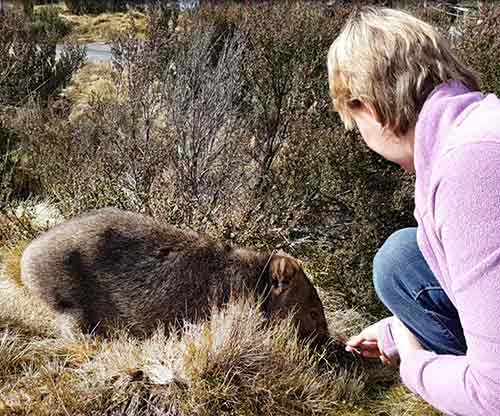 I really wanted see the Tasmanian Devil so we stopped in at a wildlife park. I have to say I was a little dissapointed that it looked nothing like Taz from the Warner Bro's Looney Tunes cartoons from my childhood!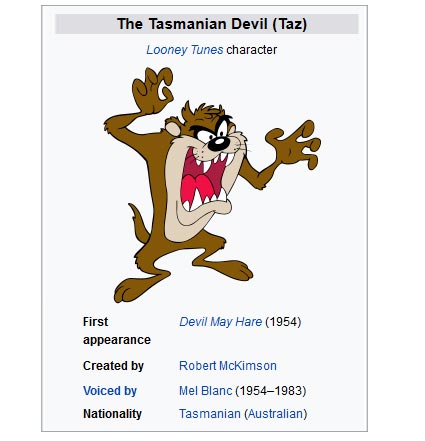 https://en.wikipedia.org/wiki/Tasmanian_Devil
Tasmanian Devils are still one of the weirdest animals I've seen. To me, they are a mixture between a wild cat and a little dog  BUT I don't think you'd want to get 'up close and personal' with them as they have a mouth full of sharp teeth that they like to show off with a big yawn. I have been asked to make a toy pattern for a Tassie Devil in the past but I don't know if people would like to sew a Tassie Devil that looked like a cartoon Devil or a real-life Devil…. I'm not sure?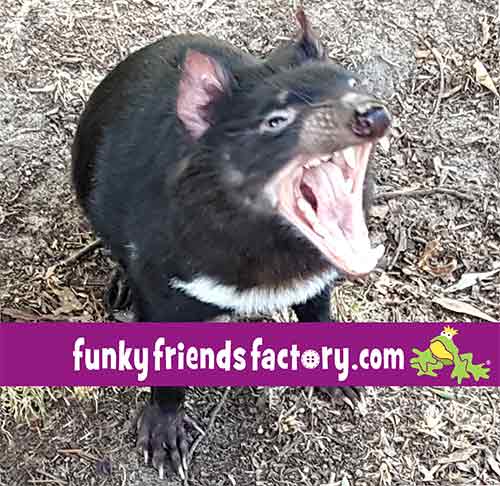 AND one MORE really exciting thing for me was to go to the Thylacine Museum. I was fascinated by the Thylacine which is the latin name for the officially extinct TASMANIAN TIGER! Some people believe the Tassie Tiger may still be alive, hiding in the impenetrable bush! The last Tasmanian Tiger in captivity died at Hobart Zoo in 1936 but every now and then someone claims to have a sighting of this extinct animal and funny enough, just this week there was this report of a thylacine sighting last November – 2016! WOW!