It's time to announce the winner of the Funky Friends Factory Valentine's Toy Contest, but first here's another batch of entries to inspire you when you're sewing a toy for ANYONE you LOVE!
Check out these
LOVELY Valentine's toys ~>
and the winner is announced
below too…
The Melody Memory Bear pattern was popular pattern for the Valentine's contest. Gail McKnight Anderson – I love the heart placement on the hearts on her cheeks!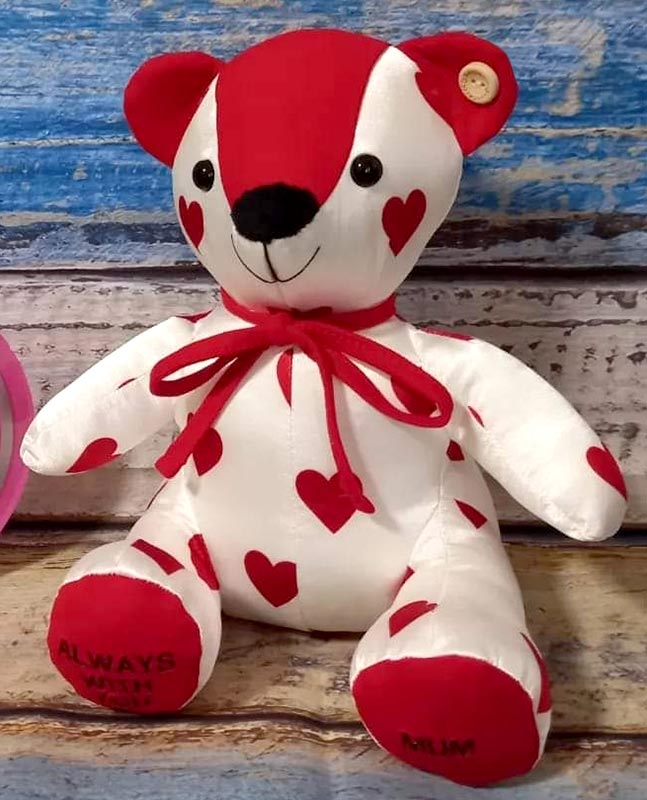 Click HERE to buy the Melody Memory Bear pattern.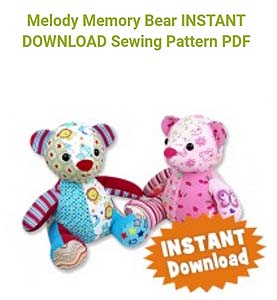 Look how adorable is this version of Digger Dachshund sewn by Pat Pruitt who added the leash is a fabulous, sparkly final touch.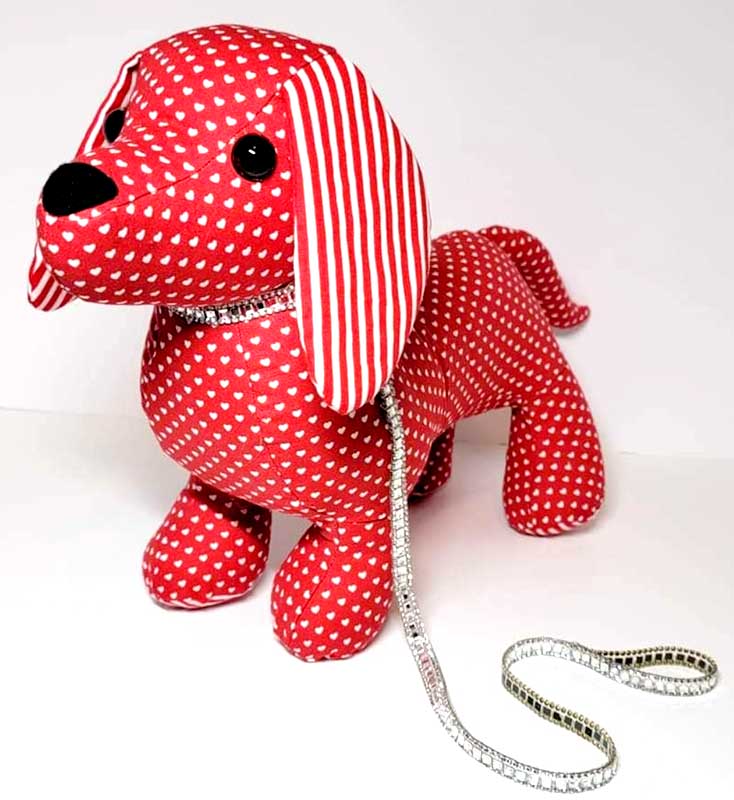 Click HERE to purchase the Dachshund pattern.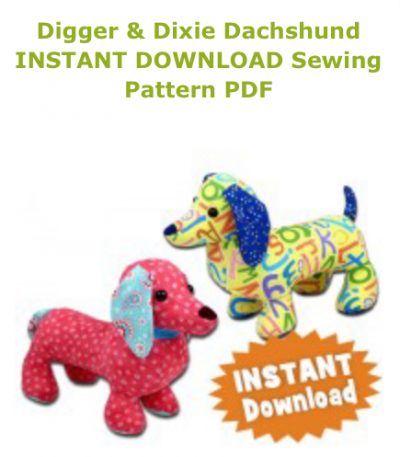 A tutu adds an extra bit of fluffy fun to this Valentine's version of the Heather Hippo sewn by Tracy Leno.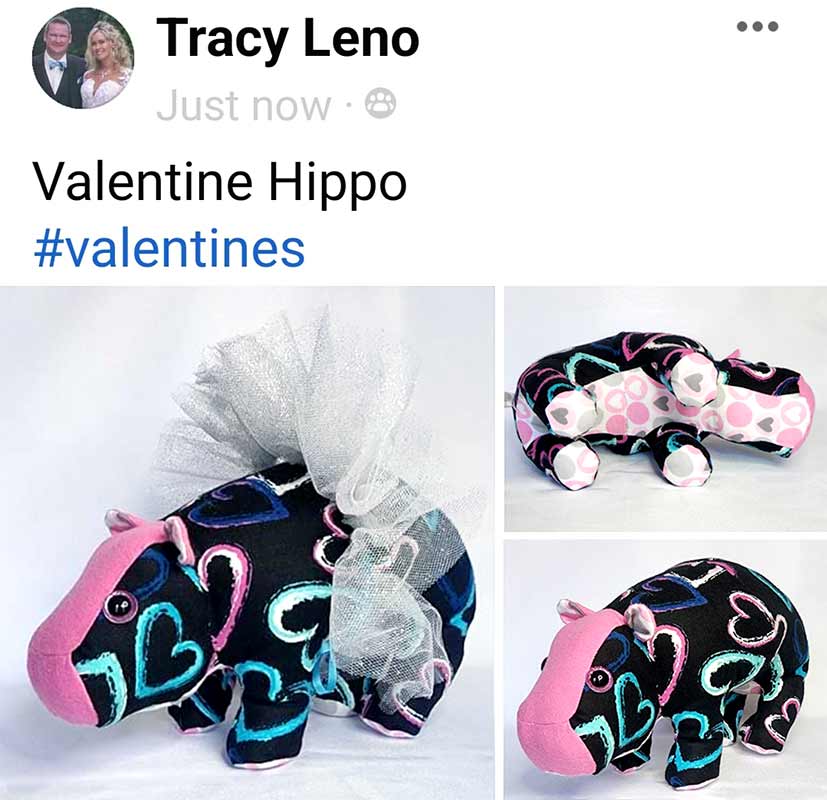 If you look closely you can see – those are tiny hearts hidden in this hippo's ears! 💗💗 This Heather Hippo was sewn by Jennifer Newman Brown.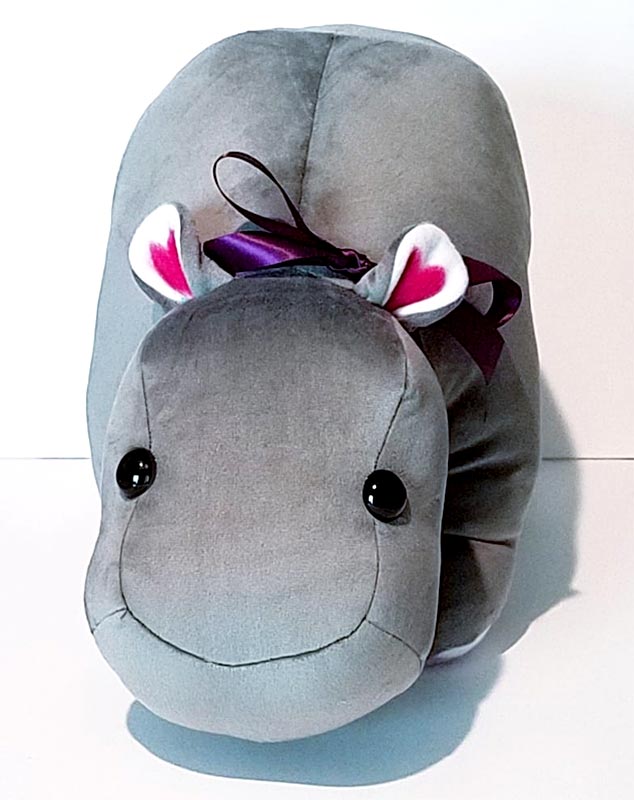 Click HERE to purchase the Hippo pattern.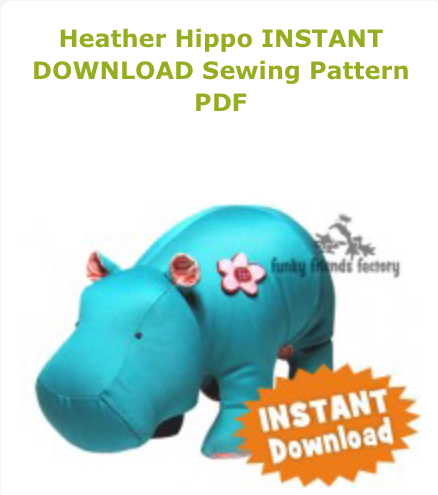 It's always fun to see the same fabrics used on two such wildly different patterns as Ollie Laid Back Owl and Plattie Platypus. I think Ollie looks playful in this fabric combo while Plattie looks more distinguished. 😊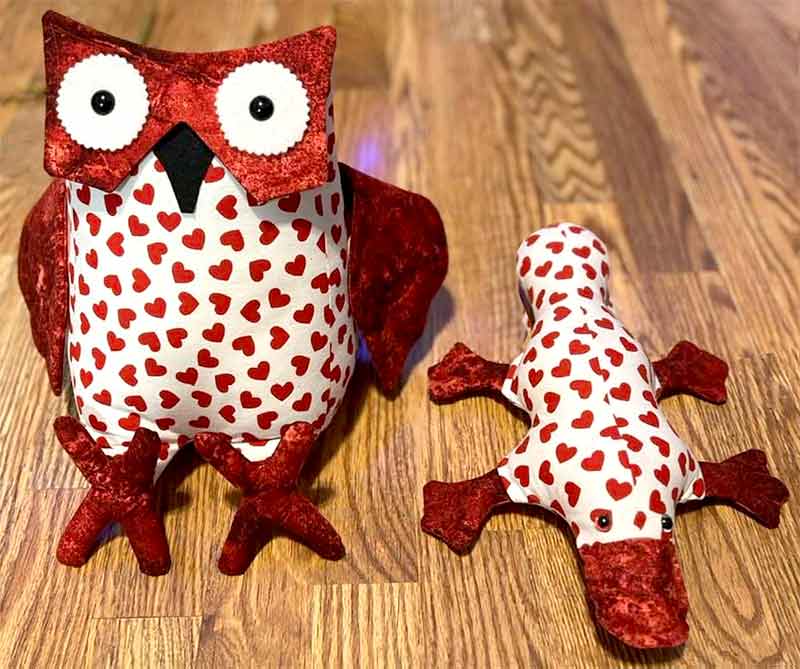 Click HERE to buy the Ollie Owl pattern.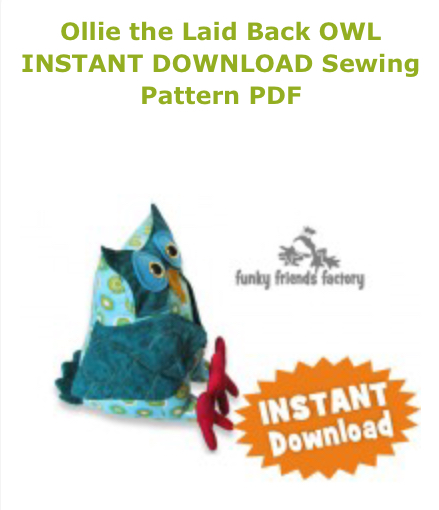 Click HERE to purchase the Platypus pattern.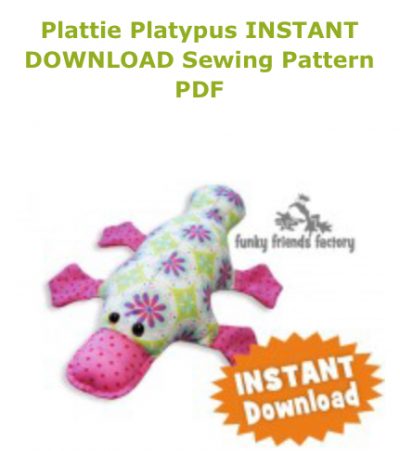 This perky pink Ben BEGINNER Bear memory bear by Rascinskis Victoria is ready for hugs!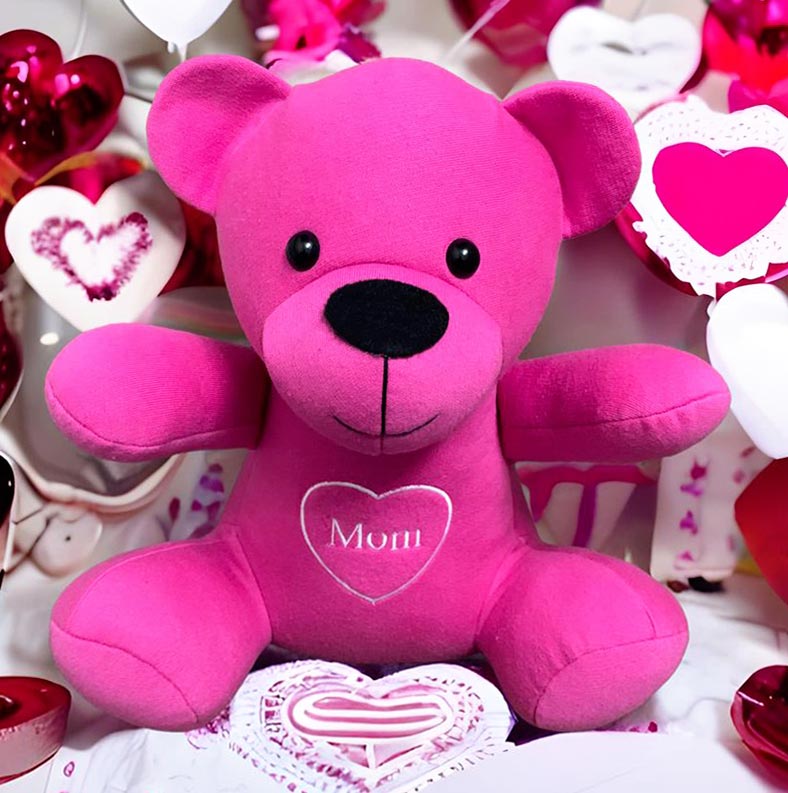 Sherpa-style fleece paired with tiny hearts turned this Easter Bunny Buddy  sewn by Lindy Eversole into a Valentine treat!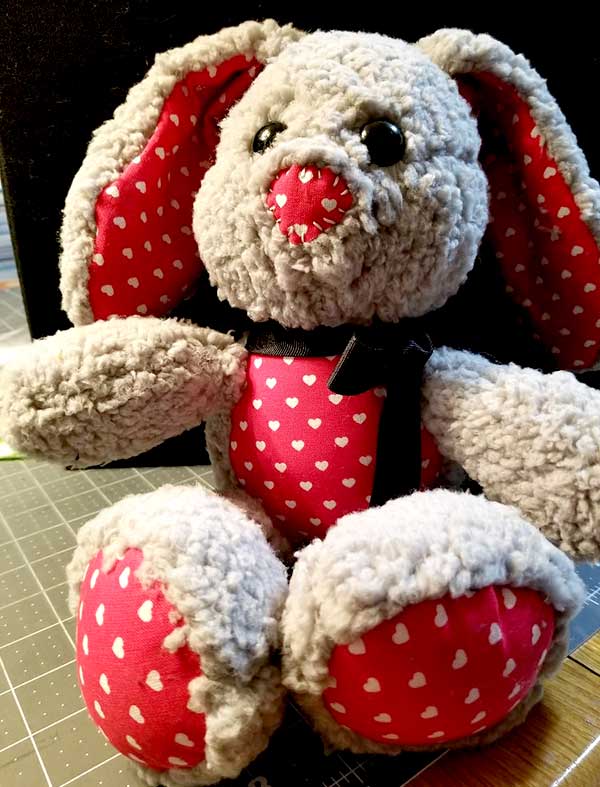 Click HERE to purchase the Easter Bunny sewing pattern.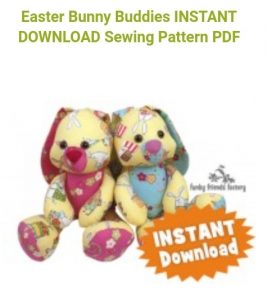 Christine Keuer made this delightful Calico Signature Bear from Valentine's Day theme fabric.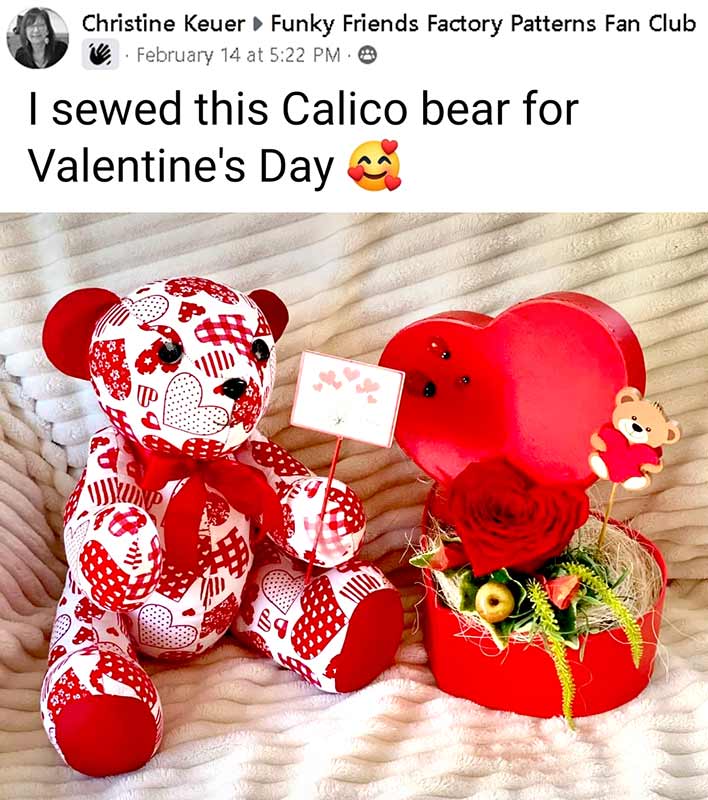 Click HERE to purchase the Calico Bear pattern.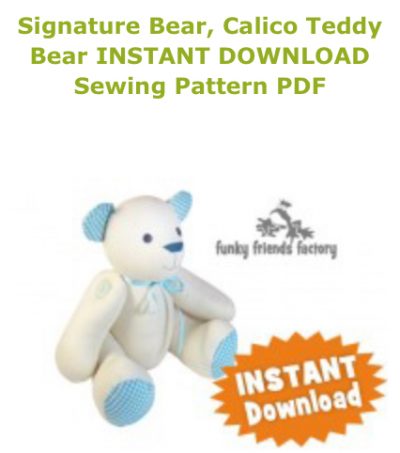 Considering how much I love puns AND my frog mascot Prince Charming, this entry by Ruby Almond was sure to make me smile! Ruby used baby-safe HTV (heat transfer vinyl) to make the black eye dots and the tummy text on this cutie.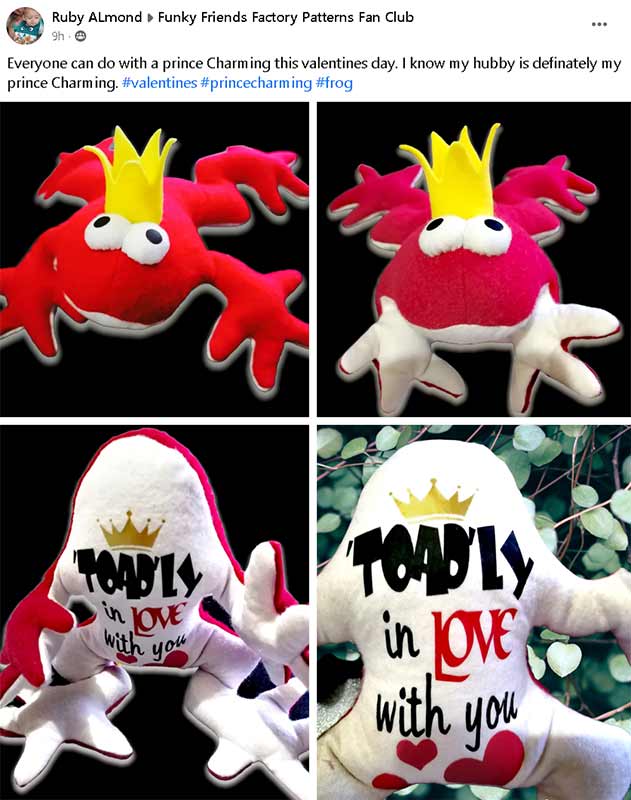 Click HERE to purchase the Prince Charming Frog Pattern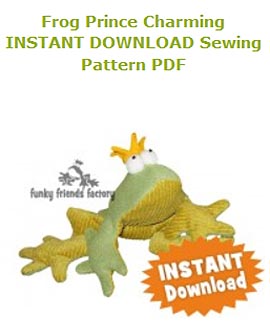 Here's another Love Monster gift for an adult child, sewn by Cara Wolf-Vaughn…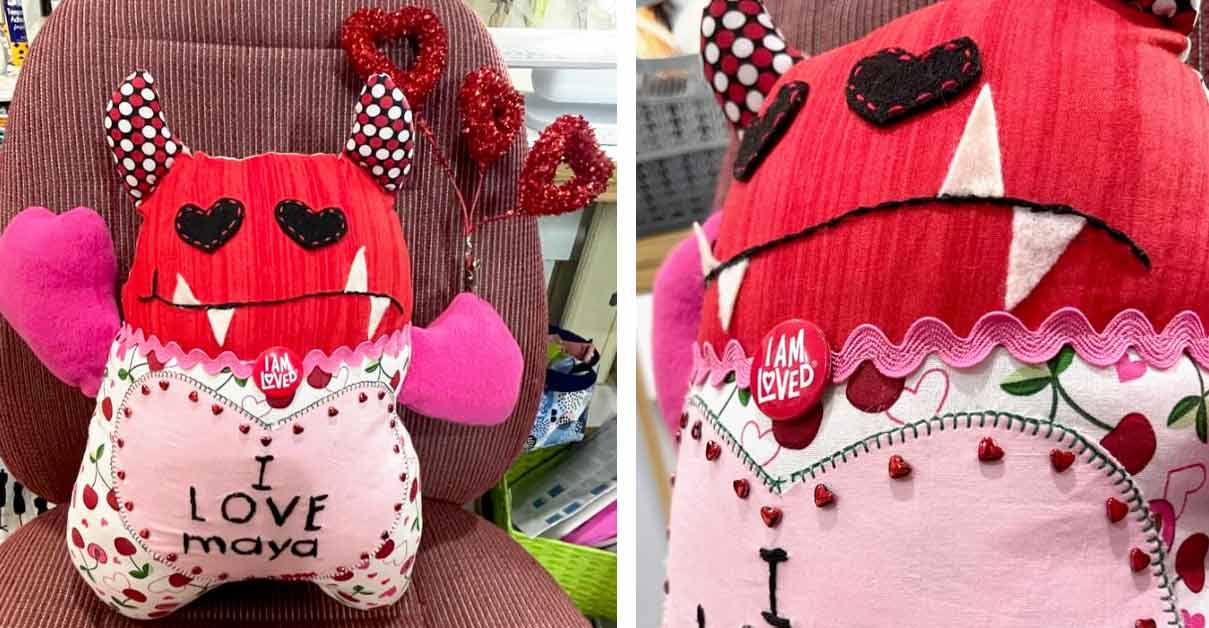 Cara Wolf-Vaughn also sewed a Love Monster for her puppy!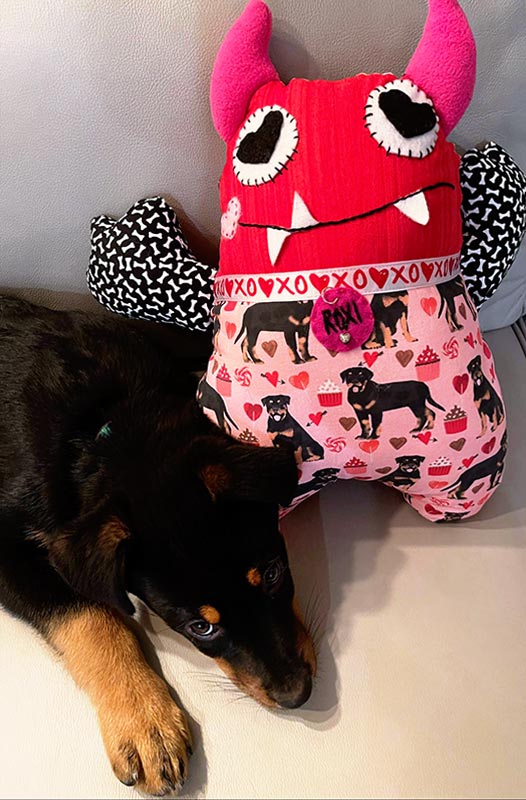 And Sandy Thurlow sewed this cute Love Monster for her daughter.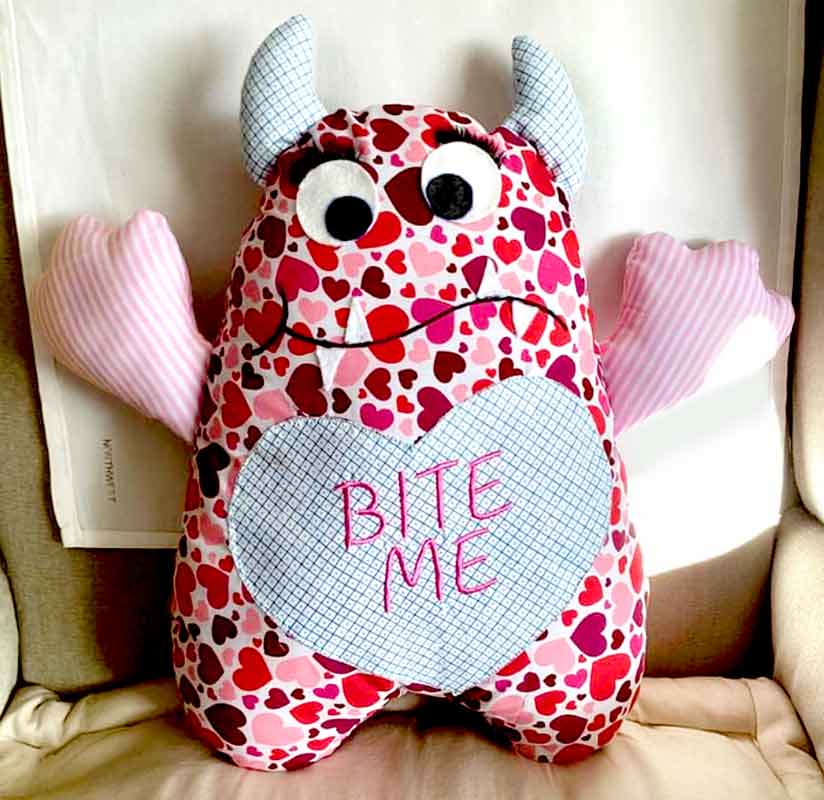 AND one more MONSTER pic!
Look at this lovely bunch of Love Monsters! This was Lori LeBlanc's first time doing the hand embroidery and blanket stitch around the tummy heart!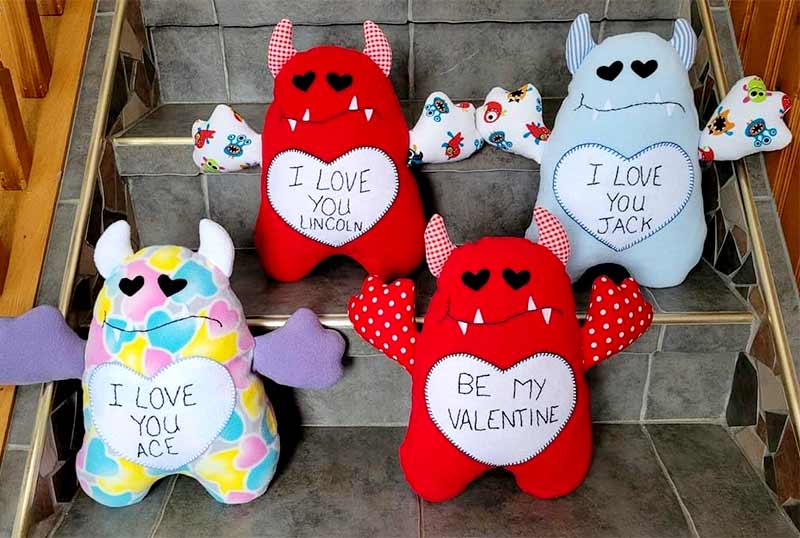 TIP: It's easy to make a custom message toy, even if you don't want to use hand sewing!
You can use any method of adding text to a toy that you like: fabric markers/paint, appliqué with glue, or pre-cut iron-on letters you buy at a craft store. And if you'd prefer to use fabric glue to attach the tummy heart, that works! You can even use a 2-sided iron-on fusible product (I'm told this is sometimes called "Wonder Under" in some countries, but I haven't used it myself) that bonds 2 pieces of fabric like glue.
Click HERE to purchase the Love Monsters pattern.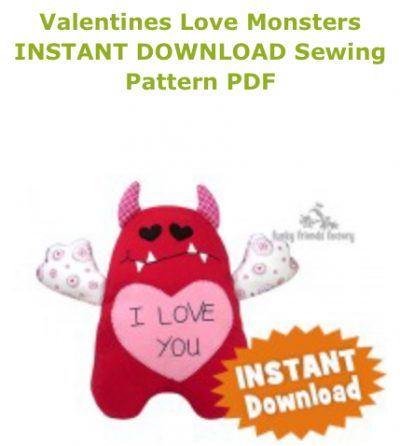 This fuzzy version of Mitch MONKEY sewn by Kina Bonilla Chap. She's added a little felt heart to the monkey's hand (and feet) to make it more LOVELY for Valentine's.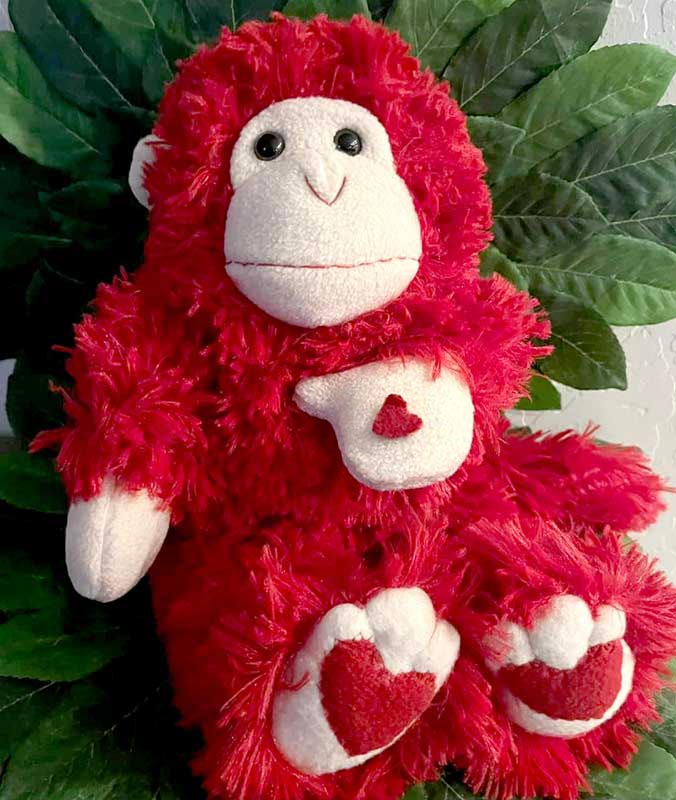 Click HERE too buy the MONKEY pattern.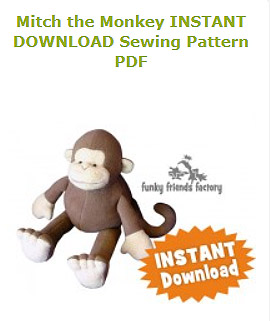 This Penny Penguin sewn by Darvi Mayo is ready to collect her Valentine's Day mail.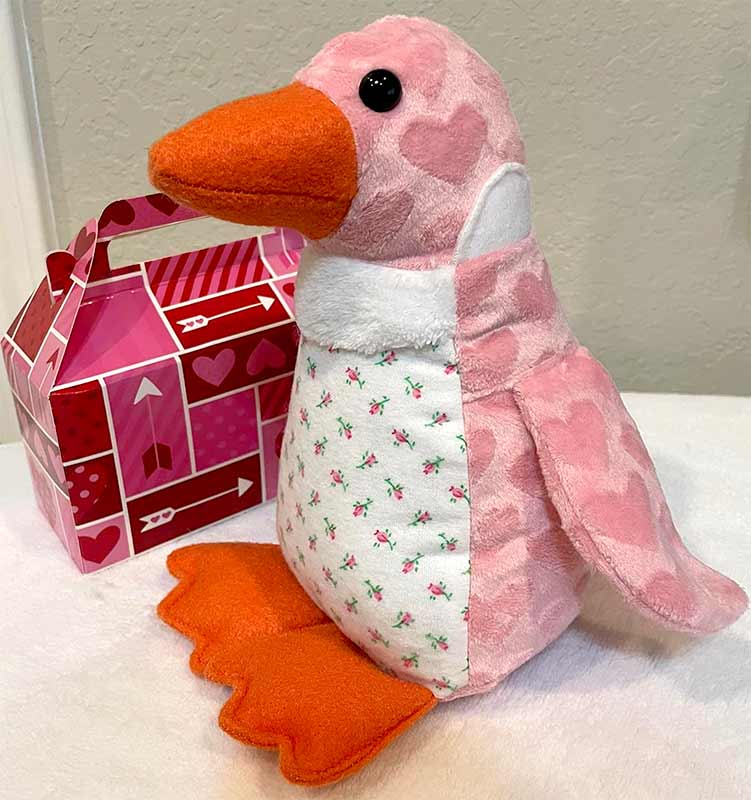 Click HERE to purchase the Penguin pattern.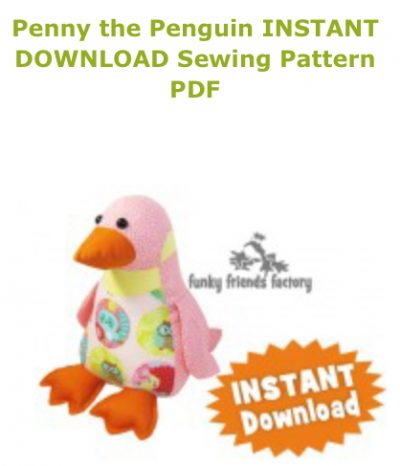 Wow, what a swoon-worthy Valentine's Ellie Elephant sewn by Carol Crosby!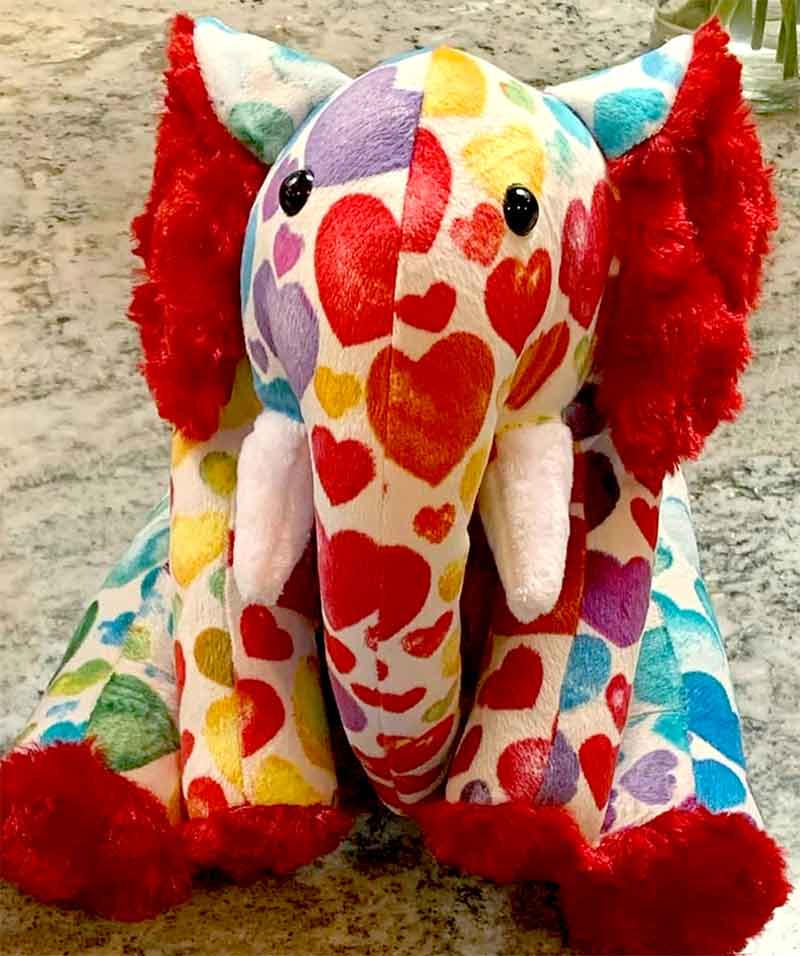 Click HERE to purchase the Elephant pattern.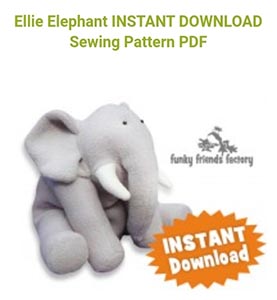 And the WINNER of the Valentine's sewing Contest is…
Yeeeehar!!!!! The random number generator has spoken, and the winner of a Funky Friends Factory gift certificate is…
💗Elizabeth Percival💗
Elizabeth used her fabrics scraps to sew this delightful Gertrude Guinea Pig for her entry.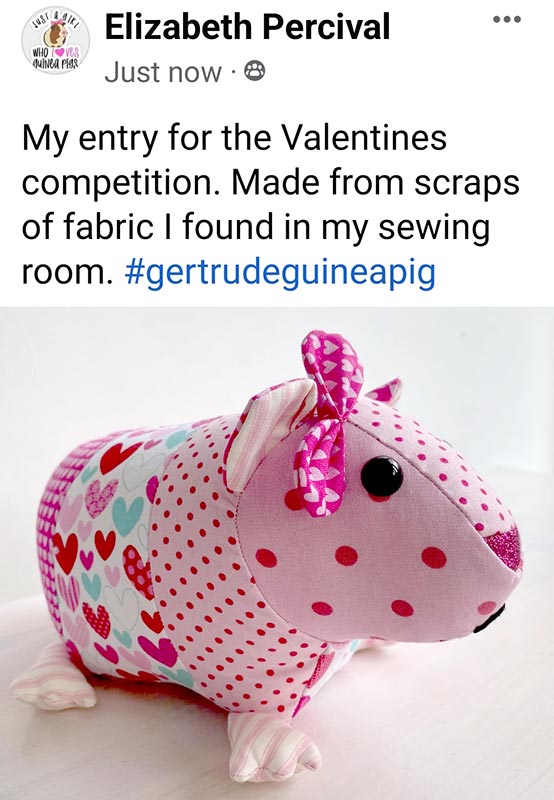 Click HERE to purchase the Guinea Pig pattern.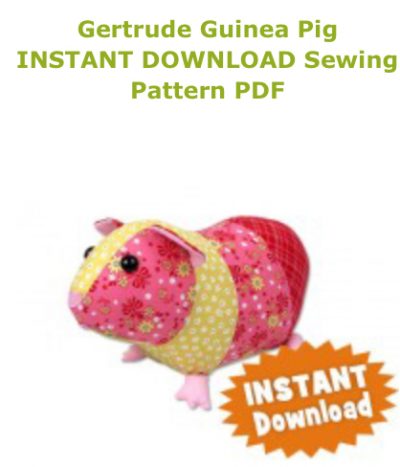 CONGRATS Elizabeth!
You win a Funky Friends Factory Pattern GIFT VOUCHER valued at $50!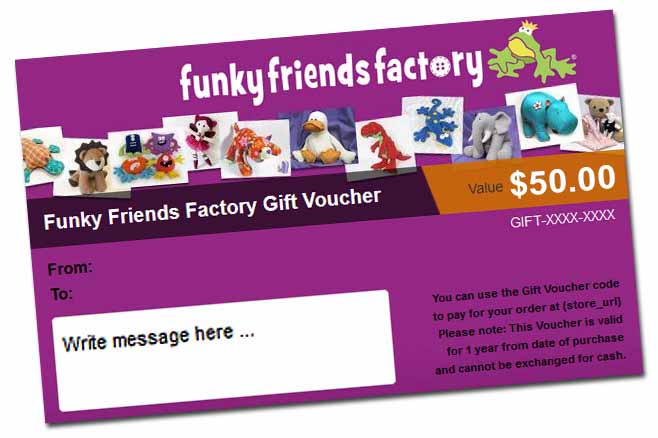 Thanks to everyone who sent in your photos!!! Hope your Valentine's Day was SWEET!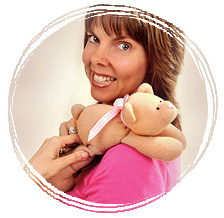 Till next time,
Pauline
xxx