Check out these highlights from the visitor's posts on the Funky Friends Factory Facebook Page!
First up we have Jackie Hillman with an armful of sloths! She enlarged the Slowpoke Sloth Pattern to 130 percent for the "mommy" sloth and made the "baby" at the normal size. I have a blog post about how to resize a pattern here if you want to try this yourself! 🙂
Caroline de Groote used the free unicorn add-on for the Calico Bear Pattern to make this magical bit of pastel keepsake perfection. It's still magical for me to see pre-loved baby clothes turn into a super-cute keepsake toy!
Some MORE recycled baby clothes! Alana Simons made these cute memory toy foxes using the Fifi Fox Pattern. I've included her 'before' and 'after' photos for you to see the transformation! 😀
Wow! Don't you LOVE the 1980s throwback geometric fabric and bold colors on this version of the Puppy Pattern sewn by Debbie Arkwright? She made this beautiful, bright Puppy Pete for a six year old's birthday. I think this Puppy Pete would make a lot of adults happy, too!
I laughed when I read Rebecca's post about these 2 identical versions of the Gertrude Guinea Pig Sewing Pattern. BUT I agree – you should always sew 2 guinea pigs at a time as they are so cute!!!! 😀
This giraffe's extra large craft eyes give him a cuddly baby face. Laurie Danielson-Skipper also used hand-cut spots on the Giraffe Toy Pattern as a gift for her grandchild.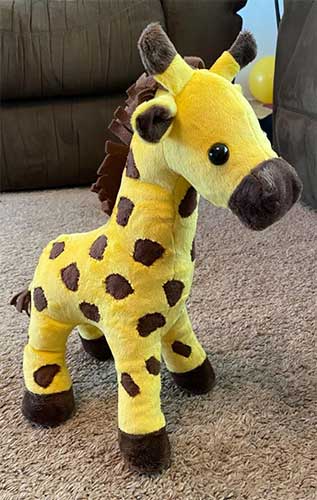 I REALLY couldn't choose a winner so I did a random draw and the winner is…
Ta dah… Jenn Michelle and her cute & cuddly cubs made from the Keep Me Keepsake Bear Pattern for a new set of identical twins. Jenn added monogrammed birth details to the footpads… which is exactly why I designed them with extra space!
CONGRATS Jenn! You win
a FREE Funky Friends Factory Pattern ~>
of your choice!
I love to see photos of the toys that people have sewn from my soft toy patterns.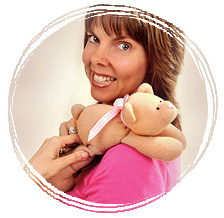 bye for now,
Pauline
xxx