I have just 'discovered' a fellow crafter who I think must be as crazy about fleece and fake fur as I am!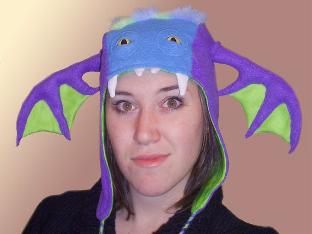 We both seem to have a fascination for cute little critters, BUT she is making the amazing fleece HATS!
I was so impressed I had to ask more about them, so…
… this is Kristal, hat-maker extraordinaire, and she has graciously agreed to let me share some pictures, of her divine hat creations and to answer some of my questions about her furry works of art!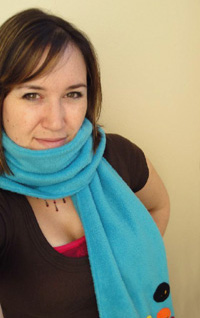 When she's not sewing her crazy hats, Kristal is, in her owns words,
'a Seattle-based textile artist living the dream'.  I think that dream must be in technicolour because these Hungry Hats are NOT likely to blend into the wall paper! : )
In her 'real life' Kristal has completed a Master's degree in ACCOUNTING and spends her day helping people with their tax troubles! She loves her job and her clients but has found that crafting serves to round out her life.
She says she's always had 'the craft bug' and credits her mother for passing this on to her. The idea for her wonderful hats began with a book that she got for Christmas which inspired her to make a monster hat for her cousin's new baby boy.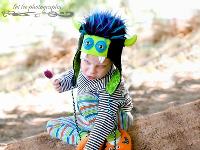 I asked Kristal what she most enjoys about making her hats. She loves interacting with people all over the world and making things to fit the ideas that they have in their heads. ( to fit ON their heads?) She also really enjoys the feedback she gets once people receive their items and the wonderful feedback photos.


Finding time to make her hats is difficult as she works full time. Nights and weekends are the only time she gets to spend in her sewing room and Kristal jokes that she's thankful Halloween and Christmas don't fall at the same time as tax season! : ) Kristal doesn't really have a favourite material to work with as she has 'bounced around' between all sorts of mediums her whole life. She has only started to focus on fleece making these hats and says she loves working with fleece because it is so forgiving and lends itself to so many possibilities! Now she gets so excited when she finds a funky new fur… (uh oh, sounds like someone I know! Ha!ha!)
Her inspiration comes from the constant parade of crazy critter ideas in her head, from her fiancé, who is a gaming artist and apparently to blame for one of her favourite pieces – her 'Viking Beanie', which has been a runaway success this Christmas.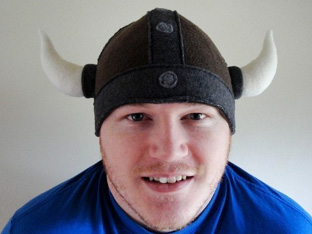 I can imagine there must be hoards of 'hard-to-buy-for-blokes' out there that this would make a perfect ultra-cool and quirky gift for!
Her other favourite piece, which I think is absolutely hysterical,  was inspired by her love of her 'fur children'… and I say that first because the piece in question is her 'Where the Wild Things Are Dog eater Coat'!!!!

*** Please note that

NO CUTE LITTLE Shih Tzu/Maltese/Poodle

mix

DOGGIES WHERE INJURED DURING THE PHOTOGRAPHING OF THESE REALLY COOL DOG COATS!!!

I asked Kristal how her house reflects her passion. Their first house that they bought last year has 3 bedrooms, and since they have no kids (other than our fur children, of course), one bedroom has exercise equipment and the other is her dedicated sewing and hobby room!  She says It's currently brimming with exciting new fleece, flannel, and fur, just screaming to be made into something new, she only wishes she could sew faster! And I do too! : )

If you would like to see more of Kristal's designs, you can check out her Etsy store – Fairly Enchanted to see her latest creations…

I hope you've enjoyed finding out about Kristal as much as I did!

Don't you think her Hungry Hats are incredible?
.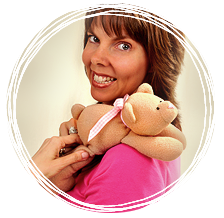 .
Bye for now,
Pauline