The release of my Batty & Boo Pattern has got me in a Halloween mood. So I thought it would be FUN to have a competition focused on your Halloween makes!
DON'T WORRY –
you don't need to use
a HALLOWEEN Pattern
to enter!!
You can use ANY Funky Friends Factory pattern sewn in Halloween theme fabric or Halloween colours (even my Free Honey Teddy Pattern – so everyone can enter!!!)
BUT first, some
Halloween TOY Pattern
inspiration!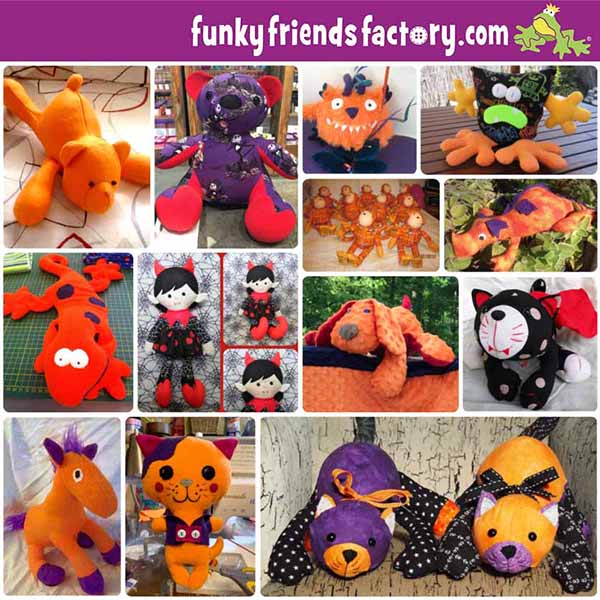 PHOTO ABOVE: Orange Honey Teddy sewn by Melina Y. l Purple & Red Halloween fabric Melody Memory Bear sewn by Glynis Duckenfiled l Fluffy, orange Mix & Match Monster Pattern sewn by Sian R. l Black Mix & Match Monster Pattern sewn by Michelle's Zoo l Mitch Monkey Pattern sewn by SherryW l Purple and orange version of Diggles Dragon Pattern sewn by Heather Butler  l Red and purple Gertie Gecko Pattern sewn by Sheryl l Elf Twins dressed as Vampires sewn by Kate Carvey l Orange dimple Cuddle Puppy Pete sewn by Beth Fels l Kitty Kate Cat Pattern sewn as a vampire by Jo DelaCruz. l Orange and Purple Horsey Horse Pattern sewn byJenni L. l Kawaii Cat Pattern sewn by Annette Lappop l Kitty Kate Cat Pattern sewn in Halloween fabrics by Loretta Hall.
Ok, back to the Halloween SEWING COMPETITION…
WHAT can you WIN?
You can win a WIN a Funky Friends Factory Pattern Gift Voucher ~>
valued at
$50!!!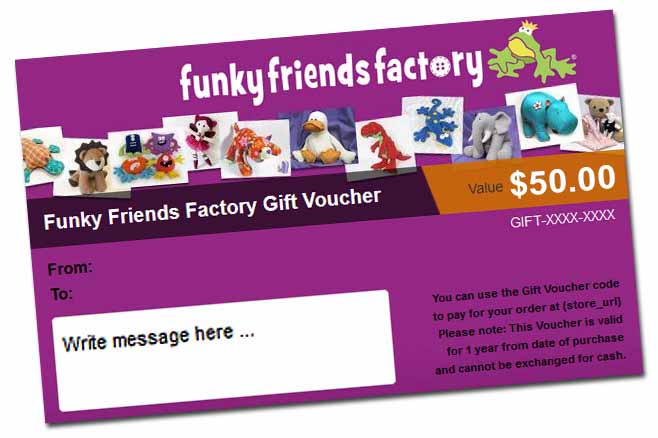 HOW do you enter?
It's easy to be in the running to win! Just post a photo of ANY Funky Friends Factory Pattern that you have sewn AS A HALLOWEEN TOY on the Funky Friends Factory Facebook Page, or in our Pattern Fan Club Group or email us your photo if you're NOT on Facebook.
(It can be ANY Funky Friend Factory pattern that you have sewn – one of the Halloween Patterns or any other Funky Friends pattern sewn up in Halloween colors or Halloween print fabrics! In other words – it needs to be a Funky Friends Factory toy YOU have sewn that LOOKS "Halloweeny"!)

Want an extra chance to WIN?
Share any of the pictures above on your Social Media (Facebook, Pinterest, Instagram etc). Use the hashtag #FunkyHalloween2021 so we can find your entry or leave a comment below to let us know where you shared the competition!
*** The winner will be drawn on November 1st 2021, 6pm EST ~ using random.org and announced here on the blog AND on the Funky Friends Factory Facebook page.***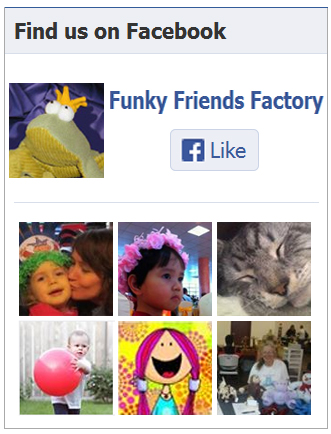 I can't wait to see your Halloween Funky Friends…
Happy spooky sewing everyone!!!!!!!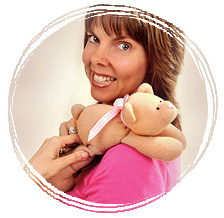 Till next time,
Pauline
xxx