I'm settling back into the swing of things after having a lovely visit with my family and friends overseas. I'm obviously still a bit jetlagged because I only woke up at 10am and realised it was FRIDAY FRENZY time – yeeeehar!!!!
It was fabulous to see everyone again after soooooooooo long and it felt wonderful to 'take up where we left off' and it was comforting that everyone was 'JUST THE SAME'- nothing's changed!
Well, ONE person seems to have changed….
LOOK how tall
Nelson Mandela's got???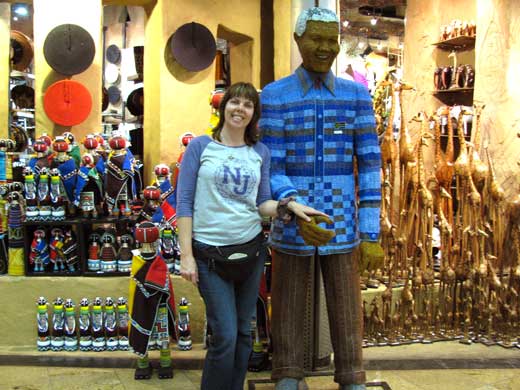 Ha! Ha! Just kidding!!!!!
This is me posing with a  bead-work statue of Nelson Mandela in Johannesburg airport, which has been made to commemorate his 94 birthday on the 18th of July.
I was sooooo excited to 'see him' eventhough it was only beads that I stopped a total stranger passing by to take this photo!!!! For this Friday Frenzy I thought we'd have a bit of fun with famous celebrities…..
Sooooooooooooooooooooooo what are we getting up to THIS Friday?
To enter this Friday Frenzy – all you have to do is tell me which FUNKYFRIENDSFACTORY TOY you think would best suit YOUR FAVOURITE CELEBRITY and you can win the pattern you suggested for them!!!
So let me go first:
I think Nelson Mandela would LOVE a Honey Teddy. He has done so much for others and especially for children, with the Nelson Mandela Childrens Fund. I think he would really enjoy having a Honey Teddy Bear of his own knowing that she is the official pattern for the
Billion Bears Charity Drive>>and that so many people have made and donated teddies like her to children all around the world, or to raise funds for the charities closest to their hearts!
Now your turn:
Leave a comment below to  let me know which FUNKYFRIENDSFACTORY TOY suits YOUR FAVOURITE CELEBRITY!
I will draw a winner on Sunday…. so everyone gets a chance to enter!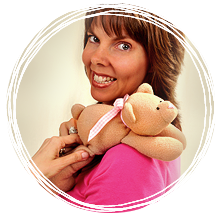 .
.
Till next time,
Happy Sewing,
Pauline