Recently I got some feedback about my Bedtime baby Doll Pattern's HEAD!
Hi Pauline,

I have finished making my first ever funky friends pattern. Was easy to follow and my lil munchkin loves it. I have a question. The head when finished looked long. I am not sure what I did wrong but I have managed to shape it and hand sew under the hood to make it more round. Do you use 100% cotton or a more stretchy fabric.

Thanks Kirsty

What a lovely email and what a cute picture!!!!
BUT… let's get back to the problem of the LOOOOOONG head! Kirsty used 100% cotton, just like I did, for the doll's head so it looks like the elongated head has something to do with toy stuffing…
or NOT ENOUGH toy stuffing!
Looking at Kirsty's photo, I can see that the doll's head still looks a bit wrinkled. Not wanting to be too critical BUT I don't know ANYONE who likes wrinkles!!! 🙂 When I make softies from cotton fabrics, I use a lot more toy stuffing than I do when I make a toy out of fleece/stretchy fabrics. Fleece is very stretchy so you can get a nice round shape with much less toy stuffing. When you are stuffing a doll's head made of cotton fabric you must carry on stuffing until you can get rid of most or ALL of the wrinkles….it can take a LOT of toy-stuffing,
you will be AMAZED!
Stuffing is such a personal thing! I know that some people like to 'UNDERSTUFF' their dolls/toys to make them 'squidgy' and some people 'OVERSTUFF' to make them nice and firm, feel a bit weightier and solid, or because they KNOW they will receive a lot of hugging which will compress the stuffing! I would never dictate to you – one way in not better than the other – all I would say is to have a look at the official pattern photo of the original doll or toy you are sewing and try and make your head (or body or other toy part!) look as well-stuffed as that photo.
Bedtime Baby Doll has a very round, baby-shaped head, and if your head looks like an egg – keep adding more stuffing until it looks round like a ball!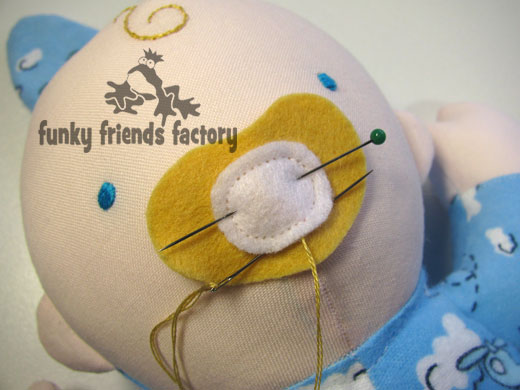 I took some photos as I went along for my photo tutorial to show you the doll's head with wrinkles compared to a well-stuffed head. I think I had explained this in the pattern instructions – BUT you just can't beat a PHOTO!
* The one with the wrinkes is already stuffed a lot more than Kirtsy's doll's head, so she still has a long way to go! 🙂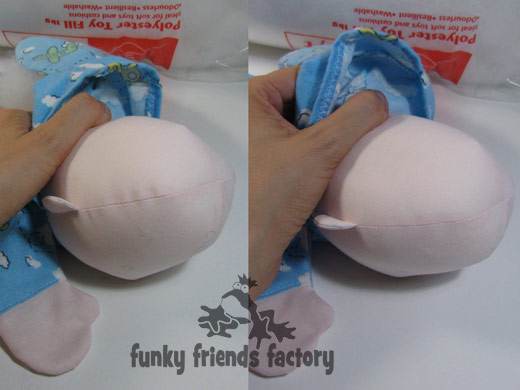 It's not often you can tell someone to "get stuffed!" and NOT upset them! So here goes – If YOUR Baby Doll's head looks like an egg, GO AND GET (it) STUFFED!!!! Haha!

I wonder, are YOU an 'UNDERSTUFFER' or an 'OVERSTUFFER'? 🙂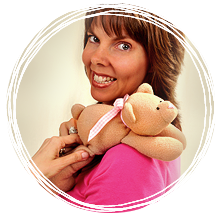 .
.
Till next time,
Happy Sewing,
Pauline