I have been invited by the lovely ladies of The Sewing Library to join their TSL Dolly Drive 2013. This fabulous community of doll makers are sewing dolls to donate to Children's hospitals around Australia. They have reached 'the 229 dolly mark' and it made me proud to see their post saying
"Queensland is leading the Dolly donations!"
THIS Dolly Drive has particular significance for me, having experienced first-hand the effects of the ex-cyclone Oswald that hit Queensland in January. My leaking ceiling and damaged car seem totally insignificant when so many people have lost their homes or loved ones.
VIDEO


I saw a video of a mother passing her baby to someone in a helicopter and the rescuer telling the mother, "I'll be back, I'll be back" as he air-lifted her baby from the flood-waters using a sports bag as a make-shift baby carrier!
So many Australian children have also been affected by bush fires and flooding with entire homes being destroyed in seconds!
Well, they say charity begins at home and this is my backyard!
So I have decided to give away my Bedtime Baby Doll Sewing Pattern… for the Month of Feb 2013 … to anyone who wants to get involved with this worthy cause.
Woohooooooo!
LET'S MAKE BABIES!!!!!
This sweet little baby doll would be a great pattern to sew a toy for babies, younger kiddies, especially little girls, but little boys too! 😀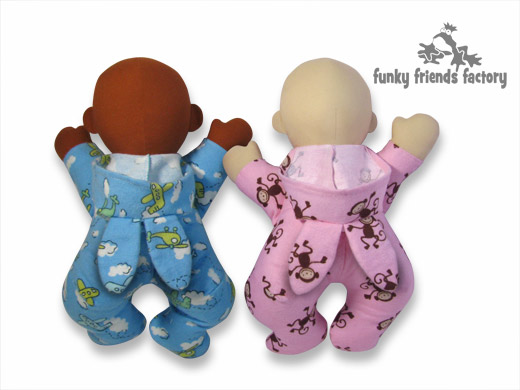 All you need to do is leave a comment with your email address during February 2013



or leave a comment on the Funky Friends Factory Facebook page to let me know your email address AND how many baby dolls you are going to contribute to the TSL Dolly Drive and I will send you the pattern!
*** Just a note if you are NOT in Australia – your comment or Facebook post might come through in the middle of the night, Aussie time! 🙂 Don't worry  – I will check all my blog comments and Facebook messages at least once a day, so as long as you comment by 28th February 2013, I WILL send you the Baby Doll Pattern for FREE! 😀
Where to post your dolly donations to?

Finished dolls can be posted to me and I'll drop them round with the local TSL Dolly Drive 2013 collection 🙂
Pauline McArthur
P O Box 814
Aspley 4034
Queensland
AUSTRALIA
OK – Let's get some baby doll donations happening!!!!!!!!!!!!!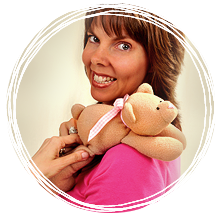 .
.
Till next time,
Happy Sewing,
Pauline