Posted under A day in my lifeBlogFFF News on 2019-10-04 14:07:32
This is my first EVER 'fabric shop event' and it's going to be in America! I'll be at Sew Let's Quilt It in Dallas, Texas, and they're planning a Q&A session and (a little embarrassingly for me) a pattern signing session! 😝 I got a chance to visit Patty's shop after I met her at Quilt Market and I found some gorgeous fabrics for sewing soft toys – which I am looking forward to doing again!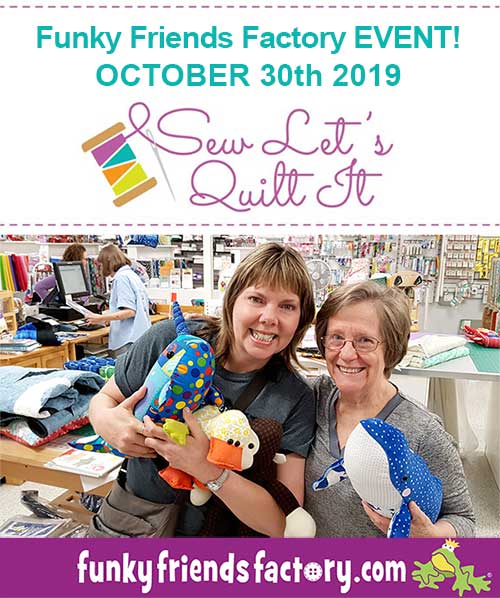 Shop Visit details:
Date: October 30th, 2019

Place: Sew Let's Quilt It in Dallas, Texas, USA

Time: Exact time 10 – 5pm
Patty has asked people to Sign Up so she knows how many people to cater SNACKS for…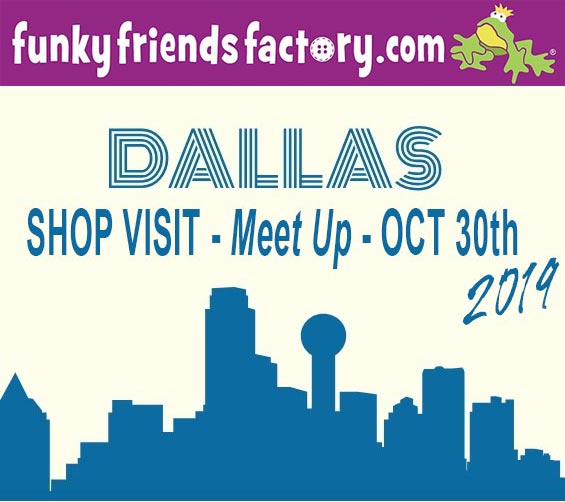 What EXACTLY are we getting up to?
I've been invited to spend the day in Patty's store. Here's the blurb about the event from their website…
"Come and hang out with Pauline – the fun, toy-sewing, designer behind the Funky Friends Factory as she chats about ALL things toy-making, FUN fabrics, COOL toy-making tools and techniques and shares her best TOP for making the cutest soft toys EVER! A day of Funky Friends Frivolity!!! 🙂 We will be having a "formal" Q&A session in the morning and afternoon (eg. 11am and 3pm?) BUT you can pop in any time between (store hours) on (Day and Date) because Pauline is going to be spending the WHOLE day in our store!!! (We feel so lucky to have her here BUT she says she's more than happy to hang out and "play with all the pretty fabric in our store" for the day!!!) We have convinced Pauline to sign copies of her pattern and she would LOVE to help you pic out funky fabrics and haberdashy for your next toy-making project while you are here. Come and share the Funky Friends Factory fun!
Wow – I think that sounds like fun! haha!!!!!! 😀