If you order an INSTANT DOWNLOAD PATTERN: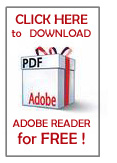 You will receive an email as soon as the order is placed. The download link (or links) will be in the email to get the PDF Pattern immediately.

You can also access the DOWNLOAD PATTERNS from the website. Just click on Log In/My Account Dashbord at the top of the website pages. (on the right top corner). Log in and click on My Download Products in the menu on the left.
If you order an item that requires POSTING:

Your parcel will be be packed and mailed out as soon as possible. All items are shipped from Australia. Postage is calculated by the Australian Postal Calculator. You will be kept informed about your shipment by email. If you haven't received confirmation of your order within 3 days, you may have a SPAM filter or JUNK email block preventing you from receiving emails from the Funky Friends Factory address.
* PLEASE contact us if you have NOT heard from us in a few days.