You can download the Pattern PDF file the minute your payment goes through! To buy an Instant Download, add the pattern to your basket and go through the checkout to pay. When your payment clears, Log into your account to download your pattern from the website.
How do I get my download?
STEP 1: Click on "Log In / My Account Dashboard" at the top of the website.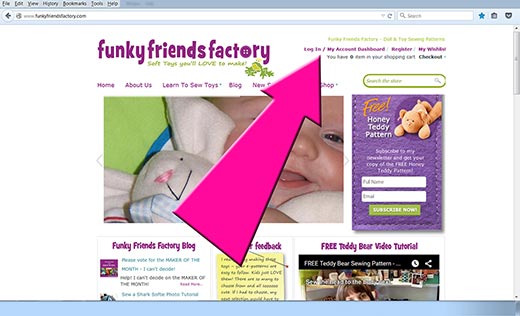 STEP 2:  Log in. (Your log in details will be the email address and password you created when you purchased the patterns.)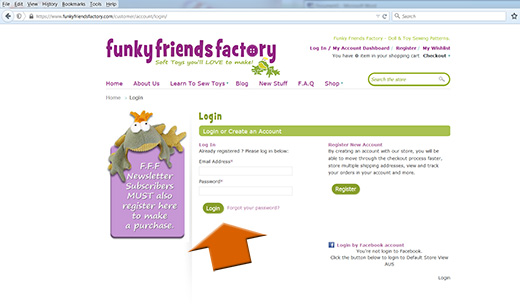 STEP 3: Click on My Downloadable products (on the left) to see your Downloads.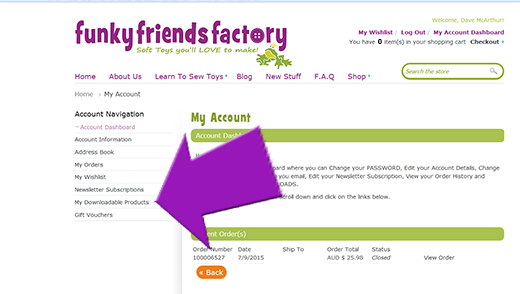 STEP 4: Click on the name of the pattern to start the download (eg. Funky Friends Factory – BABY BUNNY)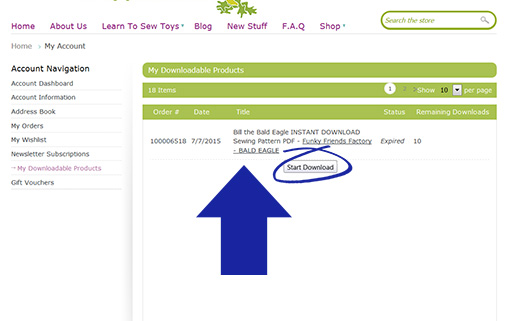 STEP 5: Save the file to your computer/device BEFORE you print it.
What do I get with an Instant Download Pattern?
You get the exact same instructions and pattern pieces as a printed pattern – it's just sent to you electronically as a PDF (Portable Document FIle). 
Instant Download Patterns include:
* Ready to print pattern (no need to resize)
* A colour picture of the completed Funky Friend toy
* A full list of material requirements.
* Layout diagram
* Easy to follow instructions
How do you open an Download Pattern File?
You need a home printer to print out the Pattern PDF File and FREE software like Adobe Reader to open the PDF Pattern.
If you can't open the pattern, don't PANIC!
You will need to get the latest version of Adobe Reader….
It's FREE & you can get it here – https://get.adobe.com/reader/

What's great about Download Patterns?
* Save TIME – you get them instantly.
* Easy ACCESS – save on your computer – view or print anytime.
* Save MONEY – don't pay postage.
Have any other questions about Downloads?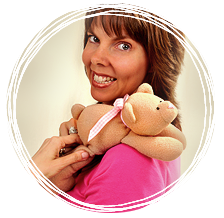 Please use the Contact Us page to send me your query.
xxx
Pauline
Save