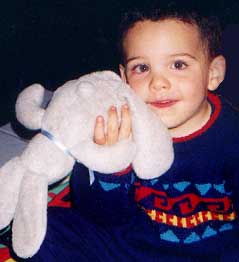 You can read what others are saying about the Funky Friends Factory patterns.
* Please use the Contact Us page to send me an email to let me know what you think of my softie sewing patterns and the Funky Friends Factory toys you've made!
Alex – New Zealand . Thank you, I am a real amateur when it comes to sewing, but your patterns are fantastic – THANK YOU!! All the best, Alex
Amy – USA . I love the pattern. I made a bear with my daughter's sleepers and it turned out great. I love your patterns 🙂
Gitte – Denmark . Hi, just to let you know that your patterns are fantastic,they are easy to follow,and i don`t have to make anything different to them,they just work beautifully. I have just bought the Lamkins,and made it for my daughter's best friend's babyshower,and one for a little girl, will email you a picture when she get it!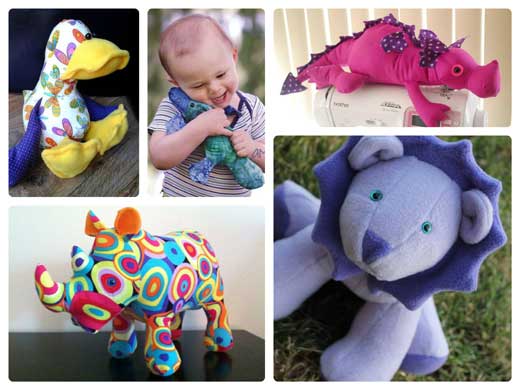 Holly – US . Hello. I just had to take a moment to tell you how grateful I am for your adorable Igor Iguana pattern. For Christmas my six-year-old son, Lincoln, really wanted a stuffed komodo dragon, and I was very much hoping to make one for him. For a while I couldn't find a pattern and found myself hopeless at coming up with one on my own. Just when I almost gave up hope, I came across your pattern. YAY! With a few modifications, it turned out perfectly. And the best part is, he LOVES it!
We hope to benefit from your creative genius again soon. Thanks so much for helping to make one child's–and one mom's!–Christmas!
Holly R
Cheryl – (PA) USA . Dear Pauline – I purchased Puppy Dog Pete in August and sewed him for my grandson. He was so cute. I just subscribed to your newsletter and downloaded the pattern for Honey. Thank you so much for offering these patterns. They are so fun to make. Cheryl, PA (USA
Dawn – Queensland, Australia . Hi Pauline, I love your facebook and your funky friends on my face book.. Seeing I live in the North West of Qld., today I was thinking of you and thought of the things that grow out here and further west that would make cute funky friends. A centerpede would be so cute so would a frilled neck lizard, he would be very cute also a white brahman cow with the hump on his back. Just an idea Pauline as we do see these things out here. Take care, Dawn
Rhoda – Phillipines . I am so pleased with how the Unicorns came out. When my daughter saw the first unicorn that I finished she said that she wanted two more to make it a family! I happily obliged. I am now on my third unicorn. Was able to finish the two unicorns in just three days (all hand-sewn!) and I am so happy. Will post the "Unicorn family as soon as I am done. Thank you again.
Shirlene – Mildura Australia .Hi Pauline, I got too excited about the pattens the other day and forgot to put in my redeem code when I I brought 5 pattens. I don't mean to sound silly but would I be able to just get another patten instead? I would be happy to pay any difference, I just adore them. I started with Pete, now the last few days I haven't been able to stop sewing even if I am slow at it. I've made Charlie,Mitch, and Gertie. Your pattens make my day brighter. Thank you, Shirlene.
Julie – Northern Ireland . Hi Pauline, I just wanted to email to thank you for the free teddy pattern she is absolutely lovely! Thank you also for the great video showing how to put the teddy together it was very simple and easy to follow. You come across as very friendly and your voice is nice and clear. All the best Julie Lemon xo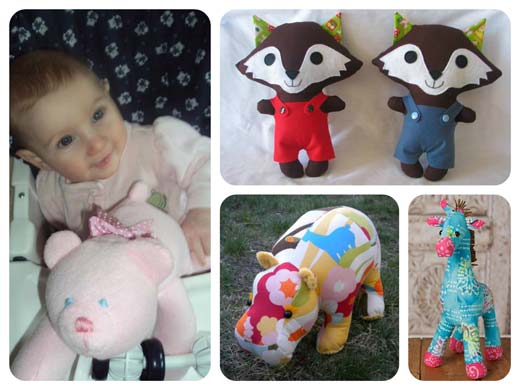 Kathy Penrod – Arizona, USA. . I just wanted to say I love your designs. My friend and I have been making softies for a couple months now and have become obsessed with them. She makes them and donates them to underprivileged children. I am making a toy for each of my nieces and nephews and my own children for christmas (26 -thankyouverymuch) I am well into my project and really needed a toy for an "all-boy" — aliens and monsters just weren't going to cut it for this boy. Sammie is perfect for him! I am excited to get to work on it and later, try your other designs. There is something very unique and creative about them — not your typical softie. My only complaint is that I didn't find your site sooner. Thanks a ton!
Sandra – Australia . My 3 year old loves Honey Bear. We actually found him at the Atherton markets 3 months ago in a lucky dip (2nd hand). My son carries him everywhere. There have been a few tears when we have had to go back to shops looking for him when he has been left behind. It was when I recognised Honey Bear in a craft magazine feature on Funky Friends Factory that I was able to find his origins. So now we have a spare Honey Bear for just in case. Thank you, I love the patterns. Sandra
Jodie – South Australia . I have several of your patterns and it has taken me a long time to get a chance to have a play but I was shocked at how easy and quick Ellie was to make because I got a bit nervous when I first read the instructions and looked at the pattern. I loved the end result so much that I have already ordered more patterns and I can't wait to make more! Thank you!!!!! Jodie
Alison – South Australia . Hello Pauline, I am a New fan of yours and your beautiful little friends. I was looking for a pattern for a special wheat bag and my daughter-in-law put me onto your website. I have purchased a couple of your patterns and have just made my first Gecko and love him. He is made out of scrap polar fleece with wheat inside and lavender from my garden. It took me three hours to make him as it was my very first soft toy and will be making many more for my grandchildren.Thank you so much for sharing your talent with everybody and good luck in your business venture. Alison
Suzy – NSW . Hi Pauline, Thank you for your lovely patterns and the newsletter tips for Honey. I will have another go at making her/him, this time with the nose thoroughly stuffed. I have made two already, and doing the nose embroidery was the hardest part. I have also made your cute koala, (my favourite little bloke), also the duckling and I am presently making my second baby bunny. Your creatures are wonderful, and the patterns so easy even for someone like me who is quite quite hopeless at sewing. In fact, the instructions are so good, and the patterns so very clever and easy, I am continually shocked at the positive results! So, thank you once again. Regards, Suzy.
Erica – New South Wales . Hey Pauline, You probably remember my boyfriend Chris buying the 'Ellie" pattern from you not long ago. Well I am so darn proud with myself, so I just wanted to get back to you and tell you how much I appreciate how simple the instructions are to follow and how perfectly this little chap turns out from this pattern. Well done and Thank you, Erica.
Jeanie – Hardy, Virginia US . Pauline, My Cow kit arrived on Wednesday and I will have it finished tonight. Honey and Horsey are completed, they were so much fun I will have to order more patterns soon. Your hard work really shows in the instructions and fit of the pattern pieces. It has been such fun doing business with you, from start to finish. . My only problem is how I will reward my husband for finding your website for me! Jeannie
Inken – Germany . Hello Pauline (good evening on my side of the earth), The kiwi pattern is simply awesome, I love those strange birds. By the way, I looked them up on German Wikipedia – I always thought we called them kiwis, too, but the correct term is Schnepfenstrauß (now, that is a mouthful!) . I wish you a very nice Christmas and a happy New Year, and keep on making those great patterns! Inken, from finally snowy Germany
Ashleigh – Brisbane . I just finished making "LAMKINS" for my sheep obsessed three year old son. I just want to say thankyou for such a great pattern, the finished result is by far the most professional looking soft toy I've ever made (and I've made a LOT of toy and doll patterns!!) And once I got started, the instructions were so easy to follow!! I'm looking forward to purchasing and making more! Next on my list is the Rhino.. or the elephant.. who can decide when they are SO CUTE~!! THANKS AGAIN.. you're brilliant!~
Nicole – Wagga Wagga NSW G'day, I love your patterns! I made my first Funky Friend Lamkins Lamb (we actually named her Letitia Lamb!) for my first niece, and she was a huge hit! Since then, our family and friends have had 6 more babies, so I have been very busy making each of them their own Funky Friend! We're hoping to start our own family soon, so my next project will be making a little Funky Friends collection for our own kids! Thank you for such fantastic patterns, they are always easy to follow and they do actually turn out to look like the pictures!! Cheers, Nicole
Barbara – in Las Vegas US . I love your patterns! And so does everyone I know. I have three little great-grandbabies who I love sewing for. They love these toys and I get lots of requests from friends for them. They are such fun to make and your instructions are spot on. The duck is a real favorite. I enlarged the pattern and made a white mama duck with two babies. It's adorable. . Barbara in Las Vegas,Nevada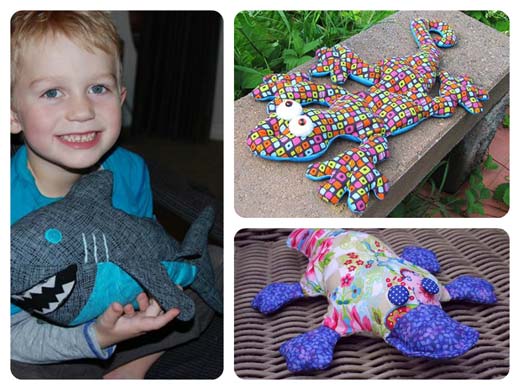 Nicole – USA . Hi there Pauline! My fleece supply is running very low thanks to all the adorable animals I have been making lately. . I have 4 children and they are always wanting something new and cuddly. I really can't thank you enough for your wonderful patterns. It is amazing to them how I can take a flat piece of cloth and turn it into something special. Right now, to them, I am a superhero! It is all because of you. . Thank you again for everything! I admit I am a funkyfriendsfactory addict and I will be back for more! Nicole
Lisa – Seattle Hi Pauline! . I was so impressed at how easy Honey was to make. I believe, from printing, to cutting to stuffing, it took me about 2 hours to finish totally. And that was with making dinner in between. I will definitely be making more of your adorable Friends! Thank you for sharing your talents with us. Lisa
Joan – Portsmouth USA . Pauline, Thank you so much !!!!! I am SO excited to get to see the picture in the gallery,& get a new pattern. The elephants went fairly quick after I got the hang of it. I was running out of patterns when I turned to the internet to start my search and landed at your gold mine of patterns!! I loved the elephant pattern and your e-mails make me feel like I have a new sewing friend, no" robot responses "from you. 🙂 Thanks again, Joan
Kristin – Canada . These stuffed animals were such a joy to make – These safari friends were made for my sister-in-law's baby shower. Her husband always wears camo, her colours are green and orange and the baby is going to be named 'Hunter' so I couldn't resist jazzing up Ellie! Thank you so much for your wonderful patterns! I can't wait to try more. (and if you're taking suggestions, I would love, love love love, to have a little billy goat!) Sincerely, Kristin
Karen – Sydney . Hi Pauline, Hope all is going well for you with the bebeonline animals – congratulations. I can understand why your soft toys have done so well – apart from being sooo cute, they are easy to make, don't require expensive fur, and your instructions are clear to follow. Kind Regards, Karen
Polly – Tasmania . Hi Pauline, I bought the duck and purple bear Needle Felting Kits for my children (10 and 8 years old) for Christmas. It rained all weekend and the kids pulled out the kits and they made them in a day. They are so cute and the children managed it so easily, they are absolutely thrilled with them. The thing I was really impressed with is that the end product was just as cute as the picture (which rarely ever happens with a "free form" pattern). I just wanted to say thank you, it's the best money spent. Once again, many thanks, Polly
'
Amanda – Melbourne Oh hi Pauline! Yes, once I tried out your patterns and realised how easy they are to follow (even for a total novice like me!) I kind of got on a roll 🙂 . I actually hadn't planned on going to the Stitches and Craft show (TBH I didn't even know it was on) – I've actually never even really been into sewing. Before trying out your patterns, the most sewing I'd ever done was (poorly) hemming a pair of pants! But now I realise it's not as difficult as I thought, I might stop by and see what's what if I find myself with time on my hands this weekend. And if I do I'll definitely come and say hi (and check out Ellie!). . Cheers Amanda
Justine – Western Australia . Thanks Pauline! I'm excitedly looking forward to getting the patterns….. as a fairly novice sewer, I'm really enjoying sewing with fleece, it's quite forgiving!! And I love your patterns, the instructions are clear & they make up into such good-looking toys. . Will send some photos IF my toys end up looking as they should!! LOL! Thanks again ……….. Justine x
L.A. , Lake Cargelligo Australia Hello Pauline! Thanks ever so much for your phone call and for your emailed patterns! Please excuse the panic – it was needed urgently for a school project. We live in a remote area with very little resources. Virtually no materials available ~ you can imagine my joy when I found the Funky Friends site online with everything that we needed, and at a reasonable price!! I really appreciate your help, and thanks again. L.A.
Jo, Australia . I really enjoy making these toys – your e-patterns are easy to follow. Kids just LOVE them! There are so many to choose from and all soooooo cute. If I had to choose, my next selection would have to be Patty the cow – my niece loves toy cows. Thanks again, Jo
Margie, Australia . The patterns and kits have been great fun, and make really nice presents…particularly for teenagers who like crafty stuff. So thankyou, and I hope things keep on going well for you. Regards Margie
Betty, USA . My kids are trying their patterns and we have got some pretty funny looking animals 🙂 But they are loving it and them because they got to make them all by themselves 🙂 Have a Great Day! Betty
Anna, Australia . The school holidays are coming up and my daughter wants to try her hand at making more things…I ordered the monkey, lamb and cow, they are so cute! They are great to have on hand sometimes when Kaitlin (my daughter) has a friend over they spend quite a bit of time making one of your patterns and have a great time! Thanks for the fun things to do, Anna.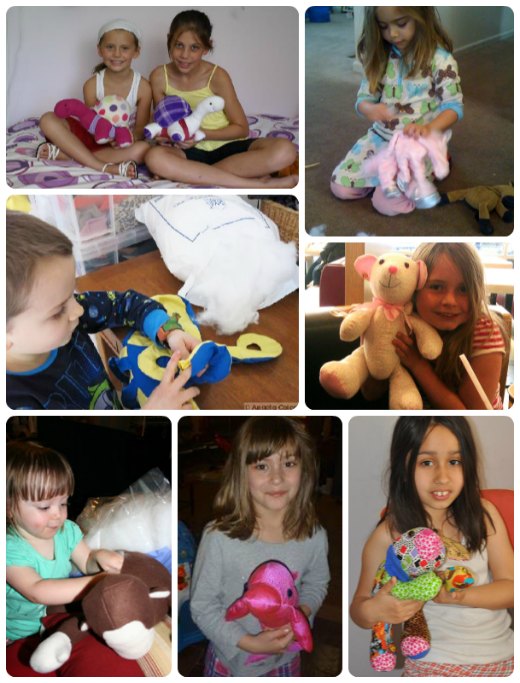 Shayla, Victoria Australia . Hi Pauline, Thanks for providing a great site. Your funky friends are gorgeous, the patterns are straightforward and affordable, and the instant downloads are great for those of us impatient people who can't wait to get started. I love that you personally email your customers too, service like that is hard to come by these days. I have made 2 honey bears so far for friends' babies and they were amazed that I made them myself, which is a testament to your great patterns. Now I have relatives requesting personalised Funky Friends, using fabric from baby's first blankie or outfit to keep as a memento. It's great fun, keeps me busy and it's rewarding giving a handcrafted gift that doesn't look homemade. I'll definitely be returning for more patterns in the future. . Thanks again xx Shayla
Gayle, WA Australia . Isn't this amazing! I downloaded the pattern with no problems and already made it. It was simple and so cute. Your directions are very clear and easy to follow. Much appreciated since I just bought a pattern in the past and for more money and discovered it had no diagrams! I would say that most "crafters" are visual people. Thanks again, Gayle
Debbie, New Zealand . Thank you very much for the patterns, I've downloaded them and have printed them out, now the hard bit of deciding which one to sew first! Your patterns look amazing, don't tell hubby but I'm bound to be a regular customer hehehe. Cheers Debbie
Tove, Norway . I absolutely love your patterns, I have just recently started sewing, and your patterns are great for me as I just love how easy it is and how well the finished item looks! I was thrilled when I saw these cat toys as I have been looking for something just like this for some time. I'm planning on giving a package to the local animal shelter where they have over 70 cats, so this was just a dream come true. Tove
Jane , Australia . I made the dinosaur for my son's birthday. It turned out really well and I've never really made anything like that before. My mum was quite astounded when she saw it, she didn't think I could do something like that altho' she taught me the basics of sewing so many years ago… 🙂 Cheers, – Jane
Regina, USA . I just had to share! I made Dilby Duck last Saturday morning for my niece's baby shower (on Sunday, of course). He was the hit of the party and only one of two gifts (and there were TONs) that were passed around the room. . I made him out of a minky type fabric that looked like very wide wale corduroy. His beak and feet were made out of orange satin (reminded me of the satin that is stitched around baby blankets). The pattern was very easy to follow and worked up so fast. 🙂 Regina
Lisa, Sydney, Australia . I have made several of your critters now and I just love them. I'm actually a teddy bear maker really, but love your designs because they are quick and very easy to make (and I can cheat and use my sewing machine instead of hand sewing a bear). They make wonderful and economical presents and I can whip one up in a couple of hours. Plus, because they are made out of polar fleece (and I have used towelling) I can tell the gift recipient that they can be washed in the washing machine (unlike my mohair bears which have to sit on a shelf and gather dust)!! . Many, many thanks. Kind regards, Lisa
Susan, Ontario Canada . Hi Pauline: I can't seem to get enough of your patterns. They are just adorable. We have a 2 year old Calico female cat "Chrissy" who is just going to love these cat toys!! Thanks again, Susan
Robin, Canada . My daughter wanted a "Frog Prince" for her little ring bearer to carry. I looked everywhere to find one and was delighted to come across your website with its wonderful patterns! So easy and so much fun to make. This is the frog that will be going to the wedding. He is made of a silky material with small beads sewn on randomly. The ribbon on his back is to tie the rings to. It will be a keepsake for my daughter with the ring bearer getting a child-safe version. Thanks again for such a great pattern. I look forward to making more when I have grandchildren! Robin
Sharon, USA I have completed Ellie and am so tickled with her! Can't wait to gift her to her new owner. Next will be Teddy. Thank you again. Your patterns are delightful. Sharon (Ora)
Michelle – USA . I just wanted you to know that I came across your site on accident (I was trying to find a site that I had seen a penguin pattern on before, and found yours instead!) So, I began to browse your site, and was really impressed by the wonderful selection. The conversion rate from AUD to USD is also quite good, so that made it REALLY affordable for me! . I can't wait to get started! They seem easy enough, so I am NOT worried about my mediocre sewing skills! 🙂 -Michelle Brown
Melissa – Brisbane Australia . Hi Pauline – Can't wait for the week to end so that I can do some sewing. I just purchased the horsey pattern from your website, got the honey bear and downloaded the platypus as well! Good to see an Aussie doing some great stuff. I'm on the southside of Brissy, but I guess in the scheme of things we are practically neighbours. . Luckily I'm 20weeks pregnant so I still have some time to finish all of these toys before the baby arrives. . Thanks again, Melissa
Dani, Canada . Pauline.. I appreciate your prompt reply and I'm super excited about Mitch and the cat toys. Your patterns and your service are amazing, and I'm really thankful for a good relationship with you and your Funky Friends Factory. I will definitely be back. Please accept my thanks and my best wishes for a happy Canadian Thanksgiving (which is today–although my family has to settle for anything but turkey!) Thanks again! Dani
Edwina – Singapore . Hello Pauline, My friends and the kids love the animals. Thank you for bringing so much joy with your creations. I will be back for more … There's so many I want to make … Lol … Have fun and Happy Holidays … . Sincerely, Edwina
Kiera, Australia . Hi There, I've just stumbled across your website!! It's LOVELY! I love "real toys" for kids I'm not certain if you're a work at home mum – but I thought I'd introduce myself anyway! My name's Kiera and I run www.wahmnetwork.com.au – it's a free support community for work at home mums, and business mums! We offer free publicity, forums, and a lovely supportive network to help your business grow. . I'd love to see you pop your head in, if it's something that would interest you! Warmly, Kiera WAHM Network Australia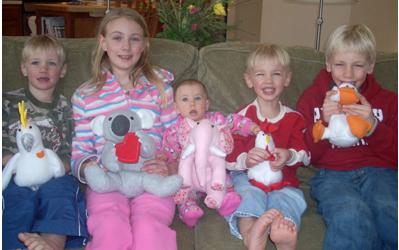 Annie – USA Oh what FUN! I put a horsey together tonight and it went perfectly! I didn't have any problems and I'm so excited to give this away as a gift! My daughters are going to want some of these for their own! THANK YOU! . -Annie
Jeanie – Canada Thank you so much for the Instant Download pattern. I've never received a pattern this way before. I must say that this is great, so fast and easy and no shipping charges!. Thank you for for quick and stress free shopping. . Jeanie.
Jacquie – NSW . Hi Pauline, I really enjoy the patterns and have made them for both my girls and for friends' children this Christmas as well. They make great baby shower gifts also. I'm looking forward to the next lot of patterns. . Thanks again Jacquie
Inken – Germany . Dear Pauline, I had no trouble at all accessing the pattern. Indeed, Horsey is all but done – just the eyes are missing yet. I sure had fun sewing, the instructions were, as always, excellent. It's going to be a christmas present for a little girl who is just reaching the age when she's bound to be crazy for horses 🙂 . All the best Inken
Roberta, USA . Thank you so much for my order of the mouse, cow, rabbit and frog. I love your patterns because they are cute, have great instructions and go together easily. I look forward to seeing what else you come up with. Ellie is coming along nicely so I couldn't resist adding to the family. Thanks, Roberta
Stephany, United States . WOW!! Cool update to your site – I bought Ellie the Elephant for instant download. Everything went fine and most fun of all I could access the pattern right away. Some places you have to wait 24hrs for them to email it to you. I really like the feature that the pattern is available at all times on the site, so if my computer blows up I won't lose my purchase if I forgot to back it up. Thanks for putting my platy in the gallery, it's soooo cute and now I can brag about him even more! 🙂 Thank you so much for everything, Stephany.
Inken, Germany . I love your little critters to pieces, so I thought feedback was in order. Reggie was the first Funky Friend I made. I started real early to have him ready for Christmas – but then he took only two afternoons to make, since it was really easy with the clear instructions. So now he's been waiting for Santa since the end of November… I'm sure I will be back soon for other patterns, they're all adorable. And the Euro is really strong right now, so they come at a great price too 🙂 All the best, Inken
Romy, Netherlands . Hi Pauline, I LOVED your Froggy pattern, the instructions were very clear and the design absolutely fantastic! I have a few friends with babies on their way so I'll be busy making presents the coming months… 🙂 Thank you! Romy
Val, South Africa . Thank you for such brilliant, easy to use patterns. I found the site by chance and ordered the pattern for Jake the Puppy. My Grandson will love him and now I have ordered the Elephant and the Cow. The instant downloads are brilliant. Thank you once more Love Val, South Africa
Joanna, Australia Thank you so much for the patterns I am almost finished making the duck. It has been so easy and it looks great. I was really pleased with how quickly it arrived in the post. I have just got to start the reindeer now just in time for the festive season. Thanks again x
Emma, Australia Thanks so much for the pattern for the fleece baby bonnet. We actually made one out of cotton material (because it is so hot at the moment) for our daughter. She has to wear little hearing aids and we looked everywhere to find a hat to stop her pulling them out. This hat is the winner! Parents of deaf kids are always looking for solutions to keep the hearing aids in. Thanks again, from Emma
Feedback
Lorraine, United States . What a lovely surprise I had today finding my Funky Friends in the mail box. Your patterns are soooooooooooo cute! The quality of the materials in the kits is outstanding. By the way, am very impressed with how quickly you responded. I certainly did not expect to receive my package so quickly from the other side of the globe. Keep in touch and keep creating great designs.
Judi, England Thank you so much for sending my parcel to my niece in France – I can't believe how helpful you have been. Thanks again and have a very Merry Christmas and a Happy New Year. I will let you know how she gets on with them.
Sally, United States Thank you so much for your swift service especially during this holiday period. It has been a pleasant experience shopping with you; I look forward to trying out my new patterns.Happy New Year! Cheers!
Kelvin, Australia Thanks so much for the help, I've finally finished my lil' horsey. I think it turned out great =) Attached are the pics of my funky friend. I loved making the toy and I'll probably order 1-2 more kits before I fly back to Singapore for my summer vacation.
Nirit, Israel First I just want to congratulate you for your great website, and all your beautiful soft toys! I have been searching the web for a long time for soft toy patterns to sew, and I found some but none of them caught my heart the way your funky friends did! I'm an artist myself so I know a good design when I see one…
Anna, Australia Wow! The penguin looks great! He is so cute! I would love the pattern as soon as you can have it ready. By the way, I sewed Honey today, it was very easy and quick, from the time I cut out the pattern to the finished product was just over an hour and I have 4 kids to take care of between! Your funky friends are great!
Amy, Australia Here is a picture of my finished rhino! It was actually a gift for my boyfriend, who is from Newcastle and loves his football, so made him in his team colours – black and white stripes! Thanks very much for your help, it was a great project!
Donna, Australia I ended up putting a felt nose on the bear and got a beautiful gold ribbon. He looks different to your honey bear but I am still really happy with him. The few people I have showed are surprised that he isn't store-bought. A real testament to your pattern. Happy holidays,
Jo, Australia I just came across your site and am waiting on some patterns in the next few days. Love your creations and will definitely be buying more patterns as I can afford!
Margaret, Australia My order arrived yesterday and it all looks great. I'm sure my girls will look forward to making these fun toys in the holidays. Many thanks.
Jenna Lou, USA . Thanks so much!! My ducky turned out perfect and is going to be the perfect gift for my friend/soon-to-be-mommy. The pattern was easy to put together and your instructions made making my first plush toy a breeze. xox
Jo, Australia Well I have spent the weekend sewing and attach photos of my bear and kangaroo. I don't mind that they aren't terrific as I am learning to sew. My work can be a little bit rough but I think they have their own character anyway. In a month or so I will be ordering the Snugglies and having a go at them! They look terrific. Thanks for the great, easy to follow patterns too.
LORRAINE, United States DEAR PAULINE: I AM VERY EXCITED ABOUT YOUR DESIGNS. YOU HAVE GIVEN PERSONALITY TO THE COMMON STANDARD PATTERN. I LOOK FORWARD TO FUTURE DESIGNS AND KNOW I WILL ENJOY DOING BUSSINESS WITH YOU. THANK YOU VERY MUCH.
Nicky and Penguin, Australia A few weeks ago I bought several of your soft toy patterns. I am having lots of fun and the lounge room is beginning to look like a zoo! You have no idea how cool the Rhino looks when made out of dark red velour lycra !!! Love and ice cream.
Anna, Australia Dear Pauline, My daughter (11 years old ) was reading through the emails and saw your newsletter, and wanted to make Tilly Tortoise, she has just started to sew and I am hopeing that it wont be too hard for her, keep up the great new creations, we love Ellie Elephnat and we will definately we getting her sometime in the future! Anna
I love to hear what you think of the Funky Friends Factory toy sewing patterns! Please send you feedback via the Contact Us page,
and if you are Facebook, you can come and post you photos there too… !!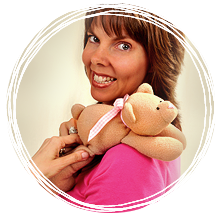 . .
Happy Sewing,
Pauline
xxx