How often should you have your sewing machine serviced?
While researching this topic I came across a discussion board on Sewing Machine Issues where someone had posted this question –
"Should I go for a service,
or upgrade to a better model?"
Gee, I WISH I was that loaded – ha!ha! That's like getting a new car each time the current one needs new filters and an oil change!!! On a serious note, it really doesn't take much to keep your sewing machine running smoothly. With simple home maintenance you shouldn't have to get your sewing machine professionally serviced all that often.
So… how often is that?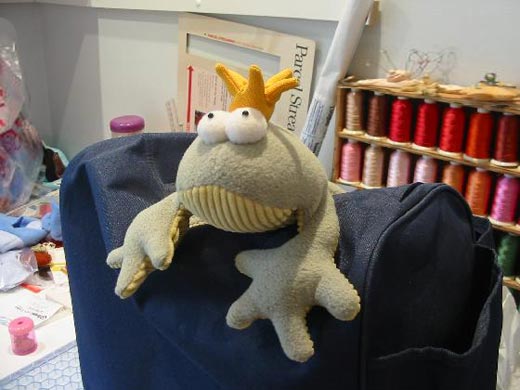 Let's see what the professionals have to say!

I found some great information on the official Singer Sewing Machines website.
Singer recommends that you have your machine tuned-up by a qualified technician every 3 to 4 years.
Wow! I really thought they would recommend you service your machine way more often than that! I suppose if it did start playing up though, you'd just go straight away for a check up!
They had a great tip about HOW often to oil your sewing machine too:
If you use your machine every day, we suggest that you lubricate once a week.
If you use your machine once a week, lubricate once a month.
If you only use your sewing machine once a month, lubricate once every three months.





I found some good information on the sewingworldonline.com website.
They recommend that sewing machines and sergers should be professionally serviced yearly.
Remember, a sewing machine is a piece of machinery with moving parts that interact. All machine manufacturers recommend annual maintenance by a qualified technician, and we encourage you to have this done because it can catch any minor problem and keep the machine performing optimally. A good service person adjusts tension and timing during regular service, as well as cleaning areas of the machine that you cannot reach without taking the machine completely apart. Simply cleaning out the lint and oiling the machine yourself is not the same as having the machine properly serviced by a professional.


I also found some great information on the Sewing Machine Doctor's website.
Now, who wouldn't listen to a man who says
"I know how to keep women happy –
with sewing machines that is!"
Stephen Potts (a.k.a the Sewing Machine Doctor!) has been servicing sewing machines since 1984, so I think he is qualified to give advice on how often to perform surgery on, oops, I mean service a sewing machine!
He advises – "Have your machine maintained by a trusted technician at least every 2 years.
A good technician will inspect your machine thoroughly & be able to arrest many faults well before you even know about them."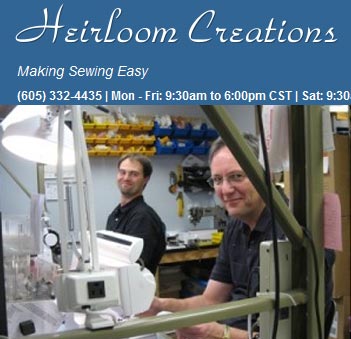 I also found some great advice of the Heirloom Creations website:
They recommend to have all sewing machines serviced once a year whether they are being used heavily or just sitting.
There is nothing worst that being frustrated the next time you sit down to sew something. Take a pro-active approach in keeping your sewing machine service to keep it smoothly running for years to come.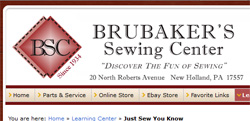 I also found a great article by Amy Smith on the Brubaker's Sewing Centre website about whether you should wait til the machine breaks down to take it in for a service/repair job or rather take your sewing machine in routinely BEFORE things go wrong.
Over the lifespan of your sewing machine, Amy says that either way you do it, the cost will be the same, so it's best to decide on the servicing interval that suits you best according to your habits. I have to agree with her when she says that IF you sew a lot, it is worth taking it in to be serviced more regularly. Chances are the machine conks out in the middle of an important project… never when it is sitting unused for a while – ha!ha!
Gee – so many different opinions…
it could get confusing!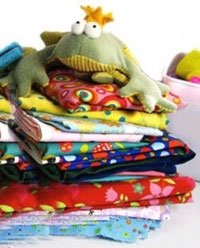 What I've realized, from ALL the research I did, is that there isn't one answer for EVERYONE… you need to look at how you use your sewing machine and then decide how often it will suit YOU to have it serviced.
I don't know about you, but all this talk of servicing sewing machines is making me feel guilty! I cannot remember the last time I had my sewing machine serviced!!!!
So – I'm off to make an appointment for my sewing machine RIGHT NOW!!!!
I hope that has given you a bit of insight and will help you to decide what is right for YOUR sewing machine!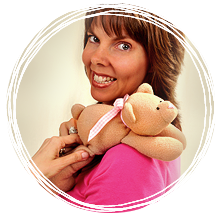 .
.
Till next time,
Happy Sewing,
Pauline