I thought since it's Easter… I would show you some of the interesting 'enhancements' you can add to make your Baby Bunnies even more appealing for babies including…
SOUND EFFECTS!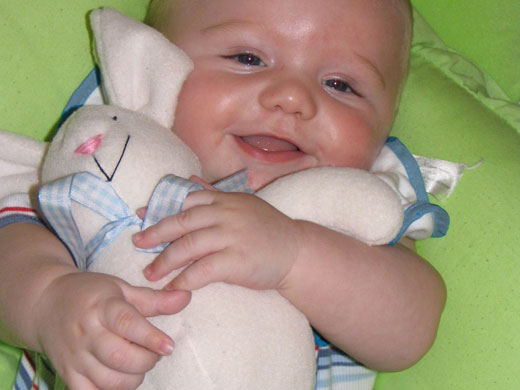 Babies love BRIGHT COLOURS..
My first Baby-safe bunnies where only ONE colour (white, brown or grey) with the only variation being a pink or blue ribbon.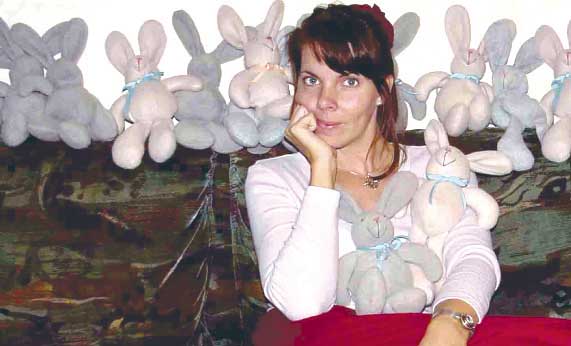 Cute and simple….
But I have since made Baby Bunny in MUCH BRIGHTER colours and FUNKIER fabrics!!!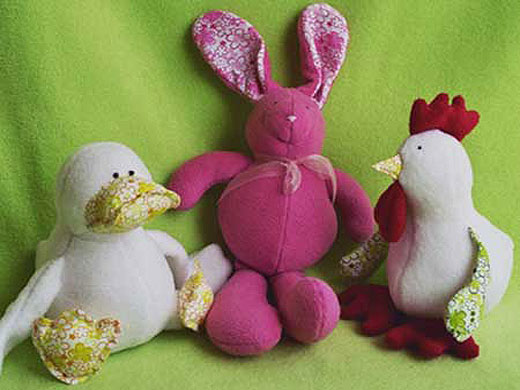 FABRIC TIP:  Experiment with BRIGHT BOLD colours and add cute contrasting fabrics for the ears.
Babies love textures…
You can add all sorts of fabulous textures to your Baby Bunny with fake fur fabrics. You can add a little bit of fluffiness to the ears…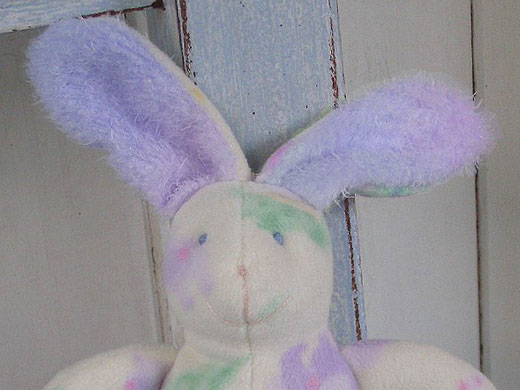 ..OR make your
whole bunny with fake fur!
TIP for FUR FABRIC:  When I use use LONG PILE fur, I cut (and SHAKE) all the cut out pieces outdoors! That way you won't get bits of fluff all over your sewing room and yourself!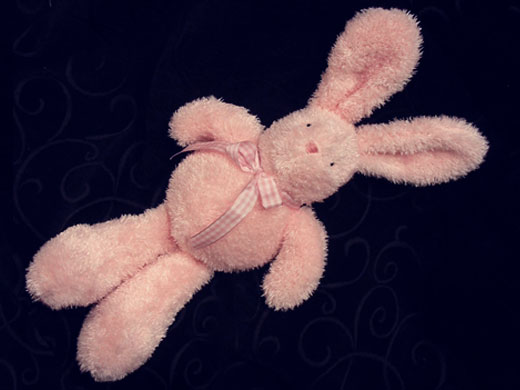 TEXTURE TIP: Babies love the texture of satin! Just like the satin edging on a baby blanket, you can add some satin to the inside of the ears…
Babies like noises…
NOW what is this??? It LOOKS like some kind of UFO but it actually..
a rattle!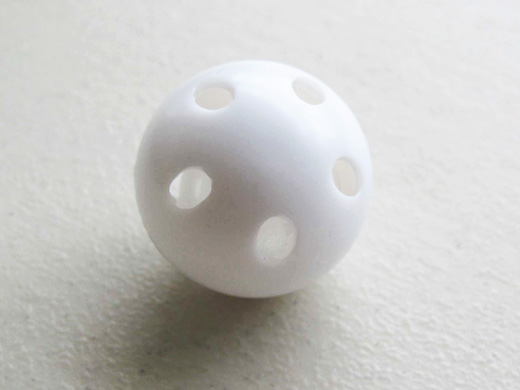 These WASHABLE RATTLES were  introduced to me by the girls from Voodoo Rabbit, which they found on their trip to Japan. You want to be able to wash Baby Bunny to keep him looking good (also nice and hygienic for your baby too!). These rattles are coated with plastic so they won't rust as they go through the wash. Some baby rattles I have seen have a really annoying/jarring sound,  BUT these ones have a really cute sound and you only need one per toy!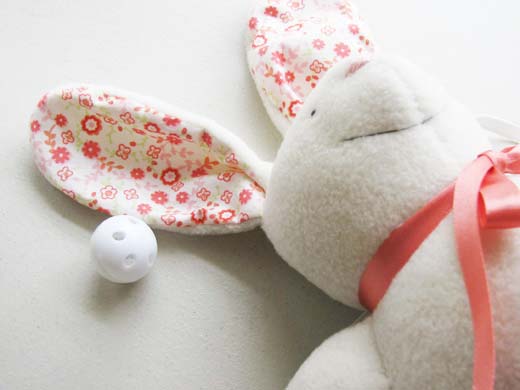 The other 'sound effect' I have added to Baby Bunny is crinkle!
I love to eat popcorn, so I used bag that the popcorn comes in and inserted a layer of this in between my 2 fabric layers when sewing to give the ears that nice 'crinkle' sound.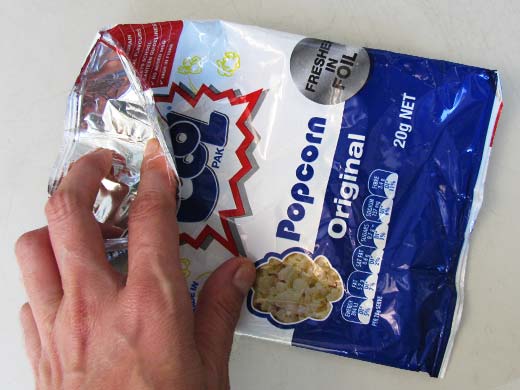 TIP for sewing CRINKLE foil/plastic:  If you are not sure that you machine can handle the foil bags, (Check at the sewing machine shop/manufacturers website)  you can cut out an ear-shaped piece and secure it in place with hand stitching so you do not need to sew it in the machine seams. )
Babies love to grab onto… everything!!!
At first I thought it was funny that people told me the wanted to make Stu the Sea Turtle for a baby toy until I asked them why and the reply was because his flippers would be great for babies to hang onto!
Baby Bunny's ears are also great for babies to grab onto, but you can still have some fun making them EVEN LONGER! It's quite simple – just add an inch or two (3-5cm) to the length… it's easiest to add this at the straight edge!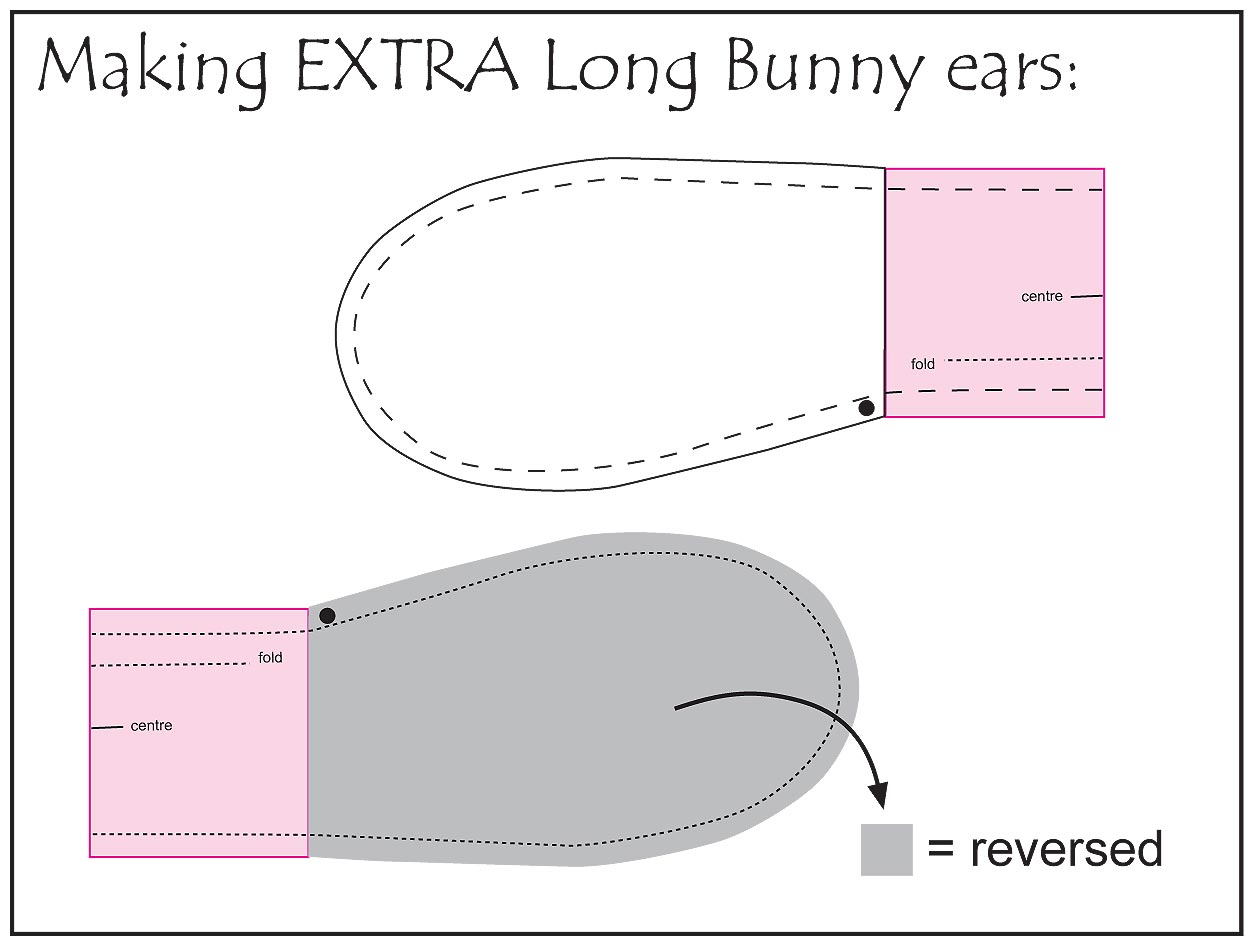 Here is a bunny with super-SIZED ears that made by the Voodoo Rabbit gals last Easter. (What tells you they love rabbits???).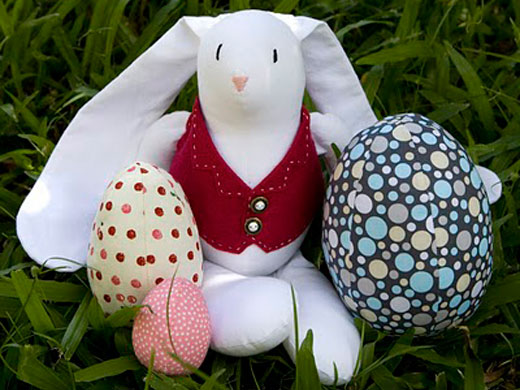 If you like the idea of enlarging Baby Bunny's ears – why not go all the way and
enlarge the whole Bunny?
Resizing TIPS:  I have a blog post on resizing toy patterns , if you want to give it a try! : )
I wonder if YOU have done any thing interesting to YOUR Baby Bunny pattern?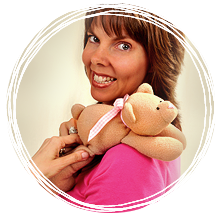 .
.
If not, this should give you heaps of fun things to try!
Happy Sewing, And HAPPY EASTER!!!
Pauline