Gallery – showing off YOUR fabulous Funky Friends Factory Softies!
I am always amazed and humbled when people take my patterns and do such amazing creative things with them! Take a look at these beautiful Softies for inspiration!
Post a photo of your Funky Friend on the Funky Friends Factory Facebook page>> and you'll be in the monthly draw to win a Funky Friends Factory Pattern!!!
Kimberlie's toy elephants made her friends cry!

Hi Pauline!
Sit down, this is a wild story! I have been a long-haul trucker for 16 plus years. I had to quit due to heart issues. All the years of making big money, I had always given to others who needed. Living in my youngest son's basement, having a very difficult time getting a job, because I'm over qualified?!?! (Being a hard worker is over qualified apparently) LOL! So the holidays were approaching and your website suddenly appeared. I have very little money due to my hardships. The elephant was the first to pop up. I purchased printed and got to work! I was blessed to have a friend who gave me scrap material. I made six Ellies , made six friends cry in return made me cry! You brought lots of joy during this holiday. Thank you! Kimberlie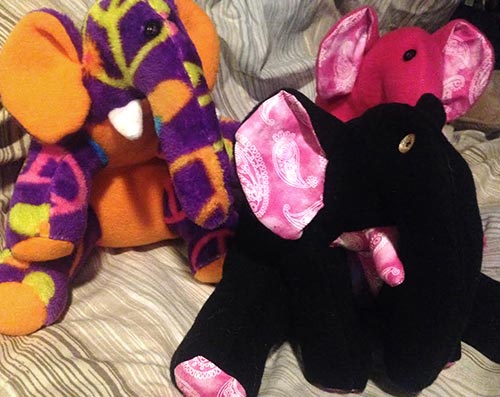 Karen's memory Honey bears.

My father recently passed. All his grandchildren and great grandchildren called him "Pop". I decided to take all his ties and a couple of his shirts to make a memory bear. I found Honey and fell in love. So 20 bears later, I have a treasured gift for all my nieces and nephews, thank you so much for the sweet pattern, Karen H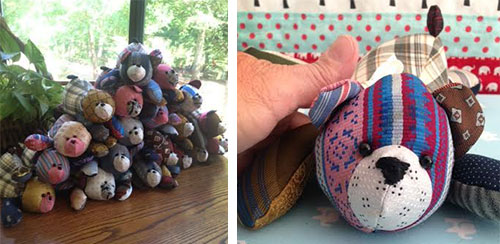 June Carter's Keepsake Easter Bunny toy.

Hi Pauline,
These pics are of my latest 'creation'. I made 'Rebecca Memory Bunny' for my youngest granddaughter Rosie's 3rd birthday (today). Rosie named her Rebecca as soon as she saw her! I love your patterns, they are so easy to follow. Thank you again. June x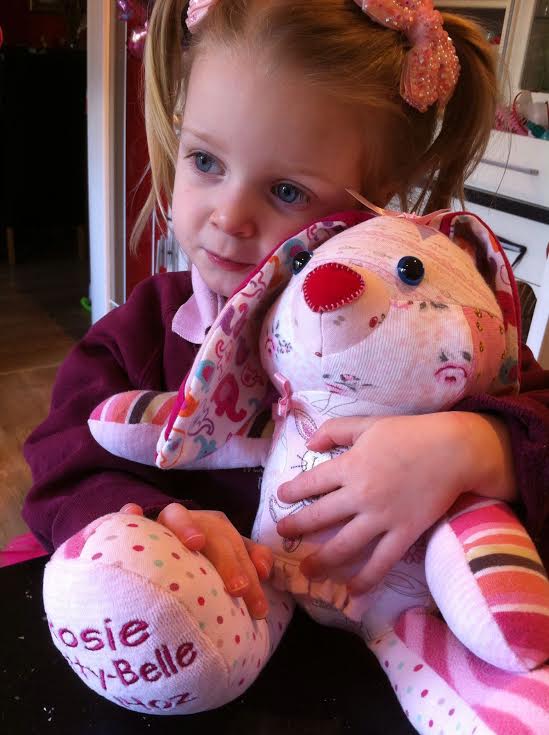 Rose & Ivory – flowery Puppy Pete.

Hi Pauline,
Thanks so much for such a lovely pattern Puppy Pete. A great sew and a really quality finish, I will be making many more for sure! Pete is now wrapped and ready to put under our Christmas tree for my youngest Brooke, from Rose & Ivory xo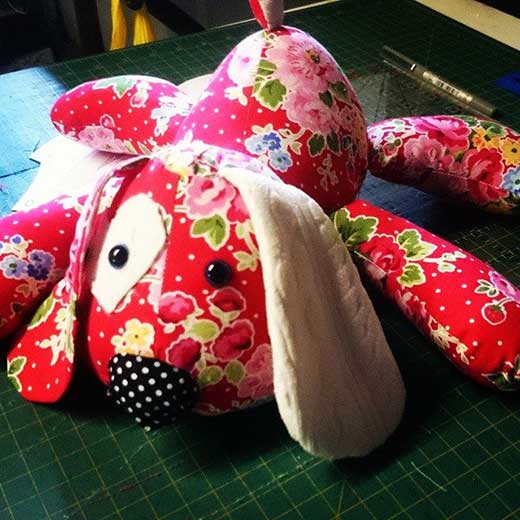 Maureen makes her first froggy Funky Friend.

Finally found time to get my Prince Charming done. If all the patterns I ordered are this easy I can zip right through them. My little Prince is darling and I just love him. Have already started another one. Thanks a million Maureen

James make a replica of his friend's horse!
Dear Pauline, I hope you had a very enjoyable Christmas and the New Year is starting well? I just wanted to email you some pictures of the finished toy horse I made for my friend using your pattern. Instructions were spot on and it came together really well. I did modify the head pattern a little to do the stripe on the front as well as sew the horses name onto the foot. Proudly all hand sewn (not too bad for a 27 year old bloke!) The present was very well received, and it has already been asked if I will be making her a toy version of her other horse! Thank you once again for all your help, it is greatly appreciated still. With kind regards, James.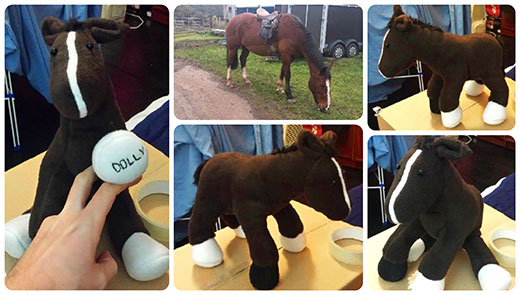 Maree's Cute Kitty Cat Toy Gift -( Australia)
Hi Pauline, My Kitty Kate went to my sister-in -law in Christchurch who loves cats and her house was full of ceramic cats, pictures of cats etc plus 2 real cats. She lost pieces of her collection in the earthquakes and her two cats head for the hills whenever a big aftershock comes through so now at least she has one cat she doesn't have to worry will break or run. Maree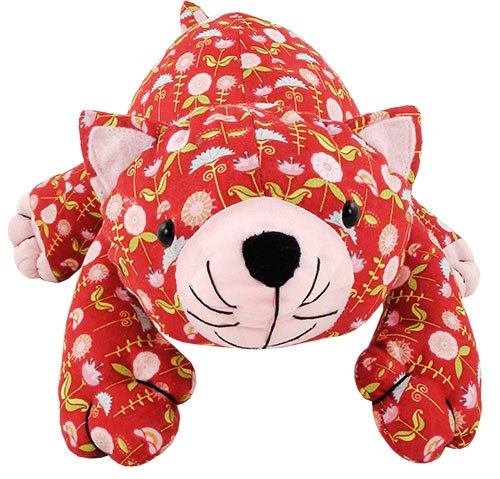 Adorable Easter Bunny sewn by Alison!
Hi Pauline! I loved making the Easter Bunny sewing pattern! It was really easy and came out adorable! Here is a picture of the one I made 🙂
Thanks!
Alison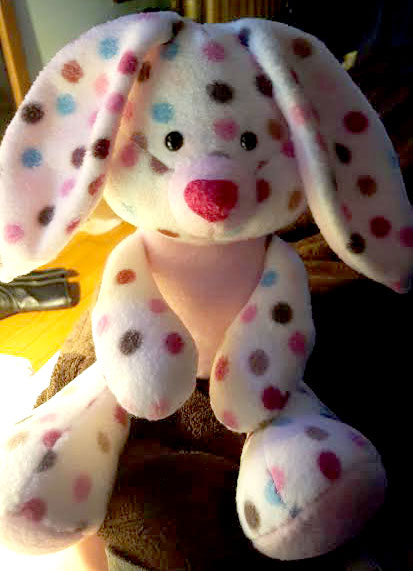 Sally Kingston's funky Flamingos!
Here are my two latest Fleur Flamingo toys ? Love your patterns Pauline, xxx Sally.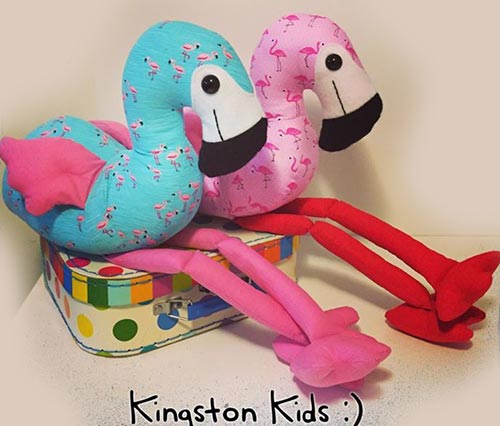 Joyce's fabulous fleece toys!
Hi Pauline, Your toy patterns are the best ever designed. I love working with them..I've attached pictures of a couple of my favorites Ellie Elephant and Larry Lion. Thanks so much for your genius. Sincerely, Joyce (Northboro, Massachusetts, USA)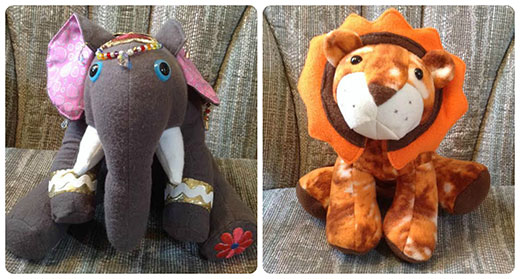 Susan M-N's English Paper Piecing shell for Stu Sea Turtle!

This is my version of your fabulous Stu Sea Turtle pattern. I made the shell with hexies (English Paper Pieced). It was such fun. You will notice that the middle is a pentagon not a hexagon which instantly curved the shell naturally (got that trick from my son's soccer ball). The rest, as usual with Pauline's patterns was a breeze.
Lovely to see you again today. Enjoy the rest of the fair.
Susan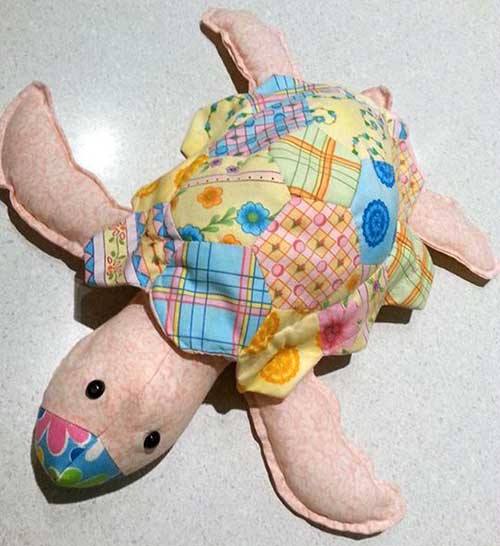 Jenna's Hedgehog Throw Cushion!

Hi Pauline, I made mine a huge Hannah Hedgehog, 150% of normal size. She is meant to be a throw pillow. Thanks Jenna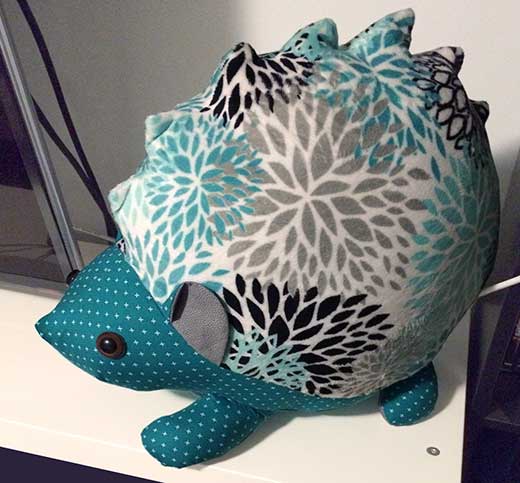 Recycled Ellie – something special!

Hi Pauline
I am loving your patterns, thank you. I have made Ellie Elephant from a recycled woolen blanket and a soft jumper for her ears. I love the soft fleece toys, but recycling adds something special and of course they are unique! More photos to follow as I make up the patterns I bought recently. ?
Thanks, Maxine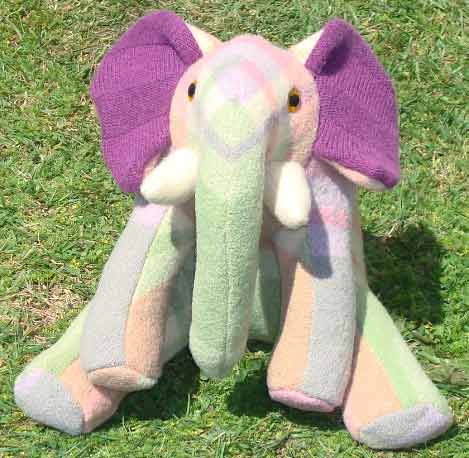 A cute Kitty for Christmas!

Hi Pauline
I've had such fun making a Christmas Kitty Kate for my friend so I thought I'd share him with you. As he is purely decorative and she has no small children I substituted sparkly green buttons for eyes for that total Christmas effect!!
I'm quite reluctant to give him away!!
Best wishes
Lynne ?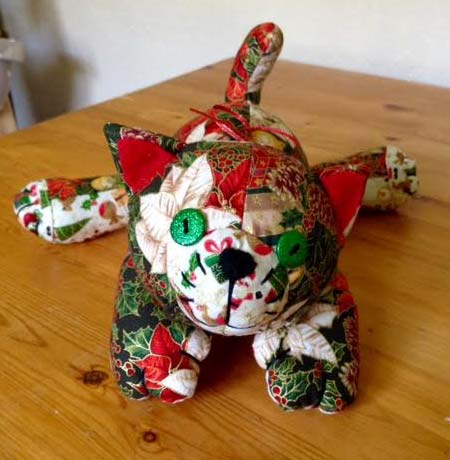 Robin's pretty Patty COW!

Pauline, I adore the end result. Thanks for the cute pattern. I actually made a few modifications for Patty Cow – I ironed on oval crystals for nostrils. I used 2 skeins of embroidery floss for the tail which I braided. Then I used left over embroidery thread and gave Patty hair instead of the horns. And finally, I added a cow bell on a ribbon that was attached with a crocheted flower. Robin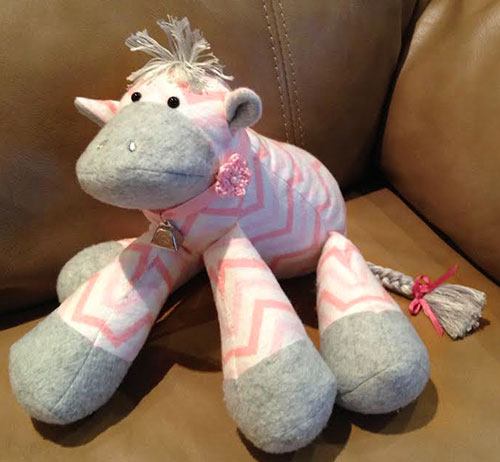 Mary turns my FREE Honey Teddy Bear Pattern into a doggy COOL PACK!
This week's winner of the 'MAKEMYMONDAY' Facebook competition>> was @MaryCarolan who was so clever- she turned my FREE Honey Teddy Sewing Pattern>> into a COOL PACK for her over-heating doggy!!!!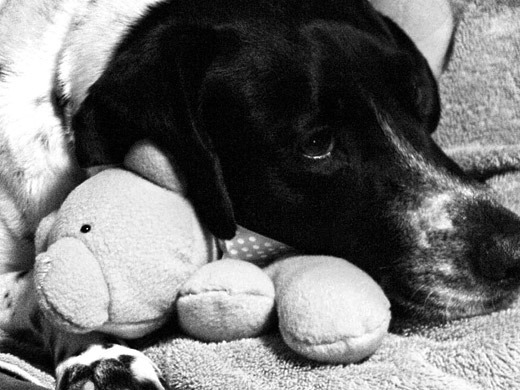 Awwwwwwwwwwwwwww! HOW SWEEEEET is THAT???????

Fabulous Heather Hippo made by Tiffany for her daughter Elsa!

Tiffany sent through this adorable photo of her daughter Elsa. I think she REALLY likes her hippo!!! 🙂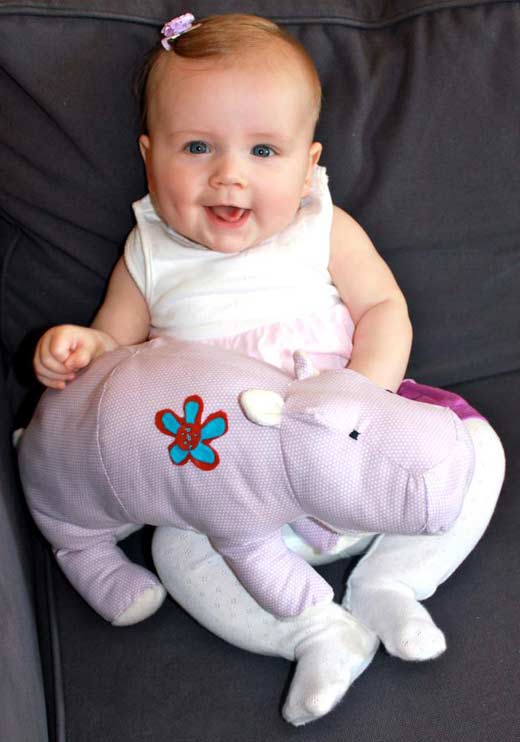 Lyn's grandson with his (AND his borther's) PARTY ANIMAL Softies!

When my son asked me to make party animals for his boys, his instructions were to "make them the same, but different" LOL so one with purple hair & tie-dye and one with royal!
(Hey Lyn – something tells me he is going to be a bit of a PARTY ANIMAL himself when he grows up!!! 🙂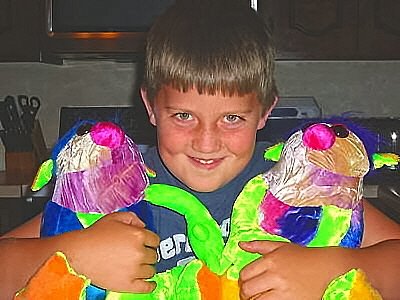 Gertie Gecko Animal HEAT PACK sewing pattern gets the thumbs up!

I love this photo Lyn sent to me —–> Andrew gives the thumbs up on his gecko.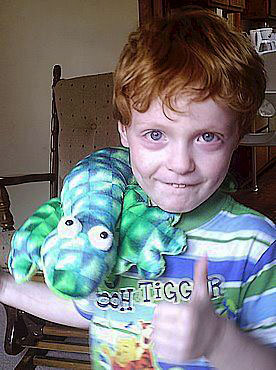 Susan's Spotty Monkey Softie – how cute is he?????

check it out Pauline Mitch the Monkey in wool suiting. I think he's one of the best i've made. It was super hard to give him up – he went to a friend for her baby shower.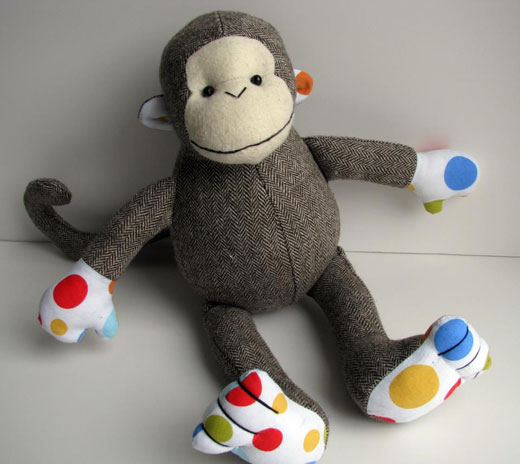 Jan's Pink Pony Softie made from my Horsey Hose Toy Sewing Pattern:

Just finished last night. I may need to reinforce some seams as I stuffed her very tightly. She is for my 1.5yo granddaughter for Christmas or birthday this year. I intend to do another pony and a couple of dinosaurs. I used an iron on interfacing, and I am very impressed with your pattern. Thankyou!

Melissa's 'wedded bliss' Duck Softies:

I made these 2 very special ducks for a lovely friend of mine who was getting married. They are made from minkee dot and fleece. I made a little beaded tiara and veil for the bride while the groom has a tie and top hat.. So proud of them.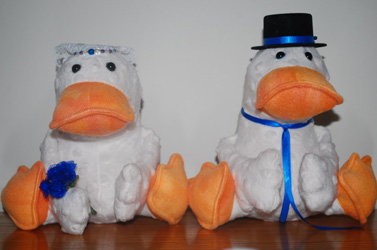 Kylie's Pretty Pink Sugar Plum Doll.

Hi Pauline. I finally managed to make the Sugar Plum Fairy Doll and here she is 🙂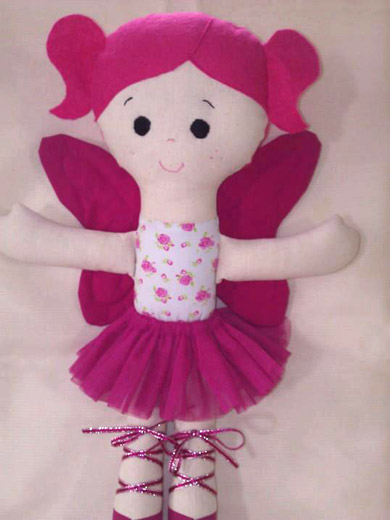 Hayley's Larry Lion Softie – made from recycled baby clothes!

ROAR! what do you think? made from a baby vest and t shirts? i LOVE recycling! thank you so much! 😀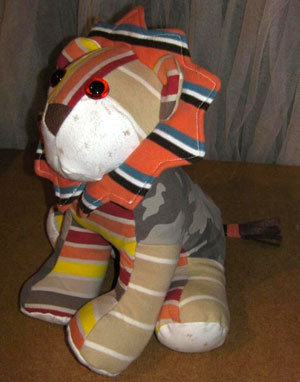 Michelle's delightful Dilby Ducks

My daughter and her friend with their Dilby ducks. : )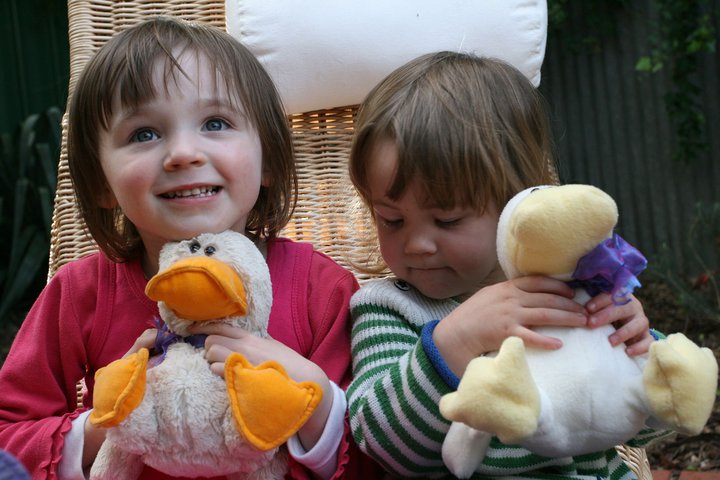 Many Monkeys made bynicole on Etsy!

I spotted this adorable photo of some funky fleece Mitch the Monkeys created by 'bynicole'- I don't know which one I'd pick??? ALL of them???? 🙂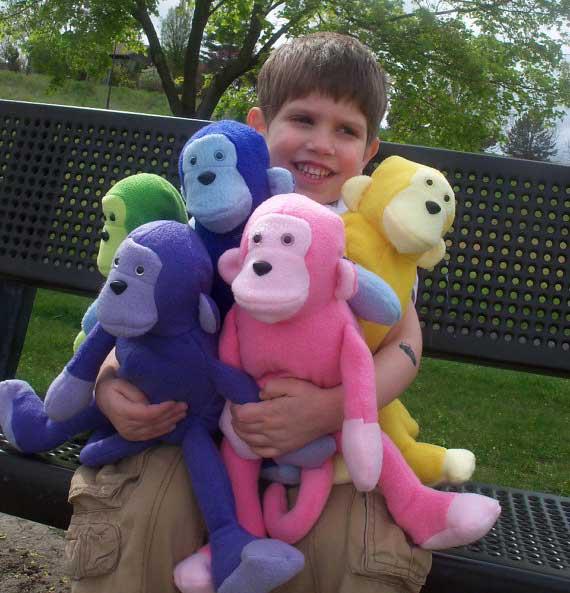 Nina's sweet Tilly Tortoise TWINS!!!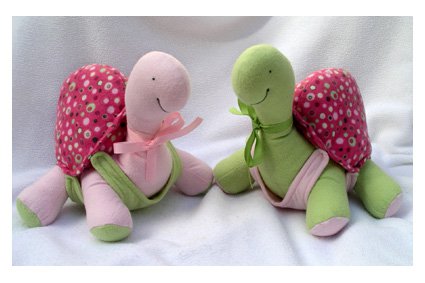 Nina sent me this photo of her Tilly the Tortoise twins – aren't they adorable?

I wonder what their names should be? Terrence and Talitha… or maybe Tyron and Trixie……? What do you think?

Lisa's fabulous Koala Toys
Petrie the pink koala – Tadah!!!!!! Someone has ordered the boy version, so 'Petrie' has a boyfriend. Though he is about to board a plane to Holland. Enjoy your new life abroad 'Dougie'.. Well done Pauline – they are lovely.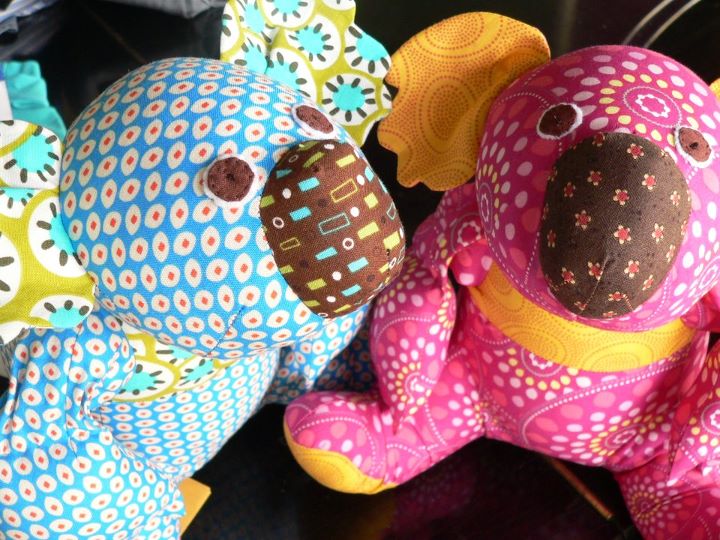 Randy Rhino Stuffed Toy made by Michelle of Michelle's Zoo…

My first Rhino, I love this pattern (I already made a second one for my mom for her birthday) this one's name is Trench, he is a little army Rhino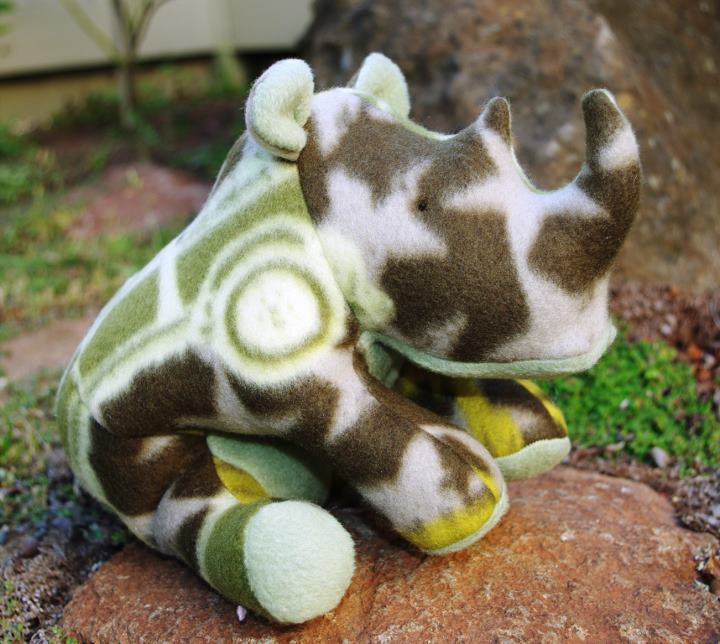 Katia's adorable Randy Rhino stuffed toy pic!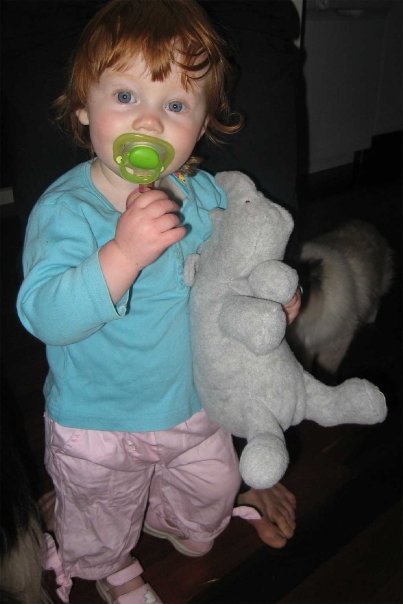 I love this cute photo Katia sent me of her son and his rhino friend!


Boys with their Bunnies
Hi Pauline,
Here are my latest creations, the 2 white bunnies were requests from my 2 greatgrandsons and for once they were each photographed with their new acquisitions.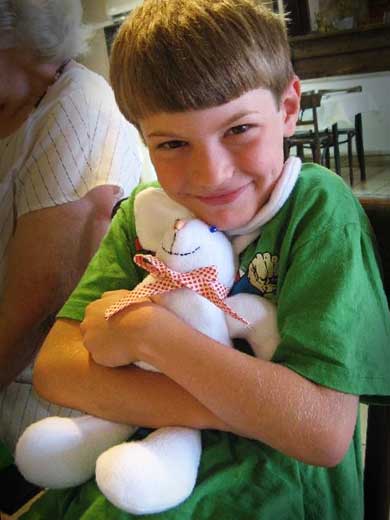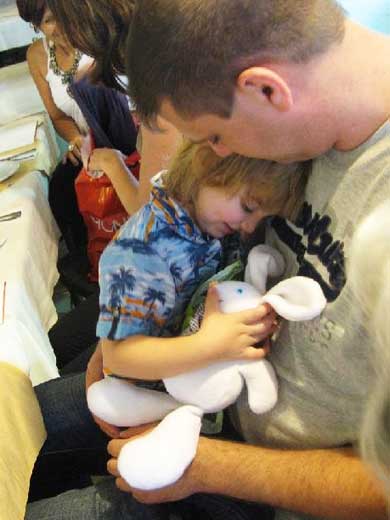 As usual, I send you the photos of the animals that I make from your wonderful patterns, you cannot imagine what joy they bring me.
I can't thank you enough !!
Bye for now,
Marion.

Elisa's Cute Little Duckling – South Australia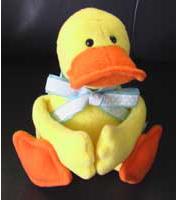 I have finished my Dilby duck and my crocodile and thought you might like to take a look.
Dilby was so easy!! I've been making soft toys since I was five years old and I know it is not easy to find good patterns. Yours are the best I've seen and they are so easy to make.
Have a good week!
Elisa

Mandy made a "Hitty-Potty-Mous" to replace her daughter's dummy!!!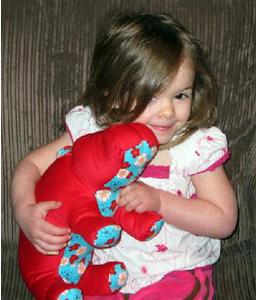 Dear Pauline,
Thank you so much for the great pattern.
My 2 year old daughter Evangeline promised to throw her dummies out if she could have a red "hitty-potty-mous" instead. As I couldn't find one anywhere, I ordered your pattern.
My daughter was delighted with her hippo, and happily put all the dummies she could find in the bin – no tears!
Here's a picture of her enjoying her new hippo.
Thanks again!
Mandy.

Mariana's Toy Cat
Hi Pauline,
Thanks a million!
I have now managed to get time to tackle the end of the kitty. For a first try, I'm happy with it, especially because my baby girl loves it.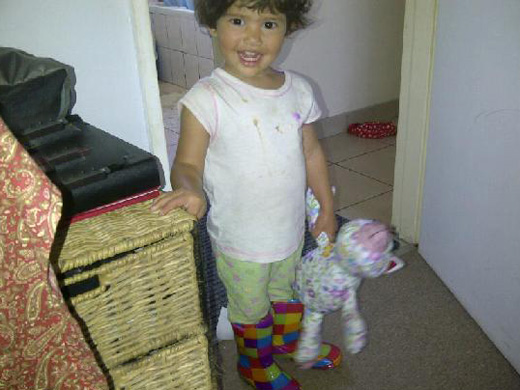 Here is a pic of the finished project with its live counterpart!
All the best,
Mariana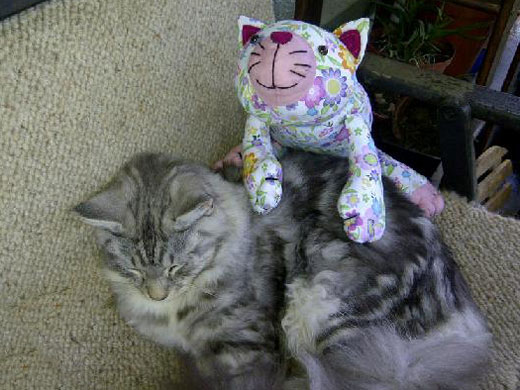 Elisha's Memory Army Teddy Bear

Hi, Pauline! I just wanted to thank you SO much for sharing your honey bear pattern! I wanted to make something special for my girls to take along with them while their Daddy (my husband) is deployed.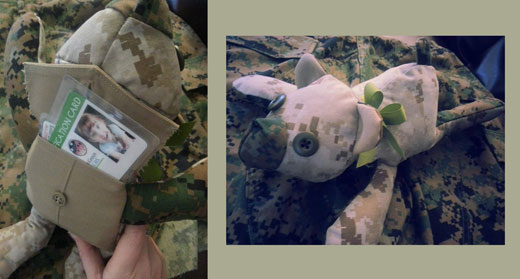 I added a pocket on the tummy to hold my daughter's allergy ID card and whatever other keepsakes she might want to stow away. My daughter is overjoyed at being able to carry around a little reminder of her Daddy even when he can't be around to play with her. May God bless you and your family.
I can't thank you enough for making this project possible!
God bless! ~Elisha~


Alicia's Nephew – with a small version of Larry the Lion soft toy pattern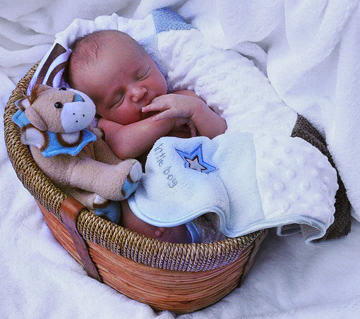 .
Notice the little baby lion?
He went to my newest little nephew.
This is a baby-sized version.
Thanks for the kind words,
my sister surprised me
with this picture knowing
I would love it!


Grandma's Sewing for a Henhouse
Thanks to you, we were able to sell some cuddly toys realized by our grandmas on the occasion of the Christmas market.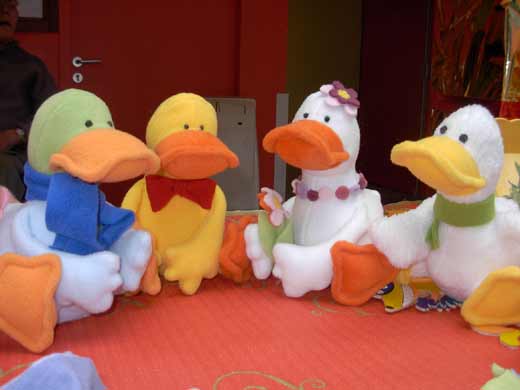 With the collected money, we bought a henhouse and 3 hens which we installed in the garden of the old people's house.
The old Persons are very happy!!
Still thank you very much!!
Stéphanie
And later on….
Stephanie has sent me some pics of the henhouse, chickens and eggs – all paid for by the money they collected from selling the toys they made! Wow, that makes me feel great!!!!! : )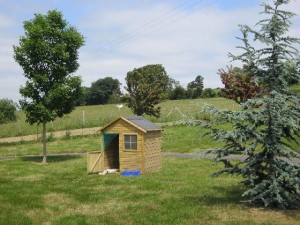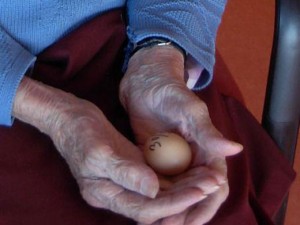 Kylie's Horsey and Unicorn!!!
Hello! Just thought I'd share a picture of my daughter with some new friends that I made with your gorgeous horse/unicorn pattern. As you can see, I've made them a teensy bit bigger than normal so we now have gigantic toys living in our house 😛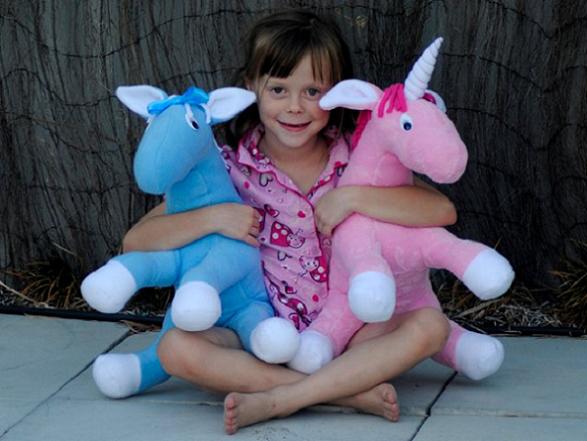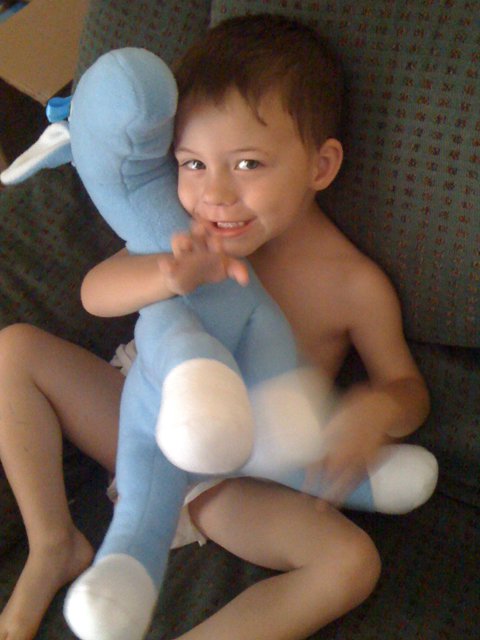 Sue's snowman TWINS!!!
Hi Pauline, I think this is the most adorable pattern you have, NO, they're all adorable!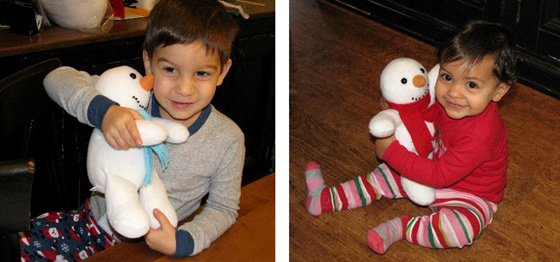 I wanted them to look like a traditional snowman so I used French knots for the mouth… Here are the kids with slush – I just had to send you the pics! It was the first toy my son ran to and hugged, I swear!!! I was thrilled!
Sue

Kylie's magical sunset plushie – Coomera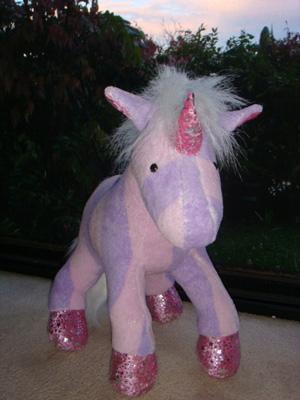 Hi Pauline,
I just had to show you my Unicorn that I made for a friend for christmas.
Kylie.
Coomera Queensland
(Thanks Kylie – I love how your pink and purple Unix the Unicorn has turned out – I bet your friend's gonna LOVE her!!!)

Debs' delightful ChrisMOUSE decoration – Brisbane

Hey Pauline,
This is my Chris Mouse…. I made this little guy for a special little girl for Christmas…. I have even embroidered 2010 on one of the foot pads… I think that this makes a great keepsake… ho! ho! ho!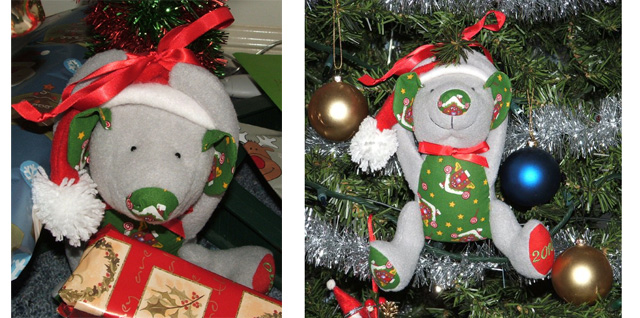 I am blown away at how much care Deb has taken with her gorgeous mouse! She has positioned the gingerbread house exactly on his nose, and besides the embroidered date on one foot pad, she's even made him a cute little Christmas hat – amazing! He's a work of art!! : )

Nicole's critter collection! – Queensland Australia
Hi Pauline
I had an absolute blast making these and I'm so happy with the way they all turned out.My 4 year old thinks they are all "amazing" and has given them lots of doses of hugs and kisses – she even knows who they are all for and of course has made sure I know which ones she wants!!
I wish I was going to see everyone's faces when they open their presents!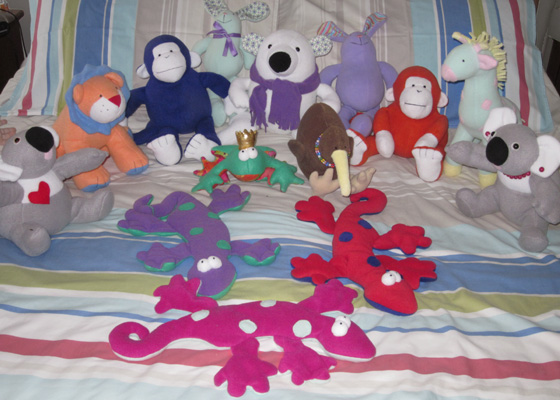 I've just finished setting up the babies room and hers are in her cot waiting for her. Ok, so the orange monkey and koala with a heart are door stops – now how could you not feel welcome going into a room with that sort of greeting! The geckos are all heat packs. The koala with the jewels is for my Grandma, I think she is just elegant and beautiful so I had to make her koala to match.
Thanks for keeping my occupied through most of my pregnancy.
Nicole

Dessah's ADORABLE fluffy toy monkey – USA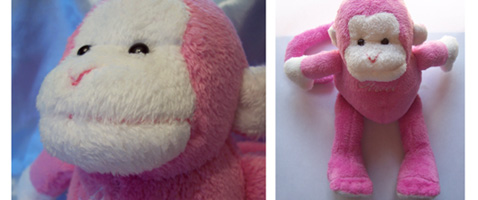 Hi Pauline!
I've finished the monkey and couldn't wait to show you!
It's so adorable! I almost can't believe that I MADE it!
Thanks again, I can't wait to get started on the other patterns!
Dessah
Anette's gorgeous toys… and granddaughters! – Denmark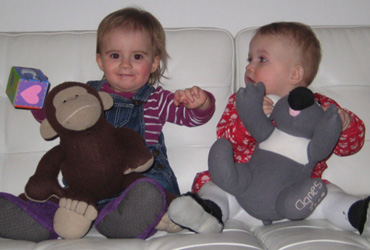 Hi Pauline
Here is a picture of my two granddaughters – Astrid with her monkey and Agnes with her koala. As it shows, are they very happy for them.
I loved making them and will certainly make more, when the girls grow older. Thank you so much for your wonderful toy animals.
Yours Anette,
Denmark.

Allison's REALLY huggable giraffe toy! – Australia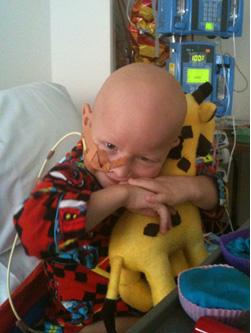 Hello,
…thought I would send you a picture of the Giraffe I made for a special little boy – my girlfriend's little man.
He is the most gorgeous boy you have ever met. I tried to get a better picture of the two of them, but he wouldn't stop hugging him, (not that I cared).
Hope you like it.
Allison.

Kay made CHEEKY CHOOK as a gorgeous FELT Chicken toy!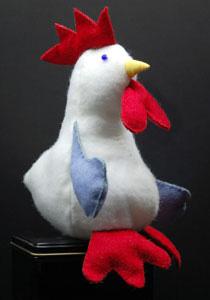 Finally made my adorable cheeky chook.
I used felt for the colored bits and blanket stitched the edges.
I am thrilled with how he turned out – all HAND sewn, maybe 6 hours total work from raw fabric to whole chicken.
Kay

Vicki's cute signature bears for her 2 cute grandsons!
"Nana, will you make me a teddy bear?" That query from my 9 year old grandson sent me online to search for teddy bear patterns.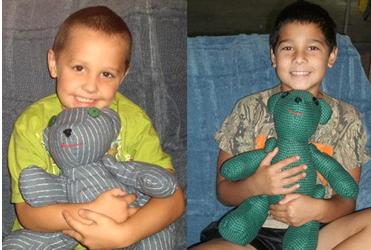 I am by no means an expert, so I wanted something simple and large enough for a kid to HUG. I found your Signature Bear pattern that was just right. I stayed up all night making two new friends, because 9 year old grandson has a 4 year old little brother who cried and cried for me to make him one when he saw me cutting the material. Who can resist crocodile tears and a puckered lip?
The finished bears are a bit lopsided here and there, but they are already well loved by these two youngsters. Your pattern was very precisely designed and I was surprised that the instructions were as easy to follow as they were, being that there were no pictures such as you find in a dress pattern. Thanks for the well made product that brought summer-time and probably life-time happiness in the form of two little bears.
Vicki

Shelley's Zoo of homemade toys – Texas
Hi Pauline~
The Simplicity Funky Friends Factory pattern is where I found about you; thanks for feeding my sewing addiction…much healthier than chocolate! 😛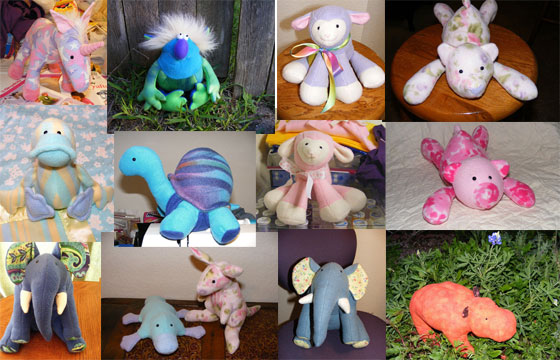 :o) – Shelley in Texas

MORE funky feedback toys!
Tegan's flowery toy hippo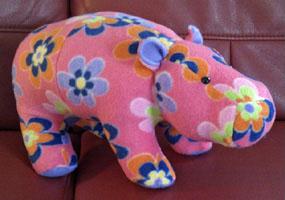 Hey Pauline!
I finished! Took me 5 hours. 5 lovely hours of distraction 🙂 I'm very happy with how it turned out. Thank you again so much,
Tegan
P.S Will there be any new additions to the funky friends in the future? I'd love to make a shark!! hehe.

Sue's Valentine toy monkey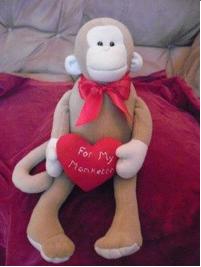 Dear Pauline,
Thought you might like a pic of Mitch.
A friend asked me to make one for his girlfriend for Valentine's Day, they have a special thing about monkeys – I didn't pry any further!
Anyway the pattern was great!
Regards
Sue

Robin's Valentine's Toy gifts.
Hi Pauline,
I decided to use your patterns to make Valentine gifts for my 5 children. They have absolutely loved them. Thanks again, they were just what I was looking for, Robin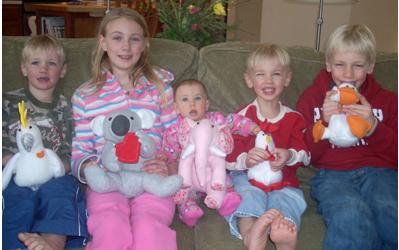 Jessica's Unicorn / "Pink Pony" – USA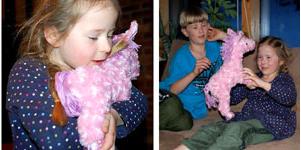 The pony is SO CUTE! Thank you for such a completely fantastic pattern!!! I used a funky swirl fleece fur, which is SO soft.. some silk brocade for the hooves, and some ima cotton yarn for the mane and tail, because I couldn't find long enough fur at my fabric store. I like how it came out, and more importantly, the is snuggled up with my daughter in bed, sleeping under a pink blanket.. it was a real hit. Perfect.
Thank you so much – your pattern was easy to follow, and was so PERFECTLY designed. I dreaded sewing the hoof bottoms on, but they were a breeze! Everything lined up exactly as expected, and even using such fussy fabrics, the horse is as cute as a button.
Thanks again!!!
– Jessica


Amanda's Fake Fur Lion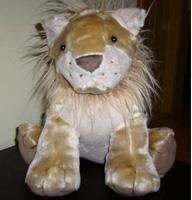 Hi Pauline,
Lovely to meet you today 🙂 As promised, here are the photos of 'Leopold 2.0', the lion I made by adapting your 'Larry the Lion' pattern.
I used fur fabric for most of the body, minky fleece for his cheeks and belly, polar fleece for the paw pads, and a longer fur for the mane.
I find your patterns really easy to follow even for a beginner like me, and the critters are so adorable! I plan on making lots more Funky Friends 🙂
Take care and thanks for the wonderful patterns!
Amanda

Nicole's Cute teddy bear baby gift.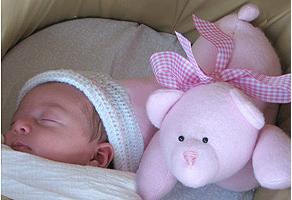 Hi Pauline,
Thankyou so much for Honey the Easy Teddy she really was easy, I made her in 2 nights.
I was so happy with her, she made a perfect pressy for my girlfriends new little girl.
Now I have to make one for my little girl.
I look forward to making your other little cuties.
Thanks again
Nicole


Such cute "HOT" crocs! – from Jenny in Dubbo NSW, Australia
Hi Pauline,
I just thought I'd send you a photo of my latest projects. I love handmade presents but I like them to have a bit of a purpose…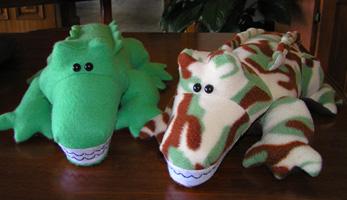 …so I adjusted the Crocodile Steve pattern. to include a velcro belly. I then made a wheat pack and popped it in.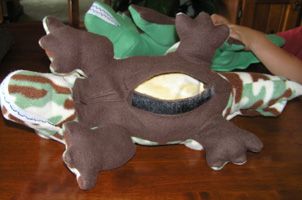 They are a big hit!
Thanks for the great patterns
Jenny

Kasia's Plush Zoo! – New Zealand
Hi Pauline,
I really enjoy making your patterns, the instructions are always so clear and easy to follow.. not like many other patterns i have tried where the instructions are that hard to follow i just give up.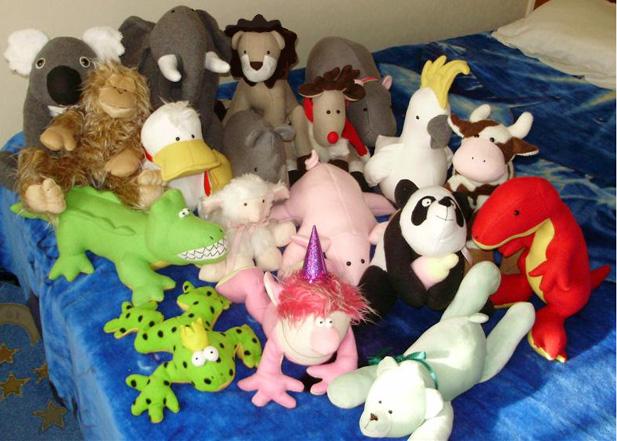 There are still more of your patterns i wouldn't mind doing, Tilly the tortise is one i'd like to try 🙂 (have seen photos on face book and the gallery and she/he looks so neat done with different colours)
Can't wait to see what other patterns you come up with!
Kind Regards
Kasia


Nina's baby's plush rabbit toy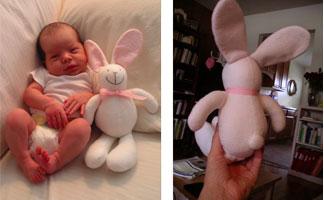 Here is my latest creation, a baby bunny for our baby girl who is due to arrive in April. I used flannel and a thin layer of fleece interfacing in the ears. I love the little tail!
Thanks for the great pattern, so easy and fun with great results.
Nina

Alexis's DOG toy? – Canada
Thanks Pauline!
I finished the honey bear – he is a little lopsided but still very lovable! I have attached a couple pictures of him snuggling… 🙂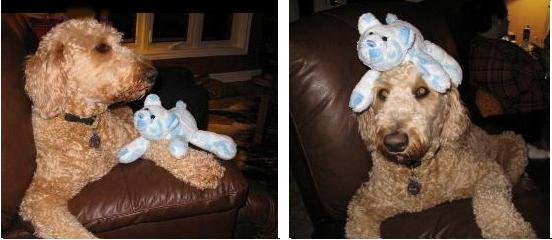 Thanks
Alexis

Gails cute boys toys – Brisbane Australia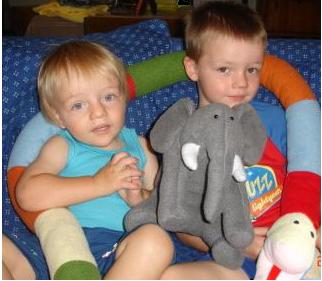 Hi Pauline
I am an absolute beginner at sewing so I started with those you recommended at the Brisbane Stitches and Craft Show as being quite easy to follow and make.
I finished the snake a while ago, as you may be able to tell he has had some wear with 2 boys playing with him.
Thanks for all the great patterns.
Cheers
Gail

Marcy's MANY MONSTERS… and Panda TWINS!
LOVE the pandas! I had to make a boy and a girl! The nose trick was awesome too – when I think of all the flat nosed bears I made because I couldn't keep the stuffing in the nose I just shake my head – that trick works awesome!
I'll be working on Monsters this afternoon. What a fun way to use up scraps! Keep up the good work!! I like the newsletters too – sometimes I don't even know you have a new pattern if I don't check it for a while!!

Oh my goodness – those monsters are fun! The possibilities are endless on them too – I had to add hair to mine – they just looked like they needed hair.
-Marcy.

Mike's gorgeous GLITTERY hippo
I finished the hippo in cotton fabric – fun to sew an animal from something other than fleece – and even added the flower.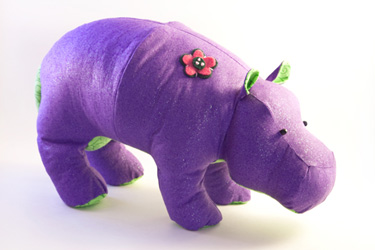 The purple is glittery fabric and a bit thicker and stiffer than most of the other quilting fabrics I saw in the store – I wasn't sure if the camera had picked up the iridescence or not.
Hope you enjoy seeing the attached pic,
Mike


Carrie's Cute camouflage Lion – Pennsylvania US
I made your lion pattern as a Christmas gift for my nephew, with a camouflage print mane, feet, and matching scarf because my brother's in the military. He turned out so cute, I almost couldn't give him away!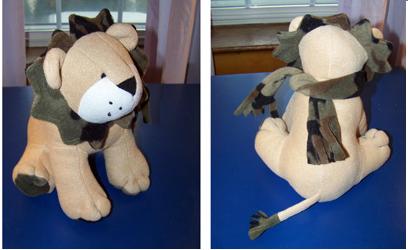 I can't wait to make another lion for a friend (our college mascot is a mountain lion), and to try some of your other patterns.
Everything is adorable,
thank you!!

Linda's boyfriend's Funny Frog Toys – Belgium
Hello,
Here are a couple of pictures of the animals me and my boyfriend made. I did the normal Prince Charming. He thought it would be fun to alter the frogs a little bit. So he made a run-over one(with popped-out eyes) and one with glasses.

Thanks for the nice patterns.
Hope you like them.
Greets


Oree's Plush Christmas Reindeer Toy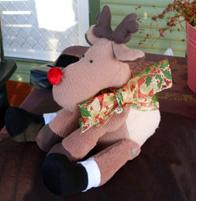 I thought I would send you a picture of Reggie.
He is so cute. I have also made him out of Christmas material and looks great too.
Thanks
Oreee

Beth's Beautiful 'babies' – Nebraska US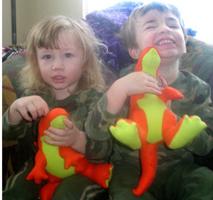 I've made 2 Timmy's for my 2 and 3 year old boys and they love them!
They call their t-rex's Monster Beaters because they think that monsters come into their room at night to scare them. So their Dad and I told them that monsters are scared of dinosaurs. It's worked!
Thank for making some awesome patterns Pauline!
Beth


Katharine's Cute Hippo creations – UK
Thank you for your emails, and designing the pattern so well. I loved the way they came to life and took shape when I started stuffing them. : )

Here are Hector and Harriet, two half sized hippos for my niece and nephew who want 'house hippos' for Christmas (it's a British thing)!
They are very cheeky and I hope their adoptive parents have as much fun with them as I have.
Katharine (UK)

Joan's Christmas toys – USA

Merry Christmas Pauline,
I'm so pleased with your patterns, you may recall last year I made the elephants for "my" kids this year I used another of your patterns – Petunia the pig.
All the kids loved them.
Joan


Alicia's homemade toys – what a gorgeous bunch!
Here is my little group so far… I have never used a sewing machine so these guys are all hand stitched. I was just going to make one platapus for fun and it seems i got hooked!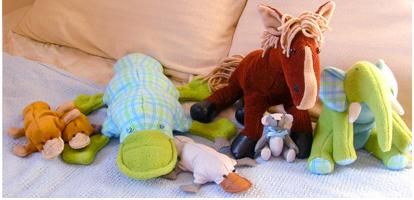 They're random sizes, the horse is the only one at original size, it was a Christmas pressie for my boyfriend, who loves it! The 1st one I made was the little leather platapus (really thin, soft leather!). I shrank the pattern a bit so its easier by hand. Iwas so happy with it I ended up making different sizes of it…all by hand. The elephant is about half the original size. the teddy is your Pip pattern, I shrank it so he's 3″ tall!
Thanks for making these fun patterns! Cheers and happy 2010,
Alicia

Alison's Cute Kiwi bird in BLUE!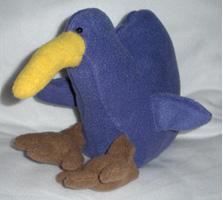 For my first Kiwi Bird I think I did pretty well.
Very easy to understand (the written directions) and I really enjoyed making it. Attached are the pictures of her 🙂
Thanks again,
Alison

LOTS of LOVELY signature bears – by Liz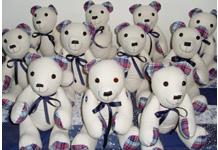 Hope you like my photo,
in 2005 I was a supervisor at a girls Boarding school in Qld. I had 25 year 8 boarders, this week they graduated from year 12, only 11 of the original left.
I made them all signature bears, they loved them, took me a while, but they were worth it.

Morwenna's Toy Lion – Telford, UK.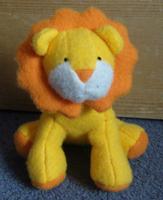 Hey, i'm 15 and this was one of the first soft toys i've made, i loved it!!
i'm making a noah's ark at school for my textiles project and was really struggling to find a lion pattern!! i shrunk him down abit but it really worked, just got to make a lady lion now!
thanks,
Morwenna

Amanda's Cat's toys – UK
Hi Pauline
Last Christmas I had to buy your wonderful cat toys as my cat Basil had kidnapped Plattie for himself, but he STILL loves to cuddle up with Plattie at night.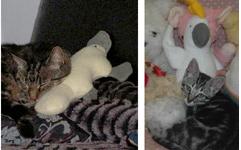 I've been trying to get a photo of the two of them for you all year!!! Unfortunately his favourite snuggling place is on the furry brown and black throw … and he blends in so well that all my photo's of him and Plattie just look like Plattieon a dark furry throw!! I've attached the only one (of hundreds!!) in which you can see where the throw ends and Basil starts!! The other pic is of the Charlie Cockatoo I made for a friend to take home to Zimbabwe,with his son's kitten "Sid".
So nearly a year down the line 🙂 I'm sending you a couple of photo's of cats and your wonderful toys!
Best wishes,
Amanda and Basil!

Lisa's Memory bear for her Mum…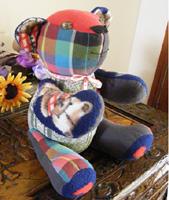 Hi Pauline,
just wanted to send in a photo of the signature bear i made. I call it a memory bear.
We lost our mum earlier this year so i decided i wanted to make bears for dad, my sister, and myself out of mums fav clothes so we could always keep her close.
This is the bear i made for my dad and i think it turned out pretty good, and the pattern was easy to follow.
Thank you for the wonderful pattern, i love them all and wish i had time to make every single one.
Lisa


Nina's twin Monkey Toys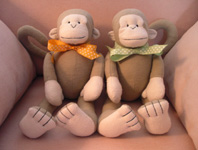 What a cute pattern!
I just finished this pair of monkeys for my friend's baby boy twins. I made them out of flannel and you can see I did a better job of stuffing the face firmly on the one on the left!
Thanks for your fun patterns!
Nina

Joy's Black and White sheep! – Australia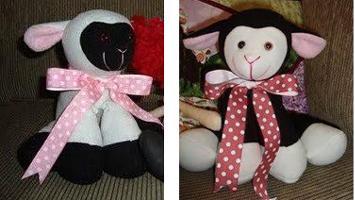 Hi Pauline
I thought you might like to see some of the little animals my friend Lynn and I have made from your gorgeous patterns.
I made a couple of lambs for a friend in US … one was 'baa baa black sheep and the other was Mary had a little lamb :o)
Cheers,
Joy

Brigitte's Homemade Heat Packs
Hi Pauline, I was really nervous about trying to sew a toy, but I just love your creations! So I thought I'd try one of the "easier" patterns. I gave them to a friend who admired them and her little granddaughter drags them by their tails wherever she goes.

I can't wait to make more!
THANKS!
Brigette

Kate's Technicolour Toy Lion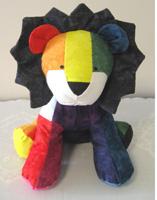 Hi there!
Thank you so much for sharing your great soft toy patterns with the world. I recently finished sewing a very colorful version of your lion toy — this was actually the first stuffed animal I've ever made.
I'm something of a color-theory geek, so I arranged his multicolored coat by the relationships of the primary, secondary, and tertiary colors to one another. It's a bit hard to see in the photos, but his paw pads are CMYK. The fabric I used is a suede-like, sandwashed cotton that was hand-dyed by a mother-daughter team called Ruby Mountain Dyeworks.
Hopefully this funky lion will help my cousin's first child learn her colors!
Thanks again!
Kate


Melina's Homemade zoo!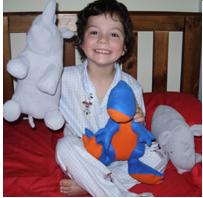 Hi Pauline
I feel so fortunate to have seen you at the Craft Show in Sydney recently because if not I wouldn't have met Randy and Timmy!
Here is a picture of my son with Randy I and II and Timmy I. These are all gifts but one for my son is sitting on the sewing machine as I type!
They are great patterns and I can't wait to sew up the others I bought.
Thanks again.
Melina

Kris's Spotted Toy Giraffe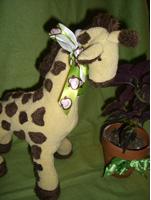 Hi,
I just wanted to send you a few images of the Funky Friends I made!
I was so excited when Raff came out – and I couldn't resist using your 'real' spot pattern on him. Hand-stitching over 40 spots is quite the experience!
Both Raff and the Panda Baby Blanket are a big hit with the family.
Can't wait to make my next Funky Friend!


Melanie's TWIN elephants – Victoria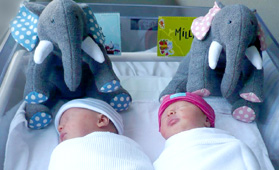 Here are two pictures of the elephants I made for my friend's newborn twins, a boy and a girl.
They are the first soft toys I have made. the pattern was wonderful, thank you, and I now feel confident to make some more soft toys!

Susan's delightful Giraffe baby toy!
Susan sent in a picture of this gorgeous Giraffe toy that she made for her friend's baby…
I just LOVE that alphabet printed fleece, oh and the baby is very cute too!!! : )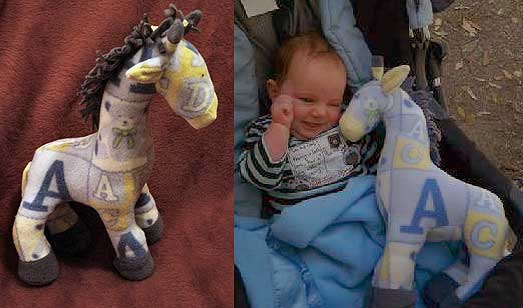 Vicki's KISSY LIPS frog for a teenage pyjama bag!
Hi PaulineI thought you might like to see my Prince Charming I made for my 15yr old grand daughter, Taylar.
Enlarged 200% and kissy lips made it a big hit with her and her friends. I also made a seam down the middle of its tummy and added a zip to make a pyjama bag. Now all of Taylar's friends who saw it on a sleep-over night want one!
Your original design is just brilliant, as are all your products.
Cheers Vicki

Jayelen's Recycled Retro Vintage Fabric Monkey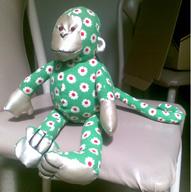 I am a little bit in love with your animals and have made 3 Mitch's, 4 Ellie's, 2 Lamkin's, 2 Timmy's, 2 Horsey's and 2 Honey's. And not one have i got to keep, the kids just love them.
I love shopping for retro and vintage material. I find a lot of scrap that I use for my animals from table cloths to old clothes that I cut up. I have attached my current favourite her name is Michelle and her material was picked up at a secondhand store for $1 and the contrast was left over satin from a flower girl dress I made.
Love it, Love them, Love you, Keep it up!

Michelle's Crocodile toys
Hi Pauline,
Here are the pics of my blue "Big Al" (the mascot of our school district is a blue alligator with this name). I actually made 3 of them. The crocs WERE a bit tough, but the end result was totally worth it, and nothing was impossible or made me want to quit the pattern. My husband, who is often uninterested in my sewing, was quite impressed with the detail on the blue alligator/crocodile, and couldn't believe I made them, even though he watched me the entire time!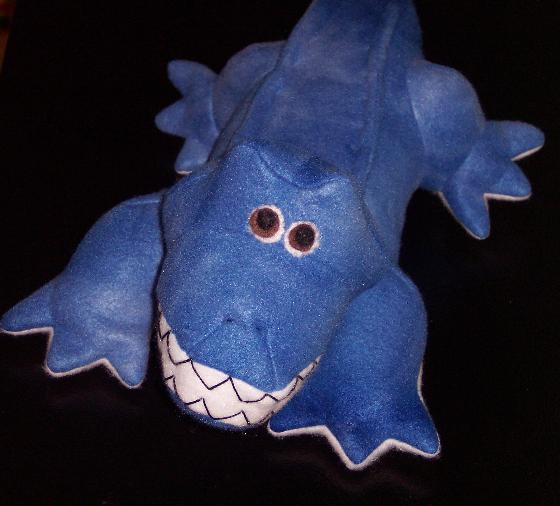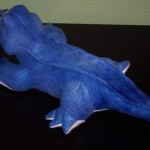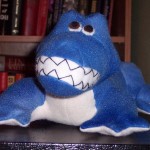 Thanks for the additional help you gave me, though a little sleep was all that was required! : )
-Michelle

Taylor's Giraffe & Gifts for Grandparents – USA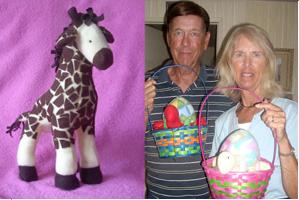 I often check the site for updates and to see pics of other's people's funky friends!
Here are some pictures of my recent funky friend endeavors. The tortoises were Easter gifts to my grandparents, who gave me my sewing machine!
Thanks again,
Taylor

Helen's Baby Gift – Sweden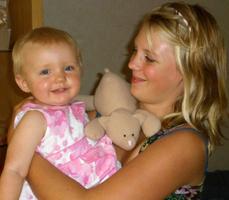 Hi! I just wanted to send you a few photos of my recent creations from your patterns…. This is the bear that I have made for 2 friends babies!
Thank you so much for the fab patterns – I just need more friends to have children so that I can make some more!
Best wishes,
Helen in Sweden.

Deb's Gecko Baby Toy – Australia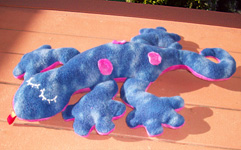 Hi Pauline,
You may remember me as the "sock lady" from the craft fair.
I have attached a picture of my gecko. Because it is a present for a baby I have stuffed it with Polyfill instead of wheat, and have embroidered the eyes. I've also added a ribbon tongue (babies seem to love to suck satin tags!).
I hope business is going well for you since the fair.
Regards,
Deb

Susan's Todler's Toy Dinosaur – Canada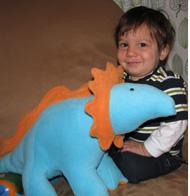 LOVE the DINOS!!!
Here is my second attempt in honor of my 14 months old newest word – 'DINO'.
I changed it up a little because I love the colours so much.. I added the longer spikes and sewed a seam in the middle of the headdress and back spkies…
Hooray for Dinos!!

Michal's 3 colourful Elephants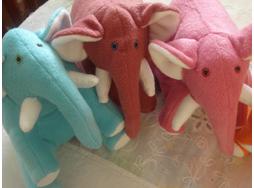 My name is Michal and I am one of your customers on funky friends.
I have so far created the teddy bear, the monkey and elephants and loved them but ran into serious problems with the cow pattern. I am sending you photos of the elephants just to prove that I am not completely incapable of making a stuffed animal… Looking forward to hearing back from you soon,
Michal

Mike's camoflague shell tortoise
I finished Tilly a few days ago. My local fabric store was out of corduory until the fall so I used camoflague and light brown fleece. I probably used the same kind of press studs you did.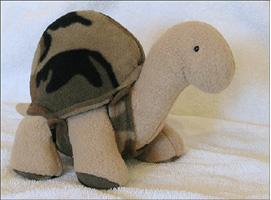 They were black and had holes to sew through. It took a LONG time to get all 12 parts sewn on but the shell goes on and off very easily. Tilly was a lot of work, for me because I was learning a couple of new techniques but overall, I'm pretty pleased with the results.
The sewing actually went easier and I didn't have to rip out quite as much as with the elephant. LOL! Really cute pattern, the tail even sticks out of the shell in the back.
Mike

Karen's Zooty Zebra Toy – Kentucky USA

Hey Pauline
– I finally made the zebra!!!
Everyone at work is soooo amazed that I made it and didn't buy it. The pattern was perfect and the instructions were great
Thanks again 🙂
Karen

Lisa's Toy Zoo – NSW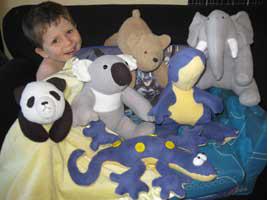 Hi Pauline, I just wanted to send you a photo of the zoo I am creating using your wonderful patterns. I have plans to make Steve and Dilby next but considering our new baby was due yesterday I am rapidly running out of time!
The little person back left of the photo is our 4 year old son.
Thanks again for your creative, easy to sew and very funky patterns,
Lisa

Leah's mischievious Monkey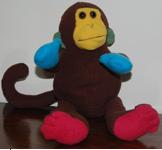 Hey Pauline, I have made Mitch but I switched the name to Curious George. I have five different colours on mine. The idea was that Curious George is curious about the paint and he got it all over himself. I made it for my newest nephew who's almost 2 months old as a gift to welcome him to the family. Next I'm going to make Horsey Horse. I can't wait!
Leah

Jennie's Cheeky Monkeys – Surrey, UK.
Dear All @ Funky Friends
I found your website last year whilst bored at work. Normally I like to make patchwork quilts for all my friends and family who seem to be getting married over the last few years which has been keeping me busy! Now they are having babies I thought I'd give toys a go. I used velvets and chenille as those where the fabrics I had left overs of in my fabric baskets.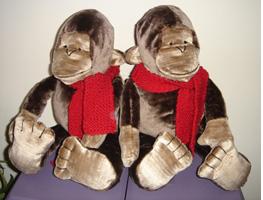 Since then I have made a few Honey bears and Two Mitch monkeys see attached photo. One of the Monkeys had recently found a good home and raised over £30 for Comic relief ( a big charity event in the UK). in a "Guess where he comes from?" competition.
Thanks for your fab website, I hope to be a regular customer.
Bye for now,
Jennie

Latest pics – show off your new Funky Friends!
Kay's Hand Sewn Toy Frog – looks like a bought one!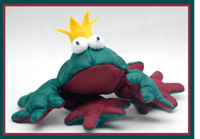 He is made of green brocade with a reddish silk belly. The red was rather thin, so I lined that section with a layer of white fleece. He is stuffed with tiny polystyrene beads – which are now all over my house and my two dogs! He is all sewn by hand – those little fingers and toes would have been a steering challenge on the machine. All told, from uncut fabric to finished frog, he took about 8 hours. He turned out great.
Thanks again for your help!
Kay


Michelle's new Fishy friends – South Australia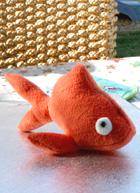 Hi Pauline,
I've loved making all the toys but I particularly enjoyed making Giggles. My friend's son (William) loves fish and fishing so I made Giggles for his 2nd birthday. I added an internal pocket near the mouth and slipped in a small (but very strong) magnet. William's Dad made him a fishing rod with another magnet so he can go fishing.
The look on his face when he saw that you could "catch" Giggles was priceless!
Kind Regards,
Michelle

Yana's Gifts – New South Wales, Australia
Hi Pauline,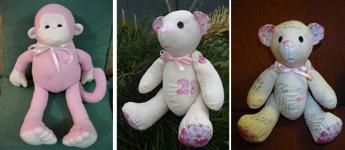 I just wanted to show you how my recent toys turned out. The first one is the calico bear that I got signed and that is going to my friend tonight. I hope she likes it. The monkey went to Victoria as a donation for the victims of the bushfires. I hope it will go to any of the children who lost all their toys. 🙂
I can't wait to start on a new project. I have some patterns that I haven't tried yet so I'm very excited. 🙂
Yana

Sharon's Homemade Toys – Australia

Pauline, I just wanted to send you a few photos of some of the toys I've made so far. Love your patterns – so does our little boy who can't go to bed without his bunny.
Can't wait to try some of your newer designs with our new baby.
Kindest regards,
Sharon


A gift for Vanessa's boyfriend in the Army. (Singapore)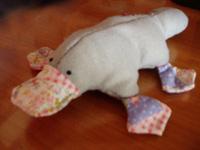 Hi Pauline!
I must say that your designs are amazing and the results are simply adorable! This is my first attempt at making a Funky Friend and I'm very pleased with the way this little Plattie turned out! (Plattie's going to my boyfriend who is away in the army :)) A handmade Funky Friend is definitely an ideal gift to show someone you care!
Thanks again for the awesome designs!
-Vanessa

Jill's Jolly Penguin Toy – California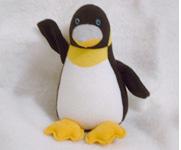 Here is my first Funky Friend, waving from an iceberg (in my guestroom!). I made him for a co-worker whose wife collects penguins of all types. I hope she enjoys her newest addition! I really loved making this little guy – fleece is so easy to work with, and unlike the cloth dolls I usually make, no fingers, faces, hair or clothes to make!
Thanks for a great pattern!
Jill

Taylor makes a MOOSE for her Great Grandmother – USA
I just wanted to say thanks again for providing such wonderful patterns – I had planned to keep Reggie a reindeer, but then my great grandmother fell and broke her leg and she has a thing for moose.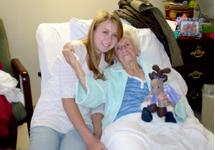 So I altered the antlers and "embroidered" nostrils on so she could have a moose! She was so delighted and we went to visit her today and saw the moose and she kept saying how she was the perfect companion for her to help her get better!
Thanks again for providing what I believe to be the best stuffed animal patterns on the web!! Your patterns are the easiest and quickest to follow and produce beautiful gifts! You also provide top customer service with fast replies and personal e-mails which is very rare! Well thanks again and I hope you have a Happy New year!!
Taylor

Sue's TWIN baby Elephants – FOR twin baby boys!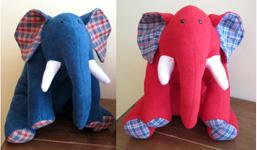 I have just finished "Ellie" x 2 for TWIN boys. They are so cute. Just as easy as the other two patterns I've done Lambkins and Duckling.
Great easy to follow pattern, can't wait to try another… so hard to choose though 🙂
Susan – Ontario, Canada

Kat's Toy Snakes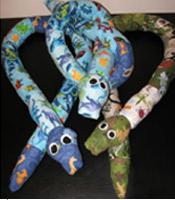 I received a couple of your patterns for my birthday, and finally managed to find time to make one of them.
These silly scrap snakes were made from a variety of flannel prints. They're Christmas gifts for my three youngest cousins.
Due to their young age, I did not include the mouth and tongue from the pattern, but I think the result turned out fine just the same.
With luck, they'll grow up loving snakes as much as I do!

Joan's Christmas Elephant Toys – USA
Pauline,
I did it !! 30 + elephants. I had a great time making them and the kids all loved them. Making so many in my "spare time" did take awhile. I started about October.
These are the families I babysit for. I have been sewing them something for Christmas for about 8 years now. The first year was jumpers/ jumpsuits the next pj's then the stuffed animals began.with a different animal each year.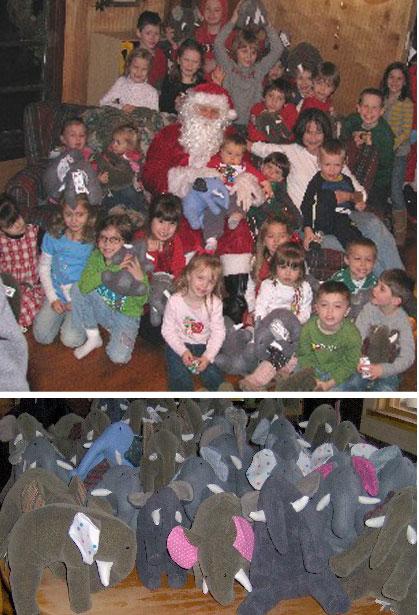 My number of kids grows each year as some go off to school and new sisters and brothers come along. etc. I was running out of patterns when I turned to the internet to start my search and landed at your gold mine of patterns!!
I loved the elephant pattern and your e-mails make me feel like I have a new sewing friend, no" robot responses "from you. 🙂
Thanks again,
Joan


Yana's Handmade Christmas gifts!
Hi Pauline,
I have had great fun sewing these Christmas holidays. With your lovely patterns I made 2 Lamkins, 2 Bunnies and one Monkey.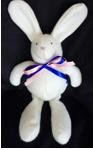 I've given one of the Lamkins to my little niece for Christmas and everyone loved it. One of the bunnies went to our friend's newborn boy and the other one to my nephew/niece that is to be born in March. I had great fun making those adorable toys and I'm looking forward to making some more. Thanks for the easy to follow patterns.
Thanks again,
Yana

Rosie's Sweetest Toy Froggy – UK
Thought I would send you a piccy of my first attempt at one of your patterns. Prince Charming puckering up for his first kiss!
I loved sewing this little chap. I filled him with wheat so not only kissable he will also keep you warm at night – the ideal man for all those single girlies out there! I have a load of requests for Prince Charming from my friends and family – he's quite a popular chap!
Thanks for your creativity that has given me hours of fun,
Kindest Regards
Rosie x


Georgina's Horse and Bridle WOW! – Ilse of Wight UK
Hello all at F.F.F.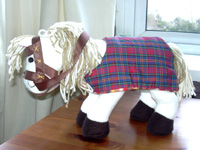 What a great business Idea and what a prompt and efficient service you provide. I made Horsey and I`m delighted with him. He`s for my grandaughter for christmas and he has a blanket , bridle etc. This pattern was followed to the letter (apart from wool for his mane and tail) and the instructions were very easy to follow and it worked perfectly , thankyou so much …..
Georgina

Marcy's Crocodiles- Wisconsin USA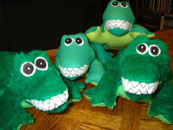 I got four Crocodiles made this weekend! They are so easy! I just love them – and the size and placement of the eyes does change their look. Again – you did a great job on the pattern!
-Marcy

Rachel's 3 Snakes and 3 kids! – Wellington, New Zealand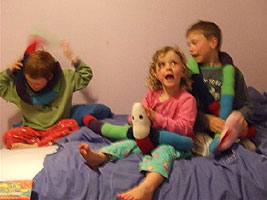 The photos aren't good but I thought you might like to see how much the children love the snakes!
The kids would be delighted to have their picture in the gallery.
Currently all their friends are putting in orders…I'll be an expert by the time they're all finished!!

Cathy's Blue Toy Horse – Washington USA.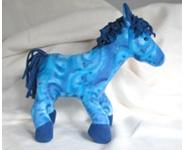 Pauline,
This is my first Funky Friend, but apparently not my last. (Emily found it & was reluctant to turn it loose!)
I made this horse to go with the "Brown Bear, Brown Bear" story book that they use in my daughter's play group. It will replace a rubber horse that was spray-painted blue.
(I used fleece that I fringed instead of the craft fur.)

Laurie's Cutest Ever Toy Kangaroo and Joey – Tennessee USA
Hi Pauline,
I've been meaning to send this pic to you…I both enlarged and reduced the Joey pattern to get Momma & baby…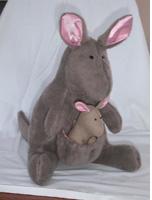 I played around with your kangaroo pattern to get the sizes right…baby is 75% and mom is 150% of the original size. Same pattern for both. All 3 of my kids wanted a Joey junior! My daughter loved honey bear, too
I love the variety of animals you have made…any chance you could come up with a koala?
Blessings!,
Laurie

Rainbow Toy Elephant by Tanja – South Australia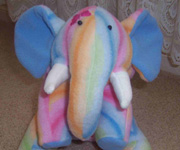 Hi! I have recently completed making Ellie for a friend, she was named Rainbow Ellie because of the fabric, my daughter has now requested that I make her Steve – her "rainbow crocodile" (as she loved Ellie and was disappointed that I was sending her away!). I love your patterns, they come out so well. My hubby was very impressed with Ellie, so much so he thought I had bought her!! My mother in law the same! I have a request for two more now. Thank you again, your replies to emails have been fantastic and you create some great patterns and very cute toys!!!

Susan's Christening Toy Lamb – Canada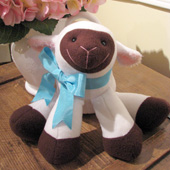 Hi Pauline,
I just finished Lambkins! It was such an easy pattern to follow. I'm thrilled with the way it turned out. It's a gift for my God-daughter's Christening.
check it out!
Susan
PS: Dilby is next – I'm so excited!

Lots of 'lovely lizards' by Karina – Australia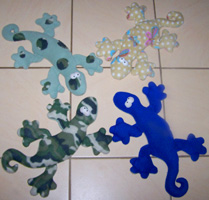 Hi Pauline,
Thanks for your wonderful pattern of the heat pack gecko…my family love them. I have taken a photo of the 4 that I have made.
My kids and nephews adore them..They have become a warm friend to cuddle at night and fun to play with by day!
Thanks,
Karina


Melissa's Baby Toys-Tarragindi Australia
Hi Pauline, I had a very busy weekend sewing my little heart out – and had so much fun!! Thanks for the patterns, they are really simple and the instructions are awesome. I really love the baby bunny. Love to hear what you think about these!

Melissa
(Absolutely divine! – Pauline)

Rochelle's Memory Bear – New Zealand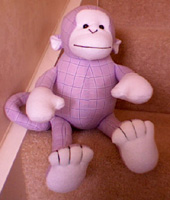 Mitch is for a very special boy in my class (I was going to make him a bear, but his name is George so I had to go with a monkey!) His dad passed away a month ago, and I asked his mum for one of his dad's old shirts to make him a 'memory bear'. When I saw the monkey, I just had to make him that one instead!
Thank you for the simple, accurate pattern and instructions. I have had some very incorrect patterns in the past and was absolutely delighted to find that your ones are spot on!
Cheers
Rochelle

Bright Funky Toy Horse by Shannon – Oregon
Hi Pauline,
Here are a few pictures of a few funky friends I made recently
-pretty good for a first attempt with no sewing lessons, eh? 🙂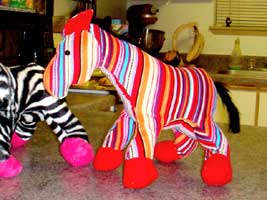 Gertie Gecko by Lea Ann – USA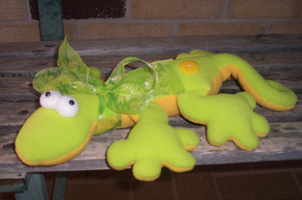 Hi Pauline!
Here's a picture of the gecko I made from your pattern. I think he turned out SO cute, and he was a lot of fun to make. I'm sure I'll be making more of these guys!!
Thanks,
Lea Ann


Korrie's cute mascot – Alabama, USA
I just wanted to write and thank you for all of the super cute Funky Friends patterns! I've been having a blast making these wonderful little creatures. Here in Alabama, elephants represent the University of Alabama. What could be a more perfect gift for a true Alabama fan than their own miniature version of our mascot, Big AL.

Mitch has been super popular with all of the little boys and the moms are surprised when I tell them that I made him. They say he looks better than anything that could be bought in a store. Thanks for all the work that you do creating these wonderful, and very quick-to-make, patterns. Also, thanks so much for the personalized emails that you send out when I order. It means so much to receive an email from a real person instead of just some automatically generated email. Thanks again and, of course, I'll be back for more patterns!
Korie

CAT TOYS by Tove – Norway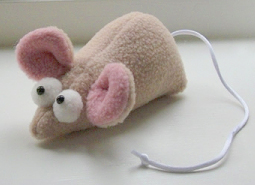 I absolutely love your patterns, I have just recently started sewing, and your patterns are great for me as I just love how easy it is and how well the finished item looks!
I was thrilled when I saw these cat toys as I have been looking for something just like this for some time.
I've only had time to look at the mouse so far, I had some beige and thought the mouse would look adorable in this color.

Celeste the blue unicorn by Kat for a mother's day gift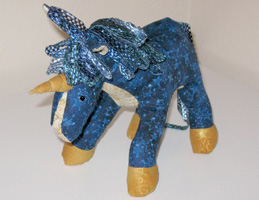 Celeste started out as a pattern and a skein of wide-stripe varigated nylon "yarn". I dug through my high-thread count quilt cottons and came up with the blue print. I didn't quite have enough of it, so I cut the belly/forehead piece out of a gold and cream square. The hooves and horn are from a matching ochre and gold-flecked square.
I like how the overall piece turned out with that color scheme. "Celeste" will wind up as a Mother's Day gift, since my mom collects fantasy critters.

Kristi's cute Australian baby gift
Thank you so much for the patterns. I thought you would also like a look at Charlie I made for my cousins baby that lives in Japan.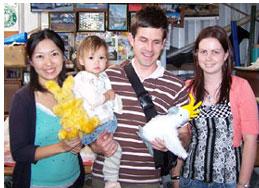 He came home for Christmas looking for Australian "stuff" to give his baby so I made him Charlie and Joey and he absolutely loved them! Just as much his daughter!!
Thank you again for the patterns,
Regards,
Kristi

Its your Gallery- show off your new Funky Friends!
Stuffed Toy Monkeys by Marcy – Wisconsin, USA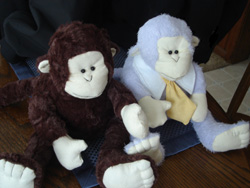 Mitch the Monkey is awesome!
You did a fantastic job on that pattern and he just turned out adorable.
I had to make another one right away because it was so much fun. Congratulations on another super pattern!
-Marcy

Bright PINK Monkey by Julia – UK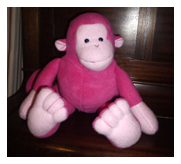 Hi Pauline.
I have finally finished my pink monkey (work does get in the way of fun things doesn't it?), and have included a photo. Her feet aren't really huge, I'm just rubbish at taking photo's!
Julia

Boys Toys by Lise – Canada
Hello Pauline ,
Here is the photo of my friend's sons with Randy and Ellie. I made the 2 in one day, your patterns are really easy to follow.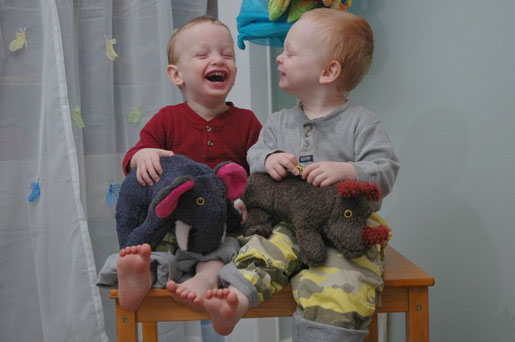 I used a bit furrier material than it called for but it still worked ok,I also changed the colour of the horn of the rhino to match the one he had lost ..so it was a lot of fun.
Thanks again,
Lise

Look what Sara made with her Snugglies Pattern!

Hi there!
I wanted to tell you how great the Snugglies pattern is. I made up the dinosaur (bar the stuffing and the eyes) in one afternoon (husband keeping the kids at bay). "Trike", as he is now known, is already loved and has spent the last 2 days being carried about and the nights tucked in with my son – deftly keeping monsters away.
Thanks again for your great pattern!
kind regards,
Sara
P.S. I shortened his nose a little & as he's made of felt, the seams are on the outside, but he sure is cute! He's so good I've been getting requests to give him a brother!


Reggie Reindeer x 2 by Marcy – USA
I thought I would send you my pictures of Reggie the Reindeer. I made him
out of two differnt types of material – a smooth felt and a fuzzy acrylic and
it's hard to decide which one is cuter!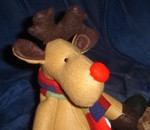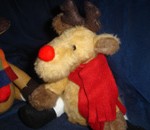 Thanks again for your help – I just love these patterns! -Marcy

Jake by Val – United Kingdom
I made Jake out of acrylic fur that was in diamonds of white and browns. I have sent a pic because it is hard to describe. I used differant parts so it looks mixed.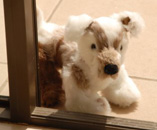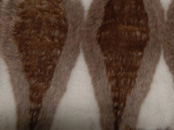 Thanks again for such lovely designs
Val

PARTY ANIMAL by Val in Cape Town, South Africa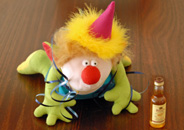 Hi Pauline,
Here he is!!! Had you been to a party when you wrote the instructions? It says one piece on the arm pattern and four on the foot. Never mind it kept me awake and we had a laugh. I had a job buying fleece because it is summer here in Cape Town so I ended up using a mix of fleece and a ribbed t.shirt material. The little dinosaurs are cut out so they will follow.
Best wishes,
Val


Jake Puppy by Jennie – Sweden
I am so glad you like my "cross breed" dog! I have used two colours of Schulte mohair, actually a sparse one but 1" long. For the patch I just made an easy solution, cutting out a piece and then glue it on with textile glue (before inserting the eye).


Jenny's Bedtime Teddy Lavender Bag
Hi Pauline.
I thought you might like to see my additions to Honey.
I was lookin for a present for a friends daughter, namely something to keep her warm over the cold Canberra winter.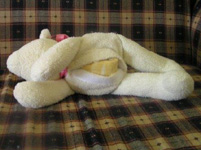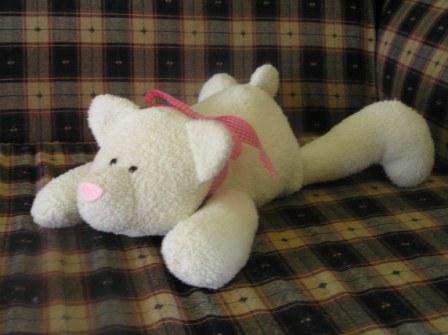 I enlarged my Honey pattern and then inserted a velcro opening on her tummy. I then made a little wheat and lavender bag to go into her. She was quick and easy and a very big hit!
Thanks for the great patterns.
Jenny


A new twist on Honey Teddy by Jo-Australia
I thought I would do something different with Honey the bear as I was making it for a baby. You will see from the photos that I have made her belly a record for baby's birth and milestones details.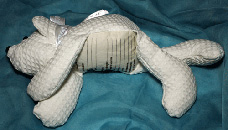 I have called it "My Remem-Bear". I typed the details on the computer and then used a transfer onto the material. I have also put an "It's a Boy" and "It's a Girl" ribbon around the neck and the parents can remove one or the other once the baby is born.

Ducklings by Renee – Australia
I finally got round to taking some photos!! I've made 2 of Dilby, 2 of Honey and 2 Platypuses too…but my boyfriend hijacked the blue one.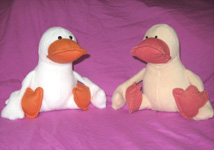 I haven't started on Lambkins yet. I'm getting a sewing machine of my own for my birthday, so I thought I'd wait for that, instead of using Mum's again.
Thanks!,
Renee

Patchwork Ellie Elephant by Patti – Ohio USA
Look what I made while you were sleeping…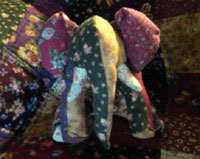 God must be on my side as I really needed this for our grand daughter Ellie. We are leaving tuesday to see her. She has just turned one. I am making a matching quilt (made of same victorian flannel prints.)
She has no eyes because it's safer for the baby!
Sleep well and thx a bunch!
Patti

Scrap Snake by Clare – Australia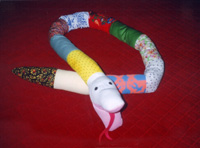 I have sewn since garde 3 and am retiring in Nov 2008 so I am looking froward to having more "me" time. I checked out your website, my computer skills are limited, & you certainly have many happy customers. Congratulations & I look forward to making many more of your cuties.

Plattie the Platypus by Stephany – Canada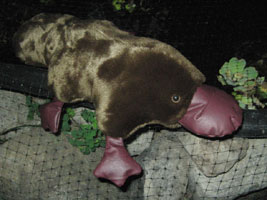 Of course you can put him on the gallery I would be honored! It would show people that they can make him out of any material. Thank for saying he was cute, I think he is my best creation ever and with such a great pattern he was a snap to make. He will be like a celebrity plush! Fantastic!

Kangaroos & Platypuses by Nicky – Australia
Kangaroos (The herb garden is really suffering)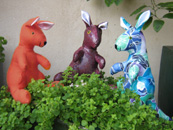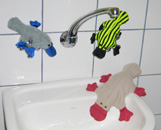 Platypus family – they've got loose in the bathroom again.


Horsey by Carina – Sweden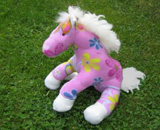 hi,
here some pictures of one of the horses i have made. i used fabric called fleece and the hair on the horse is made from washed lamb hair ,,,dont know the name in english.

Huge Joey Junior Kangaroo by Anna – Australia
Hi Pauline,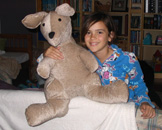 Just wanted to share a pic of my eldest daughter holding our latest creation from your patterns! I have a friend who has a copier that can print up to size A0, so I think it was about that, and the fabric was some left over from upholstery fabric I used to cover an old couch, I'm not sure exactly what it is but it is kind of like velvet.


Abi's beautiful babies!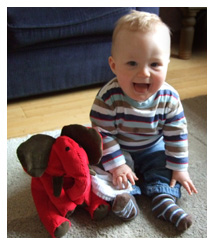 .
.
Abi has made Ellie Elephant from bright red corduroy for her son Jack. He looks so happy with his new toy, but HOW did she get him to sit so still for the photo?


Julia Richards, (on Tour in Leeds)
I have recently bought your pattern for Randy the Rhino and I am absolutely delighted with it. I play in a Blues Brothers theatre show and our band is called The Black Rhino Band. I have always enjoyed toy-making and have been looking all over for a pattern for a Rhino to make as a mascot.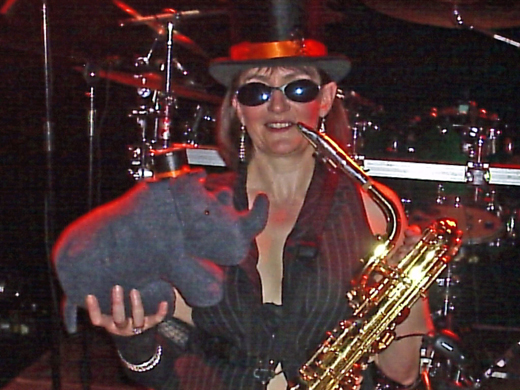 I wouldn't have believed it would be so hard to find. After weeks of looking I was very excited to come across your site. I have already made Randy, using dark grey
fleece (for a black rhino of course), and he looks fab. I think I may have to make one or two more for other members of the band!!
Julia

Funky Fleece hats by Donna Davis (Australia)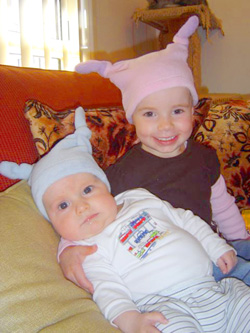 .
.
Prooving that one size fits all? Rebecca is the proud BIG sister!

Frog Family by Vicki Janse ( Canada)
My family is a little bit frog crazy so when I saw your pattern, I just had to have it! I've made 8, 4 for my children and 4 extra to use as gifts. My boys didnt want the crown on theirs and my oldest wanted a 'tree frog' with orange hands.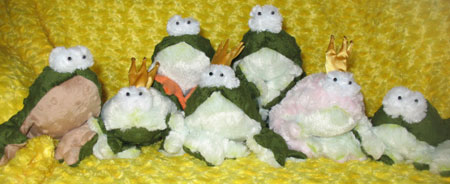 My daughter loved her pink frog until I put the eyes on it. Now it is a birthday gift for her friend Gracie. I am being commissioned to make another pink frog without eyes! The mind of a 4-year-old?????

Horsey – by Lynn (USA)
Thanx! I made the horse of tie-dye stretch velvet~~everyone loved her!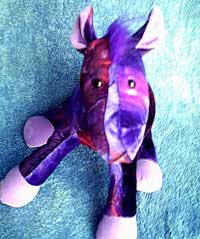 Lamkins- by Anita (Australia)
Thanks for making me a goddess with a sewing machine!!
Here is my first go at Lambkins. I just love her.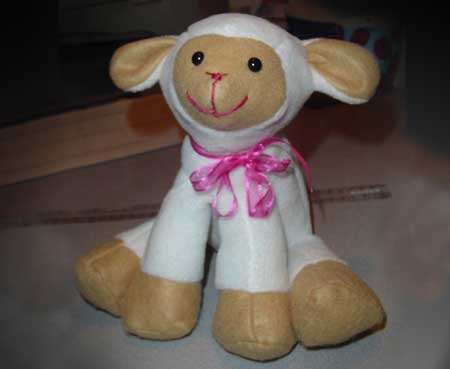 Tilly Tortoise – by Nirit (Israel)
I finally finished Tilly and I think she is really cute! The press studs work really well too! I sewed the two points near the tail and all 4 others can be opened.


Dean and Jack (Australia)
with their new Funky Friends. So far, Jack is the youngest person to make his OWN Funky Friend – with just a little help from his mom!