Posted under A day in my lifeBlogToy-making TIPS & TUTORIALSTry these FREE PATTERNSUncategorized on 2012-05-09 06:17:26
You might think that I ONLY love to SEW toys…. but when I can't get near my sewing machine,
I also like to KNIT!
So it's NOT THAT strange that when I was first thinking about my
INSOMNIAC Teddy Bear pattern design, I wanted to make a KNITTING PATTERN for Izzy's sleepy sheep. I thought it would be FUN for me to be able to knit some sheep while I was up with insomnia in the middle of the night – AND way less noisy than my sewing machine!!!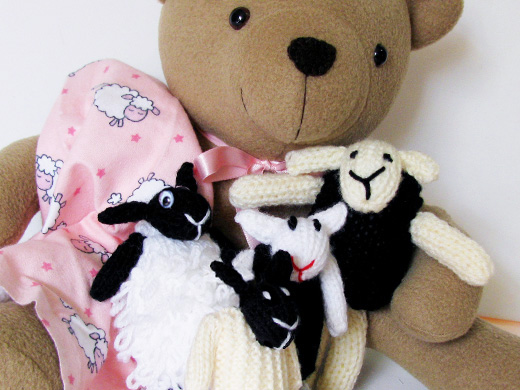 BUT, because I know that some people cannot knit, I designed her a cute sewn sheep instead and I was going to leave it like that,  BUT then,