Posted under A day in my lifeBlogCharityCompetitions & GiveawaysFFF News on 2020-04-25 17:19:50
I have been inspired by the heartfelt messages I received in response to my offering my Calico Bear for FREE to anyone who wants to sew a memory bear during lockdown. Lots of people told me they are going to use the free memory bear pattern to sew lovely keepsakes with their "kiddos" and grand kids. Lots of people said they'd use the pattern to sew gifts for their local first-responders and front-line healthcare workers and sadly some people are making bereavement bears too. LOTS of people said they'd be making sewing toys for charity – like Dorothy who's husband was lucky to have caught the virus and S-U-R-V-I-V-E-D!!!!! 🙂

Thank you so much for the free bear pattern. My husband was in hospital for 2 weeks and part of the time ICU. He was very sick from COVID 19. He survived and is home now with me and I am so thankful! Dorothy J Erwin

I know that sewing takes MY mind off the crisis so it's been lovely to be able to share this pattern with the crafting community that has supported me over the years… I was so inspired by the emails I received, I've been working on another pattern hack for Calico Bear….
Can you guess what it is????
(There's a clue in the baby clothes I'm using to make this keepsake…)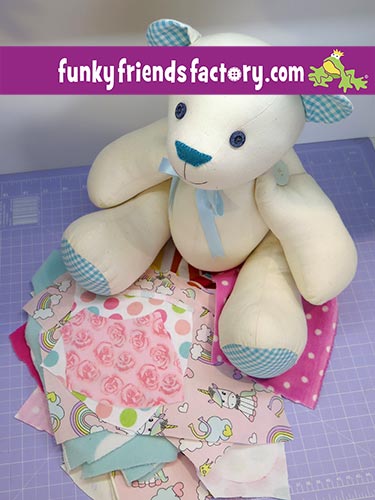 AND because it's not a whole new pattern – just a small adaptation of my existing Calico Bear Pattern – I am going to give you this Pattern Hack Pattern for FREE!!!! 🙂
Any guesses?